We're sure you remember Miss Cakehead. You know, the cake curator who brought us STD cupcakes, the human butchery, severed toe and ear cookies, anatomically correct macarons and other morbid desserts. Just in case you haven't already lost your appetite completely, the dealer of deranged desserts just brought us some new images of disturbing work by U.K. artist Annabel de Vetten.
Upon receiving a private commission -- that's all de Vetten will divulge -- she set to work on creating several realistic baby heads made of solid white chocolate.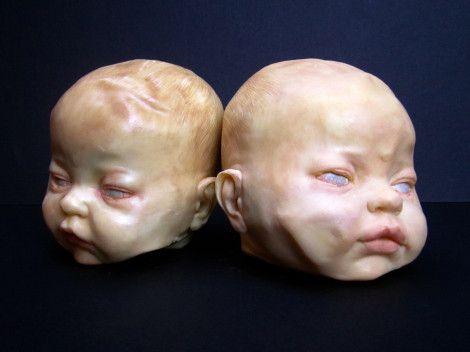 The Huffington Post reached out to de Vetten, who explained that these creepily accurate creations were made with a latex mold she'd originally used to make candles. She has experience in creating anatomically correct figures -- check out this skinned face cake! -- so the baby heads were less of a challenge than one might think:
"I just pictured 'dead, milky eyes and skin' and hit the nail on the so to speak. And creased the mold while it was setting to get a soft, 'damaged' effect. So, strangely enough, no challenge! I was a little worried some might think this is going a bit too far. But it's only chocolate and if someone doesn't like the shape it's in, they can just go buy a Mars bar."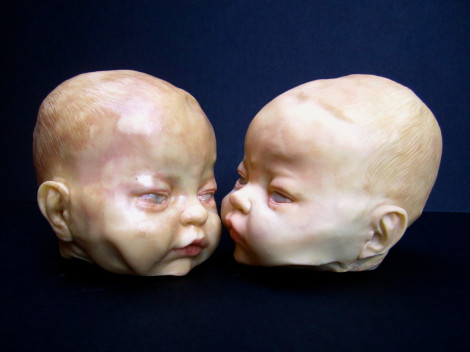 Miss Cakehead tells us that chocolates are about the same size as the head of an average newborn baby, which just adds to the creep factor. Even Miss Cakehead, who we imagine has seen quite a lot of weird things in her day, was unnerved. She recently wrote on her website that "...there is something SO disturbing about these heads but I just can't put my finger on it."
De Vetten's cake studio, Conjurer's Kitchen, has created myriad other amazing desserts, so we suggest checking out her Facebook page.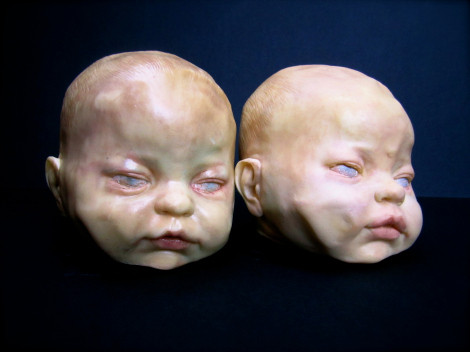 Calling all HuffPost superfans!
Sign up for membership to become a founding member and help shape HuffPost's next chapter
BEFORE YOU GO
PHOTO GALLERY
Morbid Desserts