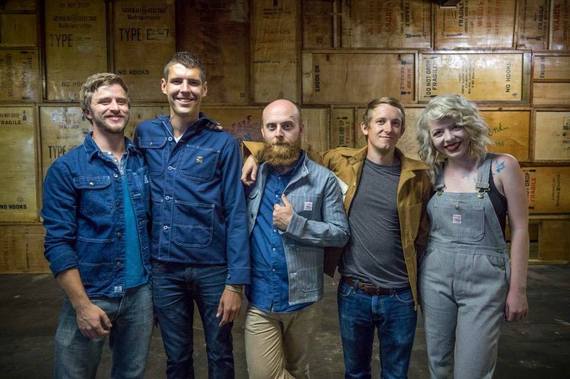 Photo by Randy Gentry
Bristol, Tennessee/Virginia-based alt-folk band Annabelle's Curse isn't so much a curse as a happy accident. A series of accidents actually.
One of the original group's founders guitarist Zack Edwards explains that he showed up on the porch of the other co-founder Tim Kilborne (vocals, banjo, guitar) six years ago after being introduced through mutual friends at Emory and Henry College.
"We started playing music and I just never went home," Edwards remembers. "We did that for a little while, writing songs on the front porch and playing open mic nights."
A third member joined the group after a night involving drinking a lot of whiskey and a little sleeping in a Walmart parking lot, according to Edwards.
"We wanted an upright bass for our image," he said. "We were looking up to The Avetts at that point in time, so we pooled all of our money together and named the bass Annabelle."
There is, of course, a story behind that bass, its curse and the band's subsequent name. Not long after they purchased it, they dropped the instrument, which broke in half. The night they got it back from being repaired, it fell through a window in Edward's house breaking it. Again. "There's still a sheet of plexiglass over the window it broke," he says with a laugh.
Annabelle now sits in Edwards' living room and serves as wall art (it's no longer playable). "For our first Kickstarter campaigns, Annabelle was one of the incentives. We sold it but the person who bought it didn't want the curse, they just wanted to help, so we still have it."
After abandoning Annabelle and a subsequent upright, the band slowly transitioned over to a less acoustic and more electric sound, Edwards explained. "We kept evolving and we needed to change our image," he said. "It was also a pain in the ass to travel with. We wanted to sound bigger. We're a five-piece band now but want to sound like a 12-piece. There's always been this desire to sound more full."
Cue in Carly Booher (vocals and mandolin), a student of the East Tennessee State University Bluegrass Program, who was touring with David Mayfield at the time. A mutual friend told her she needed to meet the Annabelle's Curse guys. "She just showed up at band practice, it sounded really awesome and she never went home," Edwards says with a laugh.
Booher adds, "I got a call from David and told him I found a group I was really meshing with. Two months later he was producing our next album, 'Hollow Creature.' They asked me why would you give up this full-time gig? I said I just found the right people."
That was 2012 when the band also added Travis Goyette on drums. In 2014, bassist Tyler Luttrell rounded out the group.
Most musicians have side jobs. The members of Annabelle's Curse work 40-plus hour a week day jobs and play on the weekends.
Edwards and Goyette work for the U.S. Fish and Wildlife Service. Kilborne teaches fourth grade. Booher is an assistant therapy director at Blue Mountain Therapy and Luttrell is a staffing coordinator for a temp agency, They all live in Abingdon, Virginia, with the exception of Luttrell, who lives in Johnson City, Tennessee, about 45 minutes away.
"The passion for our music drives it," Edwards says. "If I get a day off, I'm going to be trying to book shows because what we want to do is be full-time musicians but we have to work so much harder. We pull it off somehow."
Since being formed in 2010, the band has released three full-length albums; the most recent two, "Hollow Creature" and "Worn Out Skin," were fully funded by fans and have received positive reviews in Pop Matters, Magnet Magazine and The Huffington Post. In addition to their studio work, the band has toured extensively throughout the Southeast and mid-Atlantic.
Annabelle's Curse came in second as the FloydFest fan favorite in the "On the Rise" contest in 2014 and has appeared on Music City Roots and have become fixtures at the Bristol Rhythm and Roots Reunion and Rooster Walk Music and Arts Festival. The band has also played Rhythm and Blooms, HoustonFest and is scheduled for the inaugural Hillfest over Labor Day. They've played Gypsy Sally's in Washington, D.C., The Camel and Tin Pan in Richmond and Evening Muse in Charlotte. Annabelle's Curse has opened for Anderson East, The Black Lillies, The Hackensaw Boys, HoneyHoney and Humming House, among others.
On Friday, Aug. 19, the band will perform a free, all-ages show at The Grey Eagle in Asheville, North Carolina.
Annabelle's Curse has been performing in Asheville since 2012. "We couldn't think of a more fitting way to show our love for our fans and one of our favorite cities," Goyette says. "Some of the best musical experiences of my life have been free shows in Asheville."
On Saturday, Aug, 20, they'll be back at Rooster Walk's home, Pop's Farm in Axton, Virginia, opening for Mountain Heart. Ticket info can be found here.
A complete list of show dates is available at www.annabellescurse.com. Annabelle's Curse can also be found on Facebook, Instagram, and YouTube.
Calling all HuffPost superfans!
Sign up for membership to become a founding member and help shape HuffPost's next chapter