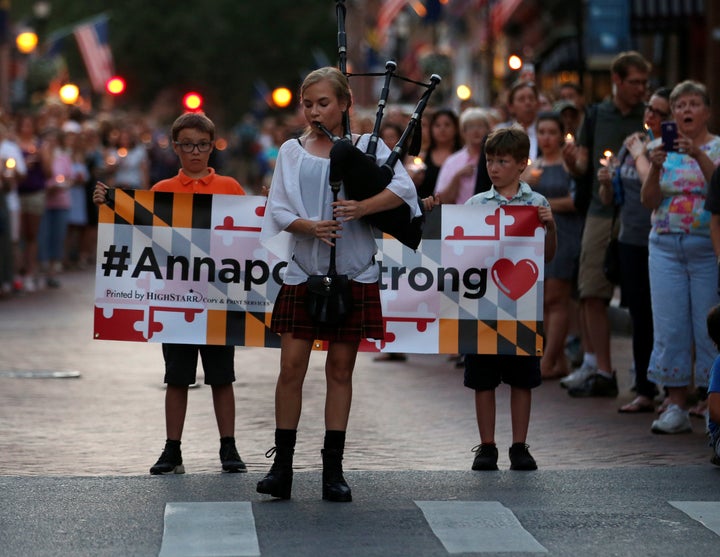 Hundreds of mourners streamed into the streets of Annapolis, Maryland, Friday to mourn the slain workers of the Capital Gazette newspaper who were killed in the country's latest mass shooting.
"We are not the enemy, we are you," newspaper reporter Pat Furgurson told the crowd at an evening candlelight march and vigil on Main Street, a bold statement after more than a year of "fake news" charges directed at the media.
But the mourners who lined the downtown streets didn't view the victims of the massacre as enemies. They were solemn and sobbing.
"These people were husbands, wives, mothers and fathers," said Democratic Maryland House Speaker Michael Busch at the vigil, according to The Baltimore Sun. "They didn't come from someplace else. They were dedicated to our community. They did not deserve to die under these circumstances."
Five workers at the newspaper were killed after a gunman blockaded a rear door, then began firing on his victims as some of the survivors crouched in fear under their desks, police said.
Four journalists were killed: editor and writer Rob Hiaasen, 59, brother of mystery writer and journalist Carl Hiaasen; editorial page writer and editor Gerald Fischman, 61; editor and sports writer John McNamara, 56; and editor and community writer Wendi Winters, 65. Rebecca Smith, 34, who was hired just last year as a sales assistant at the newspaper, was also killed.
Area residents paid homage to the fallen throughout the day, leaving cards, flowers and gifts outside the newspaper office and gathering in a local park and church. Within hours of the shooting, a Bloomberg journalist set up a GoFundMe account. "Our hearts break for our colleagues in Annapolis and we want to do whatever we possibly can to help them pay for medical bills, funeral costs, and any other unforeseen expenses that might arise as a result of this terrible shooting," the post noted. By late Friday over $168,000 had already been raised.