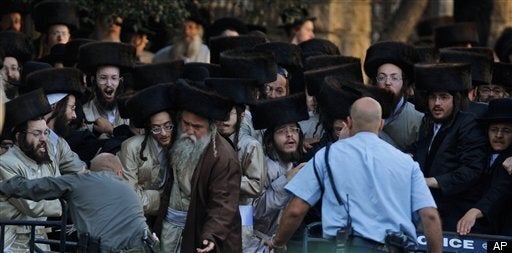 Anne Barker, a reporter for the Australian Broadcasting Corporation, was caught in a violent protest of Orthodox Jews against a local carpark that would be open on Saturday--or Shabbat, the Jewish day of rest--that left her "humiliated and degraded", the ABC reports. Expecting a conservative crowd, Barker tells her story of dressing modestly and maintaining a low profile to cover the protest, only to have the mob turn on her and drench her in spit. It was only later that she learned the abuse had been provoked by her turning on her tape recorder, which by Orthodox standards for Shabbat, is unacceptable even for non-Jews.
Suddenly the crowd turned on me, screaming in my face. Dozens of angry men began spitting on me.

I found myself herded against a brick wall as they kept on spitting - on my face, my hair, my clothes, my arms.
Read Barker's full account of the protest here.
Popular in the Community