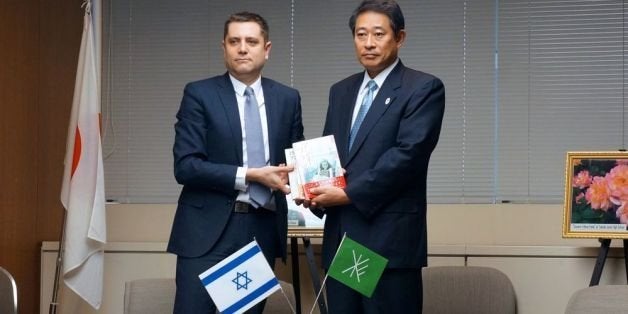 More than 300 copies of "The Diary of a Young Girl" by Anne Frank and other Holocaust-related books have been torn up in separate incidents in public libraries around Tokyo, causing wide repercussions within local communities.
Hearing of these incidents, Deputy Chief of Mission Mr. Peleg Levy of the Embassy of Israel in Tokyo and Mr. Philip R. Rosenfeld of the Jewish Community of Japan visited the local municipal body of Suginami Ward in Tokyo on Feb. 27. Suginami Ward has the most number of incidents with 121 books destroyed. They promised Ward Mayor Mr. Ryo Tanaka that they will donate 300 new copies to all municipal bodies affected.
Mr. Rosenfeld said that he is "shocked that incidents such as these occurred in peaceful Japan." He says that these incidents have not damaged the friendly ties between Israeli and Japan, but he severely criticized the offender calling him or her a "coward."
When Mr. Levy first heard of the incidents, he expressed great shock that these happened in Japan. "I had the perception that Japan is a peaceful country, and to think that these happened here and not in another country is especially shocking. However, I have received many apologetic messages ever since these incidents were reported in the news. The messages say 'I feel very sorry as a Japanese person' so I understand that these are crimes committed by just a few."
According to Mr. Levy, there are no other instances in the world of such "terrorist" attacks on books about Jewish persecution, so the reaction in Israel has been tremendous. These incidents were first reported in HuffPost Japan on Feb. 20 . Upon receiving this news, the Jewish human rights organization Simon Wiesenthal Center in the United States of America released a statement expressing deep concern.
Other major news organizations worldwide have since reported on this story.
"These incidents have already been reported worldwide so the news has spread and is well-known. Of course, everyone in Israel is shocked because they all have the impression that the Japanese are warm-hearted people. However, the Israeli people consider these incidents as single-handed crimes, and they are aware that not all Japanese people are like the offender," Mr. Levy said. However, he severely criticized the offender saying, "I do not want to get involved but I think that (he or she) is a coward."
According to Japanese law, damaging library books is a crime of "breaking and destroying" which is a relatively minor offense. However, these incidents have become an international issue and are seriously being looked into by the Tokyo Metropolitan Police Department. Its Criminal Investigation Bureau has adopted the extraordinary measure of setting up a task force to open an investigation. When asked about these incidents, on Feb. 21 Chief Cabinet Secretary Yoshihide Suga said, "Our country considers this unacceptable, extremely regrettable and shameful. I think that the police will surely investigate this matter thoroughly," demonstrating sensitivity in trying to prevent the development of an unnecessary diplomatic problem.
Looking back on history, Suginami Ward Mayor Tanaka who received book donations from the Embassy of Israel has this to say: "Japan formerly joined hands with Hitler which has left a stain on history. However, even during those dark days, Japanese diplomat Chiune Sugihara of the Lithuanian Consulate issued about 1500 visas to Jewish people which saved their lives. Inherently, Japan has such humanitarian beliefs and a strong desire for peace. There is a possibility that the incidents may have been committed by organized crime but I feel that it is important for us to adopt the stance of being unafraid in taking strict action."
With regard to these incidents that have become an international issue, it could very well be that the most shocked people of all are the Japanese who love books and freedom of speech. At first, only 250 books were damaged. However, with ensuing news reports and investigations by various public libraries, it has been revealed that at present, more than 300 books have been wrecked.
On the other hand, support for libraries is growing. A box containing 137 copies of "The Diary of a Young Girl" from a person by the name of "Chiune Sugihara" was delivered to the Tokyo Metropolitan Library on Feb. 24. Mr. Sugihara passed away in 1986; and the Tokyo Metropolitan Library considers the books as an anonymous donation. It is also appealing for donations for other libraries in Tokyo.
In the Suginami City Library which received donated books from the Embassy of Israel, copies of "The Diary of a Young Girl" and related material that escaped damage are still lined up on bookshelves and can be freely read. Library workers are very careful not to come to the point where they have to be kept in storage or have reading limits imposed upon them. We must absolutely protect "The Diary of a Young Girl" from terrorist attacks that violate freedom of speech.
Before You Go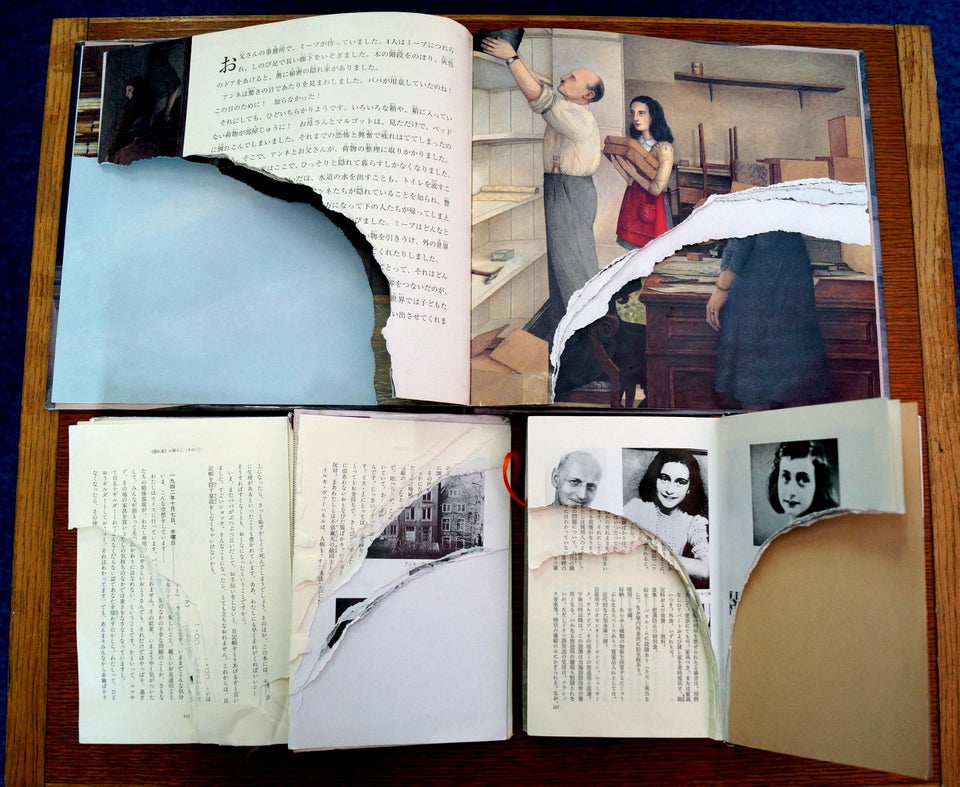 Anne Frank Books Vandalized In Japan
Popular in the Community