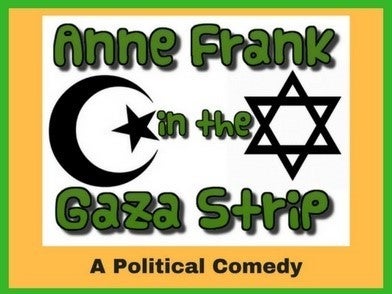 Poor Dorothy Jackson. As a first-year drama teacher, Ms. Jackson (Lauren D. Salvo) innocently casts a Muslim student named Majidah (Isra El-salihie) to play the titular role in a high school production of The Diary of Anne Frank at Briarfield Academy. Dorothy has chosen the plucky young actress because, well... Majidah is the best qualified person for the role. Dorothy's decision, however, sparks outrage with many in the affluent, suburban Connecticut town. The protesters include the Parents' Council, some members of the Jewish community, and some of the theater department's funders, who have ties to the political right. The school's openly gay headmaster Randall (David M. Farrington) and his husband/assistant Darrell (Bruce Jones) want to take the path of least resist-ance by shutting down the play in the middle of rehearsals-- possibly replacing it with a less "controversial" production (Neil Simon, maybe?) and a new director. such as the more compliant Ms. Levine (Becca Lish). The animated headmaster shows Dorothy a letter from one "high profile" protester, who disapprovingly claims that casting a Muslim girl as "the most famous Jewish girl in history" would be like forcing the audience to watch "Anne Frank in the Gaza Strip".
"Anne Frank In the Gaza Strip". Hmmm...
That's the name of Monica Bauer's timely new political comedy, directed by Shaun Peknic and enjoying a run at New York City's Clemente Center as part of the Planet Connections Theatre Festivity. After the new play's initial scenes of the high school's controversial casting of Miss Frank, the piece soon takes a Wizard of Oz-inspired, fantastical turn: Our Dorothy accidentally gets conked on the head, transporting the cast of high-spirited characters into another stage: the set of the World Premiere of-- you guessed it-- "Anne Frank in The Gaza Strip", set in Jerusalem in 2014 B.T. ("Before Trump"). Randall the headmaster (now "Reuben") and Darrell (now "Daniel") are reincarnated in the role of Israeli Shin Bet agents, complete with hyper-masculinized drag and guns-- although it doesn't slow down their hilariously non-stop marital bickering. The young Muslim high school girl re-appears as "Mary", an enigmatic child who may or may not be a threat to Israeli national security. Dorothy, the beleaguered high school teacher, appears in the hallucinatory production as a child psychiatrist who states that she's there to "protect" Mary. But just who is this wide-eyed little girl? And what is her connection to Anne Frank? Adding yet another layer to the metaphysical goings-on, even Dorothy's post-head trauma vision is not without attempted intervention by outside forces (Put another way, EVERYONE has their own self-serving opinions...)-- which allows for even more surreal hilarity and concurrent keen insight into American political and entertainment culture. People, get ready: No one is safe! (Neil Simon takes a particular beating.)
With equal doses of smart comedy and shrewd exploration of political and social mores, Anne Frank in the Gaza Strip's "play within a play"- style offers a truly original theater experience. Playwright Bauer doesn't waste a single line of dialogue, and Director Peknic doesn't waste a single minute of running time in this amazingly fast-moving, intriguing piece . The cast is flawless in their comic talents, especially with the humorous yet loving chemistry between David M. Farrington's Streisand-worshiping headmaster and Bruce Jones as his equally lively (and equally Streisand-worshiping) partner. John Fico is also hilarious in a double role: as the "F"-bomb-dropping but kind-hearted maintenance man Bobby, and later on as an acerbic and snappy director named "Barry". As Dorothy, Lauren D. Salvo is magnetically engaging, while Isra El-salihie-- in the difficult role of playing a mysterious child-- is a revelation. Rounding out the cast are Andrew Dahreddine, showing some impressively over-the-top charms as both Jonathan and yet another revisionist version of "Anne Frank"; and Becca Lish as the deliciously deadpan Ms. Levine/"Leslie".
Despite the occasionally larger-than-life characters and their comedic situations, however, the themes explored in Bauer's Anne Frank in the Gaza Strip are VERY real-- and they are more important than ever as we enter the second half of a politically and socially tense year. Most of us who follow the entertainment business are familiar with the occasional racial, ethnic, and gender casting controversies that rises up in the worlds of theater and cinema. The "cause célèbre" that ignites the comedy and drama in Anne Frank in the Gaza Strip, however, only serves to turn the spotlight onto to the real-life and often disturbing aspects of the modern human experience-- censorship, prejudice, violence, political differences, blind loyalty, and war dramas among them. In the play's fantasy sequence, both Dorothy Jackson and the audience eventually do discover the true story behind the mysterious little girl named "Mary", as the play shifts from comedy to drama. Through that, the audience learns (or re-learns, for anyone who has actually read Anne Frank's diary...) that Ms. Frank's tragic story is more universal and timeless than ever in 2017. That said, that's just one of the many important messages delivered in Anne Frank in the Gaza Strip. In between the laughs, there are many more.
Anne Frank in the Gaza Strip continues through Sunday, July 9, as part of The Planet Connections Theatre Festivity, at the Flamboyan Theater in The Clemente Center, 107 Suffolk Street, New York City. Visit www.PlanetConnections.org for tickets and more information.
Calling all HuffPost superfans!
Sign up for membership to become a founding member and help shape HuffPost's next chapter
This post was published on the now-closed HuffPost Contributor platform. Contributors control their own work and posted freely to our site. If you need to flag this entry as abusive,
send us an email
.