The U.S. center's executive director, Steven Goldstein, slammed Trump's response as nothing but a "Band-Aid" and reminded Americans of his administration's history of turning a blind eye to past and present anti-Semitism.
"His statement today is a pathetic asterisk of condescension after weeks in which he and his staff have committed grotesque acts and omissions reflecting Antisemitism, yet day after day have refused to apologize and correct the record," Goldstein said. "Make no mistake: The Antisemitism coming out of this Administration is the worst we have ever seen from any Administration. The White House repeatedly refused to mention Jews in its Holocaust remembrance, and had the audacity to take offense when the world pointed out the ramifications of Holocaust denial."
Earlier on Tuesday, Trump made his clearest denouncement of anti-Semitism yet, while touring the National Museum of African American History and Culture in Washington, D.C.
"The anti-Semitic threats targeting our Jewish community and Jewish community centers are horrible and painful and a very sad reminder of the work that must be done to root out hate and prejudice and evil," he said.
His comments come a day after Jewish Community Centers across the U.S. faced another wave of bomb threats, forcing evacuations in 10 states. But threats have been happening for a while; Jewish Community Center Association communications manager Marla Cohen told The Huffington Post on Monday that there have now been at least 67 incidents at 56 Jewish Community Centers in 27 states and one Canadian province since the start of 2017.
"Sit down," the president told Jake Turx, a reporter for Orthodox Jewish weekly Ami Magazine, after telling him it was "not a fair question."
When Turx attempted to interject, Trump fired back, "Quiet, quiet, quiet," and called it a "very insulting question."
Before You Go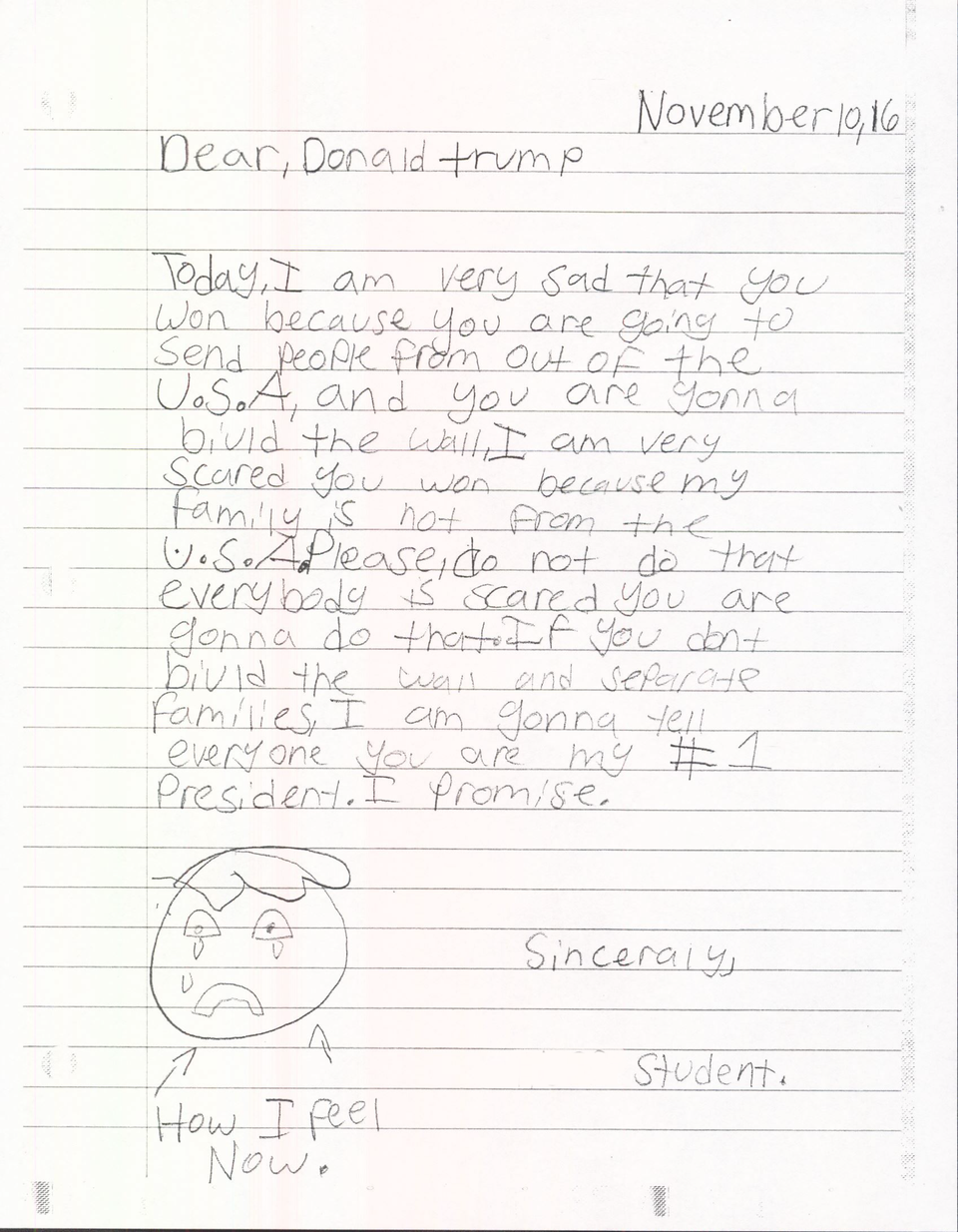 Students' Letters To Donald Trump
Popular in the Community