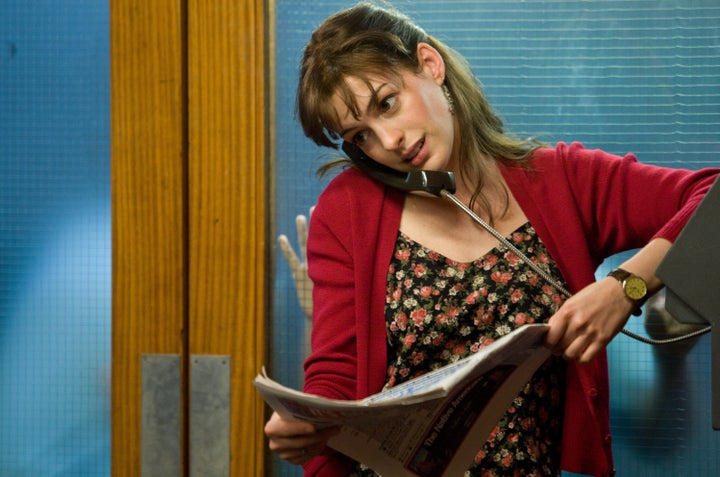 Is it possible Hathaway meant to equivocate? Her character, Emma Morley, is also never still. In search of something better, she leaves a middle-class life in Yorkshire for a posh university in Edinburgh, eventually landing the kind of Parisian writerly life that's only found in the movies. As Emma's fortunes shift, it's not unreasonable to imagine her accent moving as well, in the direction she wants it to go, a Yorkshire lilt drifting into the anonymous Received Pronunciation of the British educated classes (it happens). Like Hathaway, Emma would be putting it on.
Paul Meier, a voice coach who runs the English dialect archive at the University of Kansas, calls the slow shedding of Emma's dialect a "hard trick" even a British actress would find challenging.
"My heart goes out to her," he says, of Hathaway. "It's a specific kind of skill, like juggling or roller skating. You can be lousy at dialects and a great actor, and you can be great at dialects and a lousy actor."
Meier saw Hathaway do a British accent once before -- as the White Queen in Tim Burton's "Alice in Wonderland."
To judge Hathaway's evolution in "One Day," listen to her accent at the beginning and end of the film. We've eliminated the video, so you can focus on the accent without any visual distractions:
Here's Hathaway doing her best Yorkshire:
And here's her RP toward the end:
She certainly doesn't nail every turn of phrase, but it's worth noting the distinct shift.
A white female, born in 1912, and raised in Greetland, West Yorkshire:
A white female, born in 1976, and raised in Harrogate, North Yorkshire:
What do you think of Hathaway's decision to honor such a tricky role? Should she have accepted defeat and just gone RP? Let us know your thoughts in the comments.
Calling all HuffPost superfans!
Sign up for membership to become a founding member and help shape HuffPost's next chapter