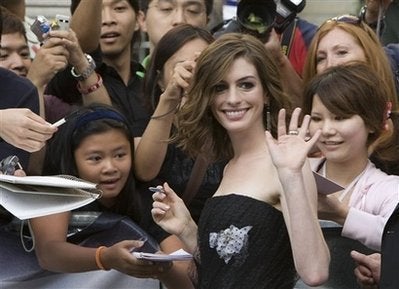 Actress Anne Hathaway has finally broken her silence over the June arrest of boyfriend Raffaello "Vati-Con" Follieri. She gave an interview to W magazine, on newsstands in LA and New York today. Also today Follieri pled guilty to fraud and money-laundering charges.
Hathaway showed up for the interview looking thin and was on the verge of tears for much of it.

"As soon as I found out about the arrest, I had to get on a plane to Mexico to do a press tour for Get Smart. And then I spent a week in shock at a friend's house. And then I had to go back and do more press, and I haven't stopped since."...

She's been staying at a friend's downtown since moving out of the midtown apartment she shared with Follieri, which was searched by the authorities. "I have to find a place to live," she says numbly. But then her voice catches with emotion and pools form at the corners of her eyes as she struggles to articulate her messy mix of feelings. "It's a situation where the rug was pulled out from under me all of a sudden," she says. "But just as suddenly, my friends threw another rug back under me. One said, 'Go stay at my house.' And Steve Carell [her Get Smart costar] stepped up for me during an interview when someone asked a question [about it]. He said, 'At some point you're going to have to talk about this time in your life. You don't have to do it this week. I'll take care of anything that comes your way.'

"I've been shown such kindness," she continues, wiping at an errant tear. "Not everyone gets that. A lot of people go through tough times alone."

Hathaway has less to say about the beating she's taking in the press. "What's going on is so much bigger than all that," she says. "Though it's crazy that things like that Newsweek article have become small stuff." One eyebrow arches with ironic resignation. She declares that she has no desire to correct any of the misinformation that's padded much of the scandal coverage, though a week later she sends an e-mail addressing a recent Page Six item: "I did not abandon my dog, Esmeralda, and no one had to ask me to go and get her. In fact, the day before that particular news item broke I had arranged to have her picked up and taken to my parents' apartment." (Hathaway's mother, a former stage actress, and her father, a lawyer, also live in Manhattan.) "My dad likes telling the story," the e-mail continues, "in a funny/sad sort of way, that Esmeralda was at [their] house watching herself on Access Hollywood as Nancy O'Dell or someone asked, 'Where in the world is Esmeralda?'"
Read the whole interview, done to promote her Jonathan Demme film "Rachel Getting Married."
Popular in the Community