Anne Hathaway is no stranger to embarrassment.
The 31-year-old actress has lived through some cringeworthy moments -- and is aware that she's fully to blame for all of them. She stopped by "The Tonight Show Starring Jimmy Fallon" on Monday and decided to rank those moments, which now include crashing a surprise party with her "Interstellar" co-star Matthew McConaughey.
The conversation began as Hathaway told Fallon about honoring McConaughey when he received the 28th American Cinematheque Award last month. She had a whole speech prepared, but started freaking out when she realized that all of the other presenters -- including Kate Hudson, Jennifer Garner and Sandra Bullock -- were telling charming stories about their special times with McConaughey.
"I thought, 'Just get it together, you can do this. You've written a speech, it's not as funny as the other girls', but it's heartfelt, you can do it!' I go to say my first line ... the teleprompter broke," Hathaway explained. "And I was like, 'You got to be kidding me!'"
When Fallon asked her if it was embarrassing, Hathaway nodded her head before explaining. "The thing about me and embarrassment is you have to remember that it all happens on a scale," she said. "And so if you think about the embarrassment scale one to 10: one is just like being a person walking down the street, and 10 is, for me, co-hosting the Oscars with James Franco. Which, by the way, is only tied with being honored to accept an Oscar whilst wearing a dress that I knew made it look like my nipples were erect," she laughed. "So here's the thing, if that's a 10, [the McConaughey speech] was like a 4."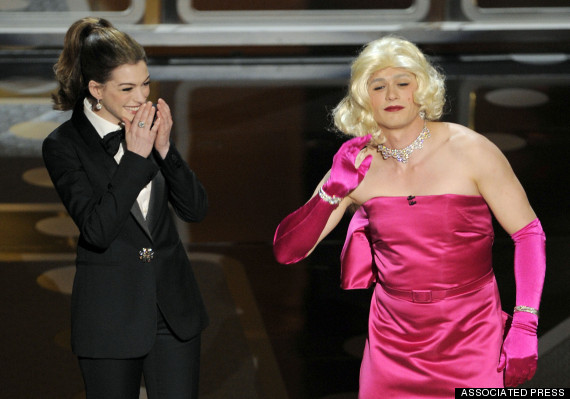 But, according to Hathaway, showing up at McConaughey's house for a party on the wrong day was up there on the list.
"That one was like an eight," she joked, adding that McConaughey was nothing but kind to her and her husband, Adam Shulman, when they arrived at his doorstep. "He invited us in, got us drunk, and we had a great time. And then I crashed a surprise party with him."
Sounds like the perfect situation to us, Anne.
Calling all HuffPost superfans!
Sign up for membership to become a founding member and help shape HuffPost's next chapter
BEFORE YOU GO
PHOTO GALLERY
Anne Hathaway Style Evolution