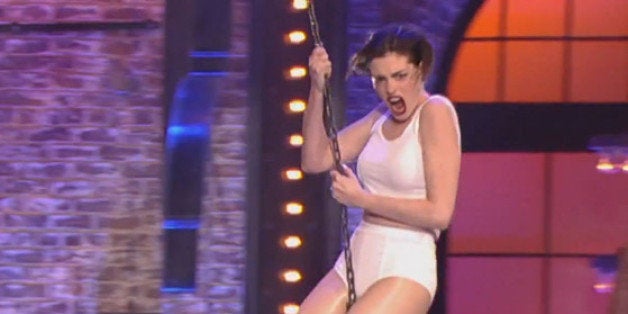 It's Anne Hathaway like you've never seen her before.
The 32-year-old managed to get completely in character and channel her inner Miley Cyrus for a performance of the singer's 2013 smash hit "Wrecking Ball" on an upcoming episode of "Lip Sync Battle."
In a new clip, the Oscar-winning actress lets her opponent and "Devil Wears Prada" co-star, Emily Blunt, know she means business by stripping down to her underwear, riding the swinging wrecking ball like Cyrus does in the song's music video and flipping the camera the middle finger. We're sure Miley approves.
Tune in April 9 at 10 p.m. EST to see Hathaway take on Blunt on Spike TV's "Lip Sync Battle."
Popular in the Community