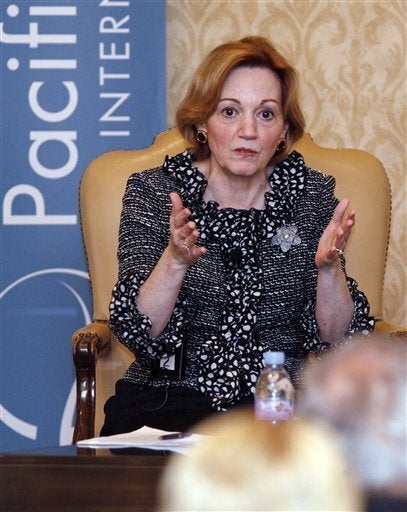 The public expression of modern American diplomacy is typically so dull and disingenuous that one of the pleasing revelations from the unauthorized release of State Department cables is how blunt American diplomats are when they communicate with each other.
Behind the scenes, there's a lot of truth-telling going on. The cables suggest that if the Department of State, rather than Defense and the CIA, had been given the leading foreign policy role over the past decade, things might have turned out a lot better.
Only a couple hundred of the more than 250,000 cables obtained by WikiLeaks have been released thus far, but one correspondent being singled out for her straight-shooting is Anne W. Patterson, a career foreign service officer whom George W. Bush appointed as ambassador to Pakistan in 2007. Patterson returned to Washington last month after more than three years at that notoriously difficult posting.
Washington's dealings with Pakistan have been particularly tense in recent years, with the government frequently resisting U.S. pressure to crack down on Taliban and al-Qaeda elements within its borders, and with concerns growing over the safety of Pakistani nuclear materials. At the same time, CIA-controlled drones have been firing missiles at targets inside Pakistan.
On the surface, it's mostly smiles -- but not in the cables. The Guardian's Simon Jenkins writes:
Some stars shine through the banality such as the heroic envoy in Islamabad, Anne Patterson. She pleads that Washington's whole policy is counterproductive: it "risks destabilising the Pakistani state, alienating both the civilian government and the military leadership, and provoking a broader governance crisis without finally achieving the goal". Nor is any amount of money going to bribe the Taliban to our side. Patterson's cables are like missives from the Titanic as it already heads for the bottom.
And the New York Times calls attention to a dangerous standoff with Pakistan over nuclear fuel:
Since 2007, the United States has mounted a highly secret effort, so far unsuccessful, to remove from a Pakistani research reactor highly enriched uranium that American officials fear could be diverted for use in an illicit nuclear device. In May 2009, Ambassador Anne W. Patterson reported that Pakistan was refusing to schedule a visit by American technical experts because, as a Pakistani official said, "if the local media got word of the fuel removal, 'they certainly would portray it as the United States taking Pakistan's nuclear weapons,' he argued."
The BBC has since reported that Pakistani foreign office spokesman Abdul Basit confirmed the report:
The facility is in Karachi and was built through the US Atoms for Peace programme under President Dwight Eisenhower.

Mr Basit told the BBC: "The US has been asking for the last two years that we should return the reactor and the fuel which had been given.

"We dismissed this, reiterating that the reactor was our property, so there was no question of it being returned."

US officials have long expressed concern that Islamist militants in Pakistan could target the country's nuclear programme in an attempt to get their hands on the materials to build their own bomb.
And Patterson's successor is now trying to deal with this outbreak of honesty. The Guardian reports:
Washington's new ambassador to Pakistan, Cameron Munter, published an article today in Pakistan's English-language paper, the News, which aims to pre-empt unflattering references to the Pakistani government and its military....

The cables likely to trouble Munter, which include allegations that the military is colluding with militant groups and unflattering pen portraits of leading politicians, were written by his predecessor Anne Patterson, a sharp, well-regarded diplomat who left Islamabad a few months ago. The Pakistan files are due to be published in the coming days.
Patterson served from July 2007, succeeding Ryan Crocker, until early October. In late October, Secretary of State Hillary Clinton presented Patterson with the "Secretary's Distinguished Service Award."
Patterson has spent 37 years in the Foreign Service. A native of Arkansas and graduate of Wellesley College and the University of North Carolina, she was ambassador to Colombia from 2000 to 2003 and ambassador to El Salvador from 1997 to 2000.
She has also served as the assistant secretary of state for international narcotics and law enforcement affairs, as deputy permanent representative and acting permanent representative to the United Nations, and as the department's deputy inspector general.
Last year, Patterson was blunt in an interview with PBS's "Frontline". Asked what can be done about Taliban militants based in Pakistan's ungoverned territories but fighting in Afghanistan, Patterson replied that she hoped the Pakistani military would eventually be able to assert control over those areas.
But, she said, "you can't kill your way out of this. That's not the option. There might be other alternatives -- reconciliation process, offering job opportunities, I don't know. But it's not just by force."
Patterson could not be reached for comment Monday morning, but her husband, David R. Patterson, called her "a career diplomat's diplomat." Asked about what led her to leave Islamabad, David Patterson told The Huffington Post that his wife "was there a good deal longer than is normal in Pakistan," and "had been asking for a replacement for months."
*************************
Popular in the Community