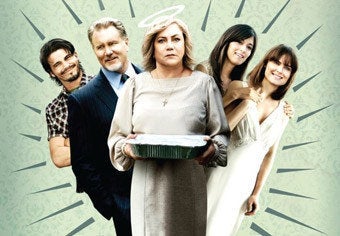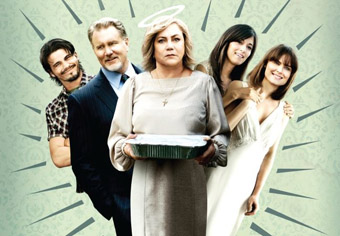 I talked with Australian director Anne Renton about her new, must-see film, The Perfect Family, starring Kathleen Turner, Emily Deschanel, and Jason Ritter. The film is about suburban supermom Eileen Cleary (Kathleen Turner), who is nominated for the coveted Catholic Woman of the Year Award at her local parish. It appears she's a shoe-in, but one final test remains, and that is introducing her family to the church board, which includes Monsignor Murphy (Richard Chamberlain), for the seal of approval. This is where the plot thickens, as she must face the truth about her nonconformist family, something she has been in denial about for years. With her gay daughter (Emily Deschanel) about to marry her life partner, her unhappily married son (Jason Ritter) having an affair with the local manicurist, and her own marriage to a recovered alcoholic coming apart at the seams, Eileen decides to take action, ramping up her meddling to hilarious new heights. As she does, she begins to question what truly makes a family perfect.
When asked what her personal commitment is to LGBT civil rights, Renton stated:
Well, as a filmmaker I try to think about what it is and what would be a different way to tell a story. When Prop 8 was passed in California, I turned to a short film that I had just made, called Love Is Love. I did a minor re-edit and put some cards up in the front of the film and basically dedicated it to everyone that voted "Yes" on Prop 8. The film was a comedy about what it would be like for heterosexuals to live in a predominately gay world. So my hope in doing this was to get it out there. I put it up on YouTube, and it did get quite a lot of hits. I hope that some of the people that watched it were people who maybe did vote "Yes," and that it was an opportunity to maybe support them to think a little differently about things.
Love Is Love stars Emmy winner Jane Lynch (Glee). In our interview, Anne shares a very interesting story about how Lynch became involved with her short film.
The Perfect Family premiered to critical acclaim at the 2011 Tribeca Film Festival and opened the Provincetown International Film Festival last June. That's where I first met Anne and interviewed the film's star, Kathleen Turner. Anne has since formed Certainty Films with executive producer Connie Cummings. They look forward to continuing to blend entertainment that weaves a sense of true purpose and meaning into our lives with a more conscious approach to filmmaking.
The Perfect Family, released by Variance Films, opens May 4 in N.Y.C., L.A., and On-Demand, with a wide release May 11. To learn more, visit theperfectfamilymovie.com.
Listen to more interviews with LGBTQ leaders, allies, and celebrities at OUTTAKE VOICES™.
Support HuffPost
Every Voice Matters
Popular in the Community