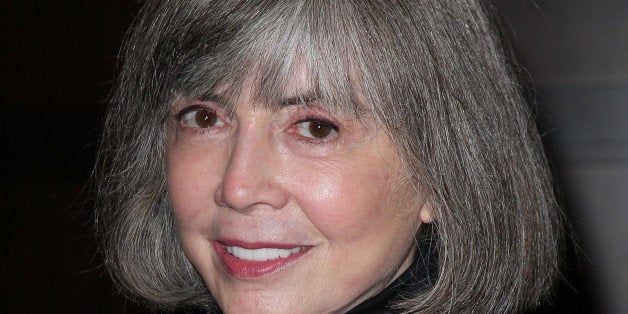 Brief Interviews is a new series in which writers discuss language, literature, and a handful of Proustian personality questions.
Anne Rice in an author based in the American South, most famous for her novel-turned-film, "Interview with the Vampire: The Vampire Chronicles." She's also written a number of southern gothic numbers, and fictionalized accounts of Jesus Christ's life, including "Christ the Lord: Out of Egypt" and "Christ the Lord: The Road to Cana." Her latest book, "The Wolves of Midwinter," [Knopf, $25.95] released today.

What is your most prized possession?
Probably my Mac computer. Where would I be without it?

Who (or what) do you envy?
Bill Gates. I so admire what he does with his power and riches, and I admire his wife Melinda too.

Where do you like to read?
I love to read in two places: a recliner in my bedroom by the windows -- in the late afternoon light. And I love to read at a little square table in my office by the front windows. Two best places. Love having coffee or Diet soda while reading.

What did you want to be when you grew up (besides an author)?
I dreamed of being a great violinist but sadly, I had almost no talent at all musically. So writing was the other great dream. That's about it.

What bothers you most about the English language today?
In writing, it would help a lot if we had some intermediate punctuation marks to indicate soft questions, soft exclamations, and different inflection in dialogue. But we just don't. And question marks and exclamation marks can jar a reader unnecessarily.

What's your favorite word?
"Magnificent."

Which word do you hate?
"Stink." I loathe that word and I don't like it when people use it.

If you could have any 5 dinner guests, dead or alive, who would they be?
Jesus Christ, Paul, Shakespeare, Charles Dickens, and Augustus Caesar.

What is the first book you remember reading?
A book on Greek myths from the public library. No name lingers; no title.

Which books are you embarrassed to have never read?
All Thomas Mann's novels, all of Proust, all of George Elliott, all of Thackery; Dickens novels I haven't read yet like "Bleak House" and "Hard Times," the novels of Theodore Dreiser and Sinclair Lewis; the Odyssey and the Iliad, and all the Greek tragedies.

If you could only recommend one book, which would it be?
"Great Expectations" by Charles Dickens.

Print book or e-book?
Whatever is easiest for the reader to access and actually read.

What, if anything, do you read while you're working on a project?
I read books that feed my writing --- using books wholly unlike my own with strong narrative drive, like Jack Reacher novels by Lee Child. While writing my last book, I read a whole spectrum of books for their narrative drive... "The Godfather"; "Peyton Place"; "The Valley of the Dolls"; "The Executioner's Song"; and lots of Jack Reacher.

Do you have a favorite sentence from a book? What is it?
"It was the best of times, it was the worst of times..."
REAL LIFE. REAL NEWS. REAL VOICES.
Help us tell more of the stories that matter from voices that too often remain unheard.