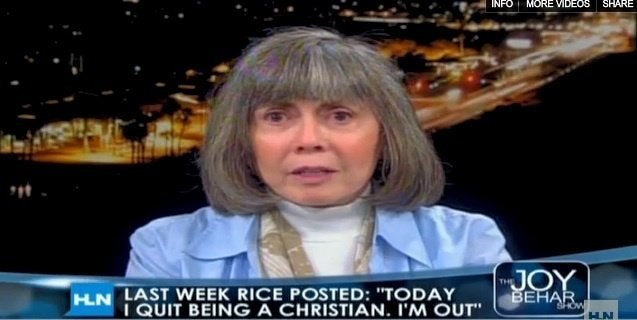 Anne Rice announced on her Facebook page last week that she has decided to quit Christianity. She spoke to Joy Behar today about that decision and what was behind it. Rice addressed some of the major issues that turned her away from her religion, including the church's anti-gay, anti-feminist, and anti-abortion beliefs.
Rice acknowledged that it was very difficult to stand behind an anti-gay church when her son, Christopher, is gay, but she denied that the decision was because of him, explaining that she had been aware of gay issues since long before he came out.
When asked why she was not considering leaving Catholicism and going to a more liberal and accepting church, Rice said that while she appreciates the work that those churches are doing, "Right now I would prefer to walk away from the argument, from the confusion."
Popular in the Community