At a time when there is much discussion about the role of women in the Christian Church, one cardinal demonstrated the power of respect caught in a moving photograph that has sparked enthusiastic approval as well as vehement criticism.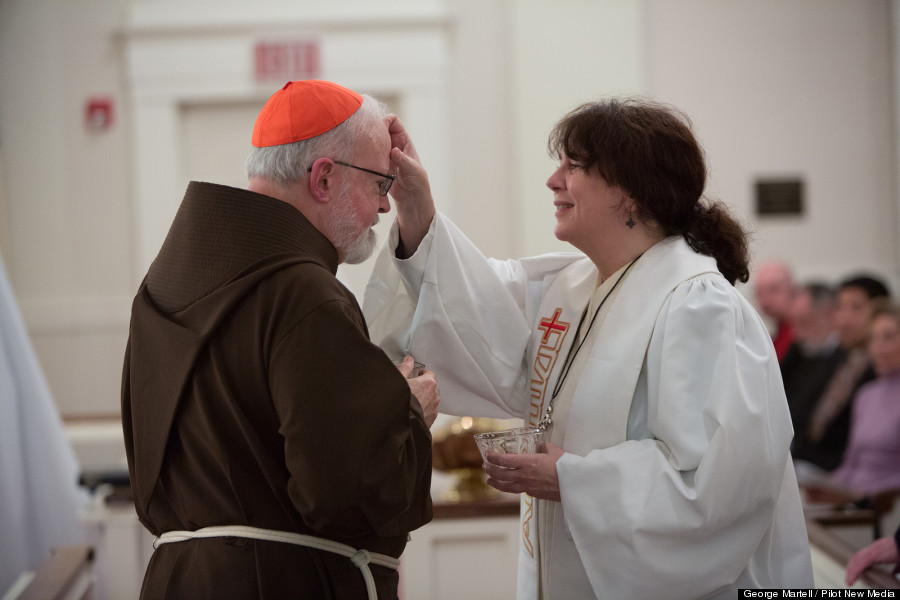 Rev. Anne Robertson was the only female clergy member to assist at an ecumenical worship service that commemorated the 50th anniversary of the historic event when Cardinal Richard Cushing spoke at the Methodist church in Sudbury at a time of tension between Catholics and Protestants, reports The Patriot Ledger.
Boston's Cardinal Sean O'Malley surprised many people when he asked Rev. Robertson, a pastor in the United Methodist Church, to anoint his forehead with consecrated water in an ecumenical baptism reaffirmation ritual at Sudbury United Methodist Church, reports The Patriot Ledger. The spontaneous and genuine gesture moved Robertson almost to tears. She told The Huffington Post that she is "grateful for those times when people can see across the divide and see our common humanity-- and in this case our common faith."
Ecumenical gatherings are not always warm, fuzzy events for women of the cloth. Most of us have experienced many types of exclusion, even within our own congregations, let alone when we try to join with Christian groups that don't believe women are fit for ordination. And in this group there might well be those who wouldn't have wanted such a blessing from any Protestant, even a male one. I was deep in thought as I received my bowl.

Our exit toward the overflow room took us directly past Cardinal O'Malley. Fortunately, Tom's [a fellow clergy person at the gathering] brain was more engaged in the moment, and he was not about to lose out on the chance to have the man who might well be Pope someday anoint him. Tom stopped in front of the Cardinal and asked for his blessing. I stopped with him and Cardinal O'Malley was gracious enough to anoint me, too.

And then, as the two of us stood there together, Cardinal O'Malley looked me in the eye and asked me to anoint him. I did. The divorced, Scotch Protestant clergywoman anointed the Irish Catholic Cardinal in front of a pew of Catholic clergy and a Catholic Bishop, any one of whom would probably have given their eye teeth to have the honor. I choked back sobs all the way to the overflow room.
Robertson told The Huffington Post in a phone interview that the incident reminded her of the truth of Biblical passage Galatians 3:28, "There is no longer Jew or Greek, there is no longer slave or free, there is no longer male and female; for all of you are one in Christ Jesus." She continued, "Jesus reached out to women-- it was one of the things he was always getting in trouble for! He reached out to untouchables and the vulnerable."
Robertson said to the Huffington Post that she's used to hateful comments as a woman in ministry. However, she said, "My colleagues in ministry have been very supportive and for the most part really feeling the moment as I believe it was intended-- reaching out as a symbol that whatever else our differences, we are human beings both serving God in our own way with faithfulness, and we were one in that moment."
Related
Before You Go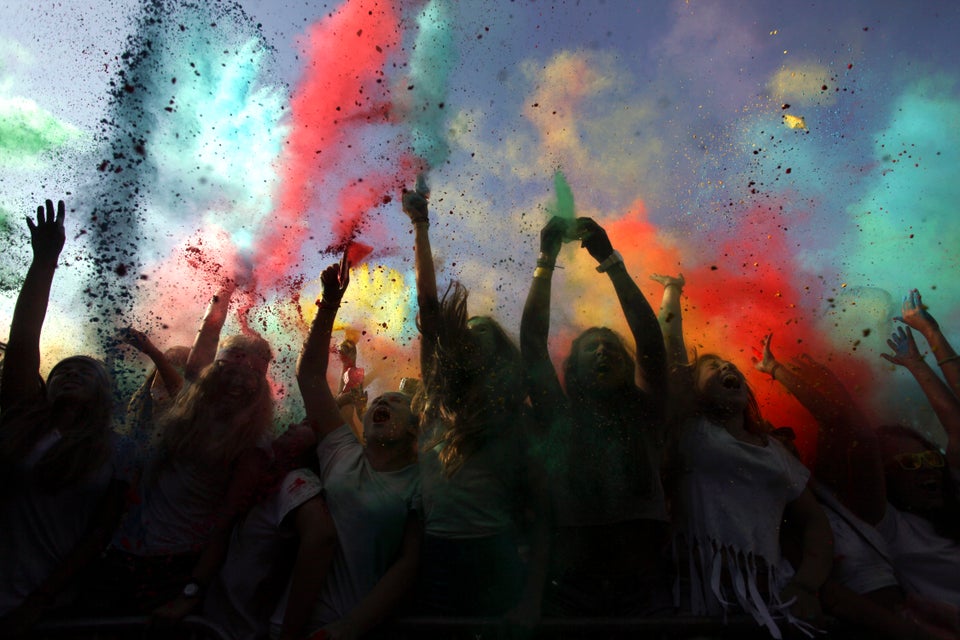 100 Stunning Religion Photos Of 2013
Popular in the Community