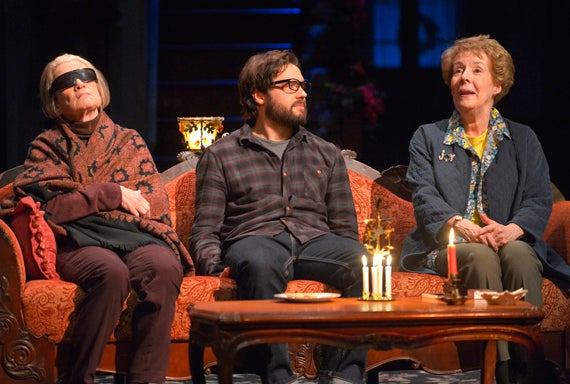 Mertis (Georgia Engel, right) tells Elias (Joe Paulik) and Genevieve (Ann McDonough) about her husband.
Theatrical silence is ominous. Looking for an extended time at a stage that's devoid of people, or occupied by people who do not move, we suspect that something important, dramatic, perhaps frightening is just around the corner, poised to grab us. In Annie Baker's theatrical world, that rarely happens.
Baker, whose highly acclaimed John opened a few days ago in the San Francisco's Strand Theater, dispenses silence like few if any other playwrights, in abundance. The American Conservatory Theater production runs three hours, with two 15-minute intermissions. My guess is that close to 30 minutes of its playing time contains no speech. The payoff is tension, rarely followed by events worthy of the anticipation.
A Pulitzer Prize winner for The Flick in 2014, Baker has been labeled one of American theater's leading young writers and John drew raves as "unique and brilliant," among others, in its off-Broadway debut about two years ago. Whether New Yorkers saw the John that's running in San Francisco is questionable. The Times reported its running time as 30 minutes longer; I doubt that could have been caused by slower pacing. The narrative was essentially the same, however.
Set in a Gettysburg, Pa., bed-and-breakfast that's overflowing with dolls, stuffed animals, figurines and other collectible kitsch, John involves a stressed-out young couple, the b-and-b's owner and an 80ish friend, who is blind. The couple are Elias and Jenny, the innkeeper is Mertis and the friend is Genevieve. As for John, there's no such character to be seen, though Genevieve describes one John as her ex-husband, whose spirit terrorized her into clinical insanity, and Jenny mentions another as a friend, though he's much more than that.
From the outset, we have to wonder why Elias (Joe Paulik) and Jenny (Stacey Yen) are traveling together, especially to Gettysburg. They squabble almost constantly: sometimes in mild tones, sometimes with deafening shouts and shrieks. He is a history buff who is drawn to the Civil War battlefields; she writes advertising jingles, and has no interest in places defined by carnage or tales of war-related ghosts. Each offers gestures of affection to the other, but always at times when the other is icy or hostile.
They maintain civil veneers in the company of Mertis (Georgia Engel), a slightly spooky woman who radiates sweetness in every gesture, and Genevieve (Ann McDonough), who bristles with crusty certitude. When they're alone, however, Elias and Jenny skewer each other in ways that hurt. Two examples: While chomping down breakfast, he explodes over comments about his noisy eating habits, accusing her of anti-semitism because of stereotypical ideas about the way Jews eat; and she squirms under badgering about her sexual relations with a former boyfriend.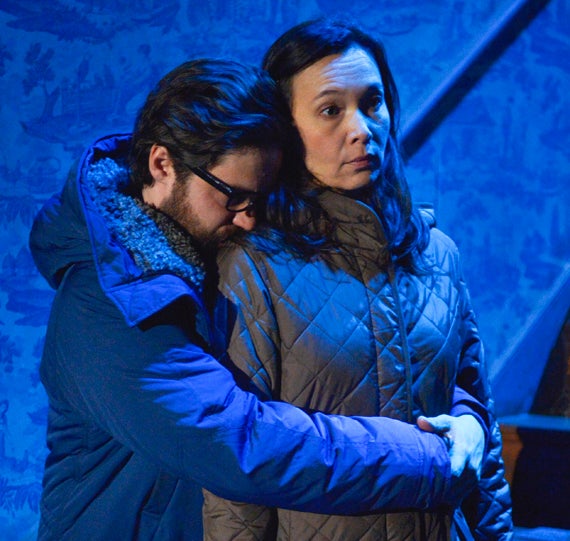 Affection from Elias (Paulik) meets icy remoteness from Jenny (Stacey Yen).
Mertis is the most intriguing and complex of the personalities, in large part because Engel's superbly shaped performance. Without stepping out of character, she becomes something of a ringmaster of events, opening and closing the stage curtain between scenes and, to indicate the passage of time, advancing the hands of a grandfather clock that occupies a prominent spot near center stage.
She tells of having an ailing husband, named George, who is in the house but never seen; is he real, we have to wonder; she keeps a diary in which she describes a sunset in poetically phosphorescent terms; she leads the other women into conversation about feelings of being watched — by dolls or deities, among other things — at some point in their lives. And she presides over a 19th century structure with a bloody history and contemporary quirks of its own: a player piano that starts and stops at will; Christmas tree lights that flicker on and off; eerie sounds that only Genevieve hears.
A forceful personality who minces no words about anything, Genevieve delivers one of the play's strangest and most powerful moments when she steps in front of the curtain at the end of Act Two and addresses the audience. The subject: her descent into madness, crackling with hallucinations.
The characters are all drawn with clarity and color, the performances are first-rate and the visual aspects of the production — especially Marsha Ginsberg's tchotchke-packed set — support Baker's narrative perfectly. But are four fine character studies worth three hours of a viewer's time? I have doubts. Like several members of the audience overheard at intermission and after the show, I had to wonder "what was that all about?"
John runs through April 23 in American Conservatory Theater's Strand Theater, 1127 Market St., San Francisco. Tickets are $20-$105, from 415-749-2228 or act-sf.org
REAL LIFE. REAL NEWS. REAL VOICES.
Help us tell more of the stories that matter from voices that too often remain unheard.
This post was published on the now-closed HuffPost Contributor platform. Contributors control their own work and posted freely to our site. If you need to flag this entry as abusive,
send us an email
.