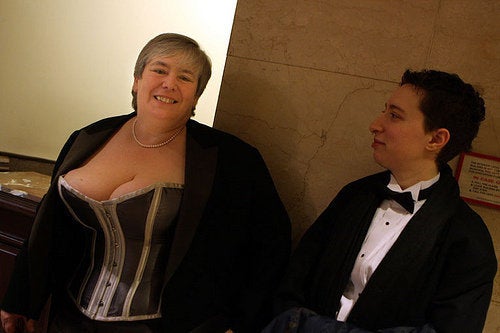 WASHINGTON - The Renaissance Mayflower Hotel--Gov. Elliot Spitzer's choice for hookups with hookers-- is hardly known for hipness.
Yet late Tuesday and well into Wednesday, this 1920s grande dame of DC hostelry gave great lobby.
Everyone from John Legend and Cyndi Lauper to a happy claque of Bidens --sister, brother, assorted in-laws--milled and chilled in the elegantly sprawling bar, rendered all the more alluring by great lighting and seating.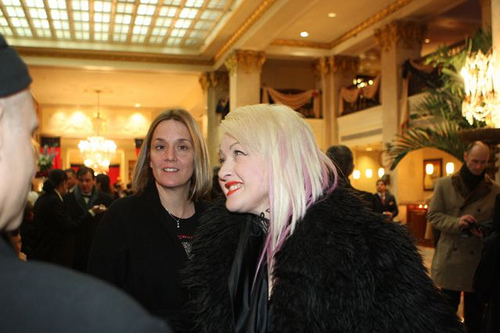 Cyndi Lauper in the Mayflower Hotel lobby early Wednesday morning
It didn't hurt that a steady stream of revelers had to pass by it as they left the inaugural ball thrown by the Human Rights Campaign and other GLBT groups.
What better spot for those wishing to stop for a pop, to swan and to schmooze, before hitting the next event or simply hitting the sack after days of emotional celebrating.
Hyper-suave in a top hat and tux was Dominic Lopez of Harlingen, Tex., who couldn't have asked for a more rollicksome finale to his first inauguration.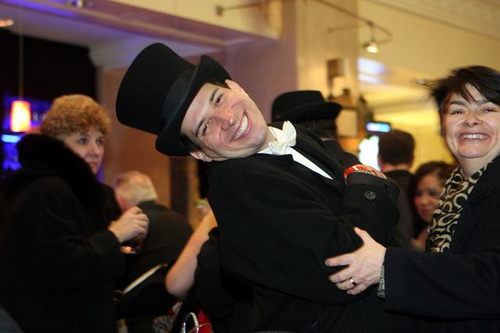 Dominic Lopez hams it up in the Mayflower Hotel Lobby Court bar earlyWednesday
It was all made possible by his totally wired cousin, Moises "Mo" Vela, who moments after yesterday's swearing-in, went straight to work at the White House as the vice president's director of administration.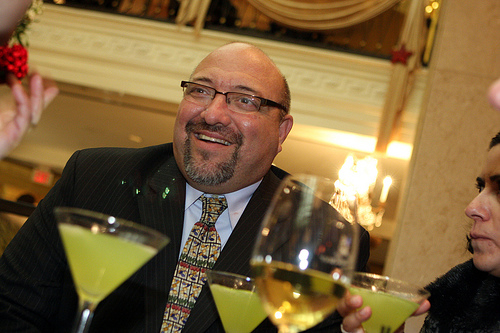 Mo Vela, Vice President Biden's director of Administration, in the lobby bar of the Mayflower Hotel early Wednesday morning.
Vela coudn't have been more exultant. "As a Hispanic and a gay, I think what's moving so many of us, all minorities and ethnicities, is that we are finally all at the table. It's the greatest equalizer we could have asked for."
Then, with a flourish worthy of Louis XIV, a giddy Lopez repeatedly doffed the lid, revealing thick, black locks. "Welcome to the Hair Club for Men," he chortled, "just $89.95 a month."
Equally eager to show her stuff was Glenda Rider of Baltimore, her bosoms floating like fleshy pillows above a taffeta bustier that was a marvel of structural engineering.
"The gay boys love my tits," she purred.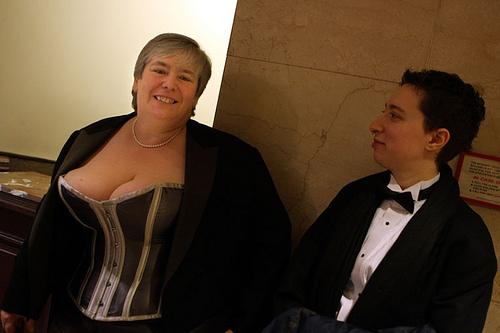 Glenda Rider of Baltimore, and her amazing bustier, at the MayflowerHotel lobby.
Moments later, Lauper--who performed at the ball along with Melissa Etheridge, Rufus Wainwright and Thelma Houston--walked by in a black mini and fishnets en route to her limo.
But she stopped for fan photos and to reflect on the meaning of Barack Obama's presidency. "It's a great night. The religious and the non-religious, we're all believers in the future. As Dr. King said, 'the arc of the moral universe is long but it bends on towards justice today.''"
Then she sped off....for a while.
In one of the more surreal house-of-mirror moments, CNN commentator and Huffington Post editor-at-large Hilary Rosen walked into the bar just as her face flashed across the TV screen, her previously-taped analysis completely inaudible.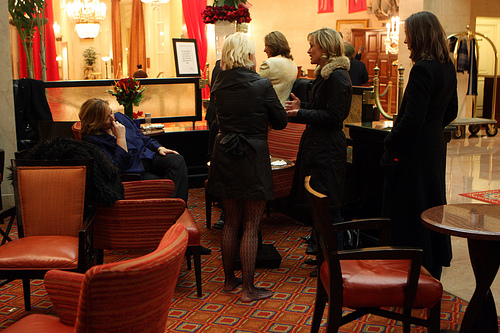 Hilary Rosen, far left, keeps her seat as a shoe-less Cyndi Lauper (back to camera) yaks with friends.
It was almost too much for a starstruck Michael Hurley, who had planted himself inconspicuously at a corner table, the better to video the tableau vivant for the folks back in Sacramento.
"This is the best day of my life," he kept saying. "My father was a Marist priest and was here in 1963 at the March on Washington. I turn 39 in four days and he gave me this trip so I would have my experience, like he had his."
A flight delay caused him to miss the oath-taking, and as he desperately sought a way to breach the crowd packed several blocks deep, "a real cute girl asked who wants to watch the parade. She gives me her ticket and then vanishes, as if in a dream, and I end up sitting in a reserved seat across from the president. "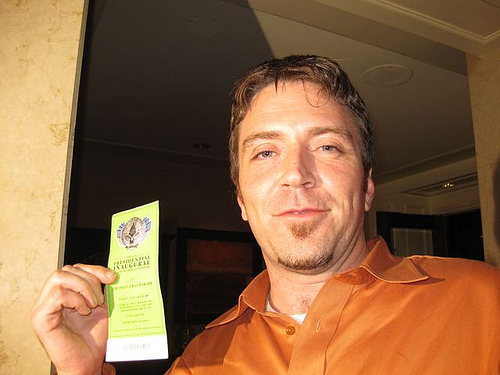 Michael Hurley of Sacramento, with the parade ticket from a stranger, at the Mayflower Hotel's Lobby Court bar.
That was hardly the end of the magic. When Chris Matthews ambled by, Hurley bolted from his seat to ask the MSNBC motor mouth-- "from one altar boy to another"--to pose for a picture. Of course. Oh. My. God.
At that point, Jim Biden swung by to say goodnight to sister Valerie Biden Owens. It was a sweet, private moment for she had earlier made a deal with journos at the next table to declare the whole clan off-limits on the humanitarian grounds of physical exhaustion and media fatigue.
It would have been churlish to deny such a polite and reasonable request. Besides, who wants to piss off the Veep's peeps on Day One of a four-year administration?
Lauper returned around 2:15 AM to hang with Rosen and other friends, even as waiters began clearing the tables.
Never mind that the DC City Council had extended closing time from 2 am to 4 am for the Inauguration.
The Mayflower chose not to exercise that option, leaving nearly two dozen drinking-age adults--dressed to the nines in gowns and jewels, black tie and white--wondering if management knew or cared how much money would be lost on un-ordered vodka shots and apple-tinis.
By 3 AM nearly everyone had drifted away, save for Michael Hurley, who was madly scribbling notes about the best day of his life.
Related