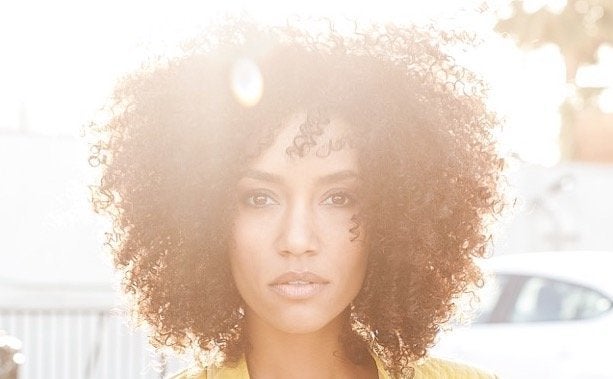 On average, 20 people per minute are physically abused by their partner in the United States, amounting to more than 10 million women and men, according to the National Coalition Against Domestic Violence.
Actress Annie Ilonzeh (who played roles in "General Hospital" and "All Eyez On Me"), stars in the psycho-thriller "Til Death Do Us Part," stepping into the world of Madison Roland, an abused wife striving to get her power back.
Initially, Ilonzeh's own experience with domestic violence led her to feel hesitant. She read the script, wanted to handle her portrayal with care, and ultimately found the role brought a deeper understanding for her while addressing a serious subject.
"The story really resonated with me, because I've been in a violent relationship before, when I was young and in college," Ilonzeh, 33, said. "But nevertheless, those scars kind of were reopened when I read it, and I didn't understand the feelings I was having. Then I started seeing the scars ― and they were reopened ― and I thought, well, on a therapeutic level this is a great way to put them back together in a healthy way. There were a lot of different pieces that put it together for me."
"Til Death Do Us Part," directed and written by Christopher Stokes, opened in theaters on September 29 also starring Stephen Bishop and Taye Diggs. The movie tells a story of a perfect marriage between newlyweds Madison and Michael (Bishop), whose controlling nature leads to him abusing Madison, who flees with the help of a friend. She starts a new life, adopts a new identity and falls in love with Alex Stone played by Diggs until Michael discovers her whereabouts.
"I think this movie opens up the story and the situation more than most. When we think of abuse ― domestic violence, verbal, physical, emotional ― we just think that this person, whoever it is but in this case it's Michael," Ilonzeh said. "We could just think that they're an animal or he's a horrible person but we see that there's a journey. He's a broken man. He's trying to find himself. He really does have, at least for his life and what he wants for him and his family, good intentions but his actions show otherwise."
In recognition of October being Domestic Violence Awareness Month, Ilonzeh talks about the film and her hopes for bringing awareness.
The film addresses a very serious yet touchy subject such as physical abuse. What were the conversations like on set with your costars?
You're only as good as your team and Stephen is such a good teammate. If I didn't have him holding my hand there's no way that I could've completed and gone through this journey, especially with those scenes. You have to be able to trust him and we'd have conversations and he would say, "I'm so sorry. I'm so sorry. I have to do this." For example, he'd push me down or grab my neck or even just verbally say things to me. He didn't like saying them, let alone physically having to touch me, and he'd apologize before and after. It takes a lot of trust and it takes a lot of real conversations.
"Til Death Do Us Part" is not the first movie of its kind to explore abuse. How do you think it goes about addressing it?
When there's pressure, a pipe bursts and he becomes violent and she realizes: Save my marriage or save myself? Which one is more worth it? And I think a lot of people, but especially women, struggle with that. Feeling like you have to be the fixer, and the caretaker and the pressures on for you to make it right and what we would consider the right decision could be the deadliest and so she puts herself first, which is a great thing. It's a thriller and it's also a good movie with a great message behind it for women and men who have possibly been in a domestic violence type situation. We see the journey. She's not just the victim, and he's not just the monster. We see why she is in the situation and why she stays, which happens multiple times.
What do you want moviegoers to understand about the story. In some ways, it's art imitating life for victims of domestic violence?
I just think that it's important to see the real, raw insides of the story and to know that something that looks picturesque on the outside may not also be great. It's important to talk to your friends or family and inquire just in case you see a hint because we don't do that enough and the next thing you know we've seen really horrible, traumatic stories of people not getting out. And maybe if a conversation was sparked, things would've been a little different.
In playing Madison Roland, what have you learned about yourself as an actor through this experience?
Well, she did teach me patience. There's a level of patience you can explore and still get positive results but I have her with me, which I think is really great. She taught me to be more feminine [because] I'm a super tomboy. She loves being a woman, she loves being feminine and allowing her man to be an alpha and most people that know me, they know that's hard for me. [laughs]
Calling all HuffPost superfans!
Sign up for membership to become a founding member and help shape HuffPost's next chapter
BEFORE YOU GO