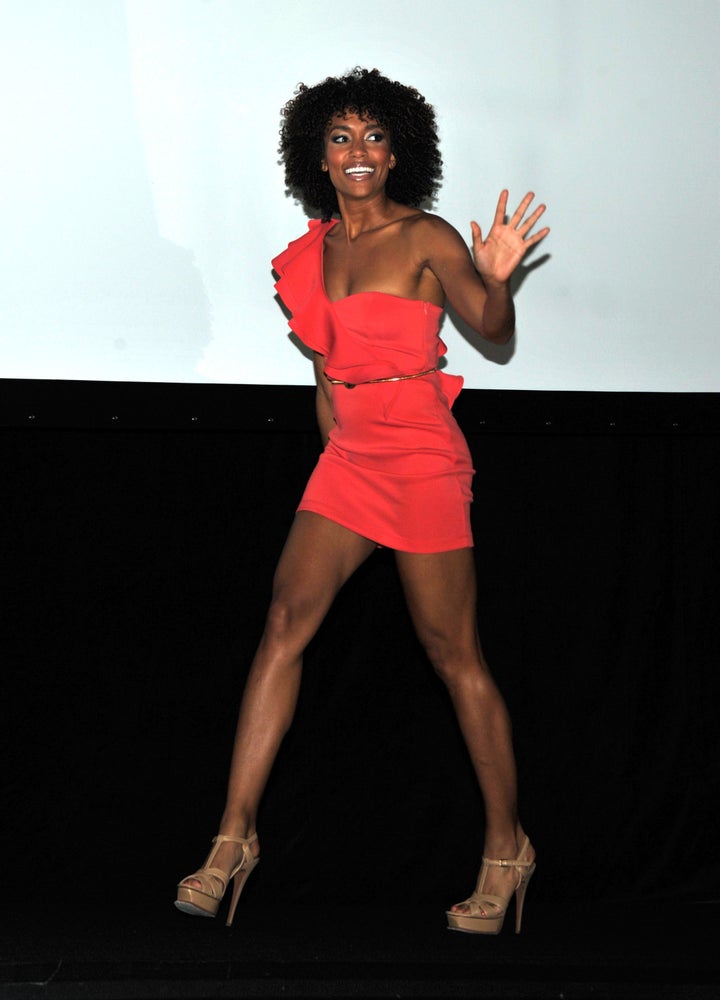 Make no mistake, Annie Ilonzeh, the first black Charlie's Angel, is a starlet on the rise. Legs for days, a fabulous head of curls, piercing dark eyes and a competitive spirit, Ilonzeh has taken on her first starring TV role with guns blazing. Despite rumors that the Drew Barrymore-produced show might be cancelled, the Houston, Texas, native is forging ahead and putting all she's got into her role as Kate, the tough-minded former Miami cop.
Ilonzeh, who booked her first TV gig five years ago on "How I Met Your Mother," which involved saying "Hey, Barney" (to Neil Patrick Harris's character), stars alongside co-angels Minka Kelly, of "Friday Night Lights," and Australian actress Rachael Taylor. She talked with HuffPost BlackVoices about being cast in a role for an "AA" actor, her admiration for Denzel Washington and her desire to win.
What was your response to being cast as the first black "Charlie's Angel?"
It wasn't until the question was posed to me that I fully acknowledged that. But it's still hard to say, because I don't see color. I come from an interracial family: My father is from Nigeria, and so he is African American, and my mother is American and white, so I rarely see skin color. It's never an issue for me. Saying all that, I'm happy the casting directors specifically auditioned this role as an African-American woman, and I hope that in some way I can reach that audience and be a role model.
As the child of a Nigerian father and white mother, do you self-identify as black?
Yes, but more so as a biracial woman. I feel like decades ago it was either you're black, white, Asian or Hispanic, or whatever; but today we see more of an acceptance for people with multi-nationalities. I relate to both my caucasian side and my African side, and I love that.
You mentioned that the script had called for an "AA" -- African American. Do you read for as many of those parts as you do for non-"AA" roles?
Most of the things are open ethnicity, but I do have to say that I love when I see on a breakdown sheet that they clearly want an African-American woman for the role. I hope I get every role I go out for, but whether I do or not, I like that it's specifically for an African-American woman.
What of your work as an actor are you most proud of thus far?
I'm proud -- or really more thankful than anything -- for all the work that I've gotten. I'm the first one to admit that I'm a rookie, so sometimes I've squinted my eyes in embarrassment at what I've done to a character. But with those same experiences, I am also proud because they made me a better actor. I do have to say I'm most proud of booking this job and being on "Charlie's Angels." I've worked really hard to get here and put it all out there for this show, so I'm very attached to it.
Who are the actors you admire and why?
There are so many it's hard to say, but Denzel Washington always pops into my mind first. He embraces who he is, he's so focused. He's silent yet loud, he's got a lot of swag because he seriously owns it, and you can't help but believe all of his characters. He's an artist. Doesn't hurt that he's easy on the eyes, too. Jane Lynch, Halle Berry, Ryan Phillipe, Benicio Del Toro ... so many!
It took you five years to get from a "How I Met Your Mother" walk-on to a starring role in the new version of "Charlie's Angels" -- where do you hope to be in five years?
I will have created my organization that I'm passionate about and be heavily involved in the development of that. Hopefully, I will have the product line I'm working on for multi-ethnic hair, like mine. Working in film a lot more, which is my ultimate dream. I want to touch the world through my performances on screen, but also off screen. So whatever that calling is, I hope I can be an ambassador for progress and change.
Do you think "Charlie's Angels" is going to make it through its first season?
I hope so. In my heart of hearts, I think it will. But I come from a competitive athletic background, so I want to win.
Popular in the Community