One thing is clear: empowering women in business and leadership is critical to growth and prosperity. A diversity of voices at the decision-making table is the basis for innovation.

What is less clear is the how. How do we as women balance career and family (especially young children) without the guilt? How do we promote ourselves at work and carve out a unique, assertive leadership style without being seen negatively? How do we combat gender biases in the office?

Cleopatra and Queen Elizabeth aside, women's leadership is still a very new phenomenon in a historical context. What we really need as women are role models and mentors. Women who can inspire and motivate, tell us of their successes but also of their failures and how they overcame them. We need to know the secret to their success, and whether that malleable model can be applied to ourselves in individualized ways. And yes, we may even need some encouragement in believing the near-mythical feat: that we can have it all.

Annika Falkengren, the ebullient eight-year CEO of one of Northern Europe's strongest financial institutions, SEB Bank, certainly thinks so.
You can absolutely combine a career and family life, it would be sad if it that was not possible. It does take a bit of an effort with good planning, prioritizing and support. You cannot 'have it all' if by that you mean a combination of hard work, family, hobbies and an intense social life all at the same time. You have to cut down on something and you have to find the balance that works for you.
Falkengren is consistently topping "most powerful" lists and gracing the pages of Fortune Magazine on an annual basis. Last year, she was the ninth most powerful woman in the world, in 2011 the 10th and in 2010 the 8th most noted female global leader in business. Falkengren promotes mentorship programs and supports various initiatives such as entrepreneurship and innovation within Northern Europe. What most impressed me is her modern leadership style. She is able to do what not many female CEOs can: be direct and assertive, yet feminine and authentic at the same time.

In my role as the wife of the U.S. Ambassador to Sweden, I've visited many Swedish corporations and witnessed first-hand how the concept of balance is interwoven both into the cultural and corporate fabric here, to the benefit of many professional women. There is a strong and pervasive spirit of social justice and an egalitarian focus on giving both men and women the tools they need to succeed.

As one of Sweden's most powerful women, Annika Falkengren was the ideal person to ask: What are the elements necessary to create an ideal ecosystem for female leadership? And how did you do it?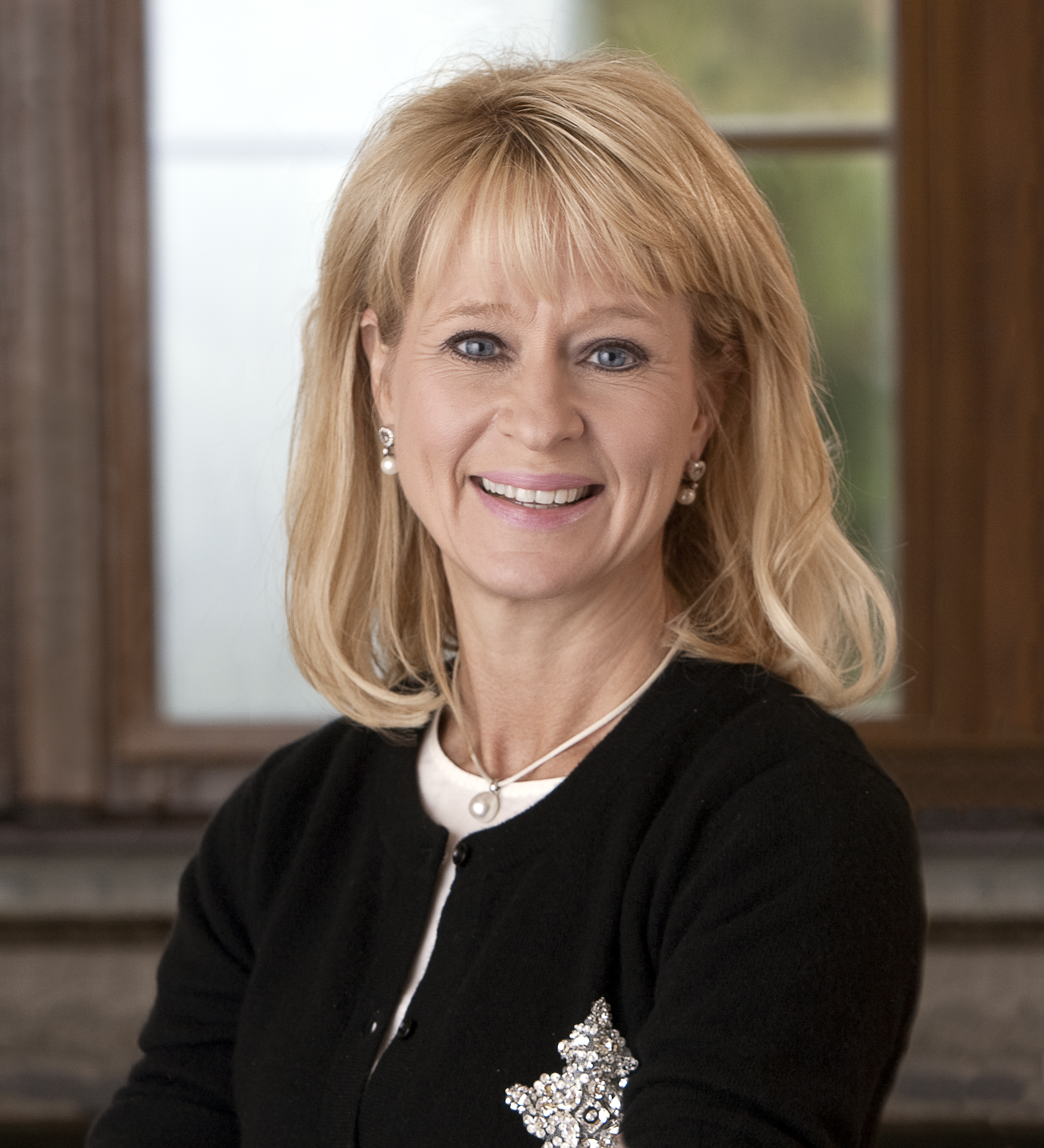 Natalia Brzezinski: The appointment of Marissa Mayer as CEO of Yahoo when she was a few months pregnant with her first child caused a massive media and public debate in America. You were made CEO of SEB when your baby was only a few months old. How were you able to balance being a new mother with being a major top executive?
Annika Falkengren: I was not alone, we are two parents and together we worked out a way that suited us well. I am a long timer in SEB, so at the time of my appointment I knew the bank well and had a strong and committed team around me. That made it much easier for me to be on top of things even though I was at home for a few months. With the help of what you always must have as a CEO, i.e. tight control of your calendar, we managed quite well. Of course, home services have been a must. If you are really passionate about what you do, my experience is that you always find ways to work things out. To me it has never been either or.

Unfortunately, only a very small percentage of women are able to make it to the chief executive position, especially in the banking and financial sectors. What is your story when it comes to your career track; how did you make it to the top at such a young age?
I think it is impossible to plan your career and set-out that by 40 or 45 you want to be the CEO of the company. It never works that way. It is so much more important that you deliver on your present job, network and cooperate with others building teams and that you take on positions where you do have a P/L responsibility. I have really been dedicated to each and every job I have had in SEB. That matters. In addition, one must never forget that no matter how well you perform you must also have a bit of luck - be the right person in the right place at the right time. In my case, I was heading our global trading operations when my boss happened to leave the bank. I got his job and then after a short period I was promoted onto the Group Executive Team.

Do women lead differently than men? How would you describe your leadership style?
In the end, no matter if you are a women or a man, you have to deliver results. I do not believe there is such a thing as a specific female or male leadership style. It is much more about different personalities having different leadership styles. If I were to generalize a lot, I can see that women tend to promote themselves less and instead promote the teams around them more. If I am to describe my own leadership style, I would use words as straightforward, business oriented, decisive and communicative. To be a good leader you must have integrity and not be too short-sighted. Think and act long-term but never lose out on the customer and business perspective. Banking is a service industry. You need the true passion and dedication. See to it that you have good people on board who have the dedication and share the values of the company and always put together teams with people with different backgrounds, experiences and competences.

The latest edition of The Economist focuses on what the world can learn from the Nordic region. What do you think Sweden does well in promoting women in business?
Sweden is in many ways in the forefront. For decades we have had a generous system for paid parental leave so that parents can stay home for as long as 18 months when the children are small, and then work part-time for a period. The benefits are the same for mothers and fathers. Childcare is heavily subsidised. All this has led to Swedish women working to the same extent as men even though you find men and women working in different sectors. However, also in Sweden we have gaps to fill. There is still more to do when it comes to gender equality on more senior levels.

Why do you think it's important for societies to empower women economically?
I strongly believe in diversity. Different perspectives and backgrounds lead to better overall performance. If you do not give everyone irrespective of sex a possibility to develop, take on a greater responsibility, try out to be leaders etc. -- the organization loses key skills and competences.

What do you do either personally or within your corporation to promote gender equality and encourage women to take on leadership positions?
In SEB we try to support men and women in striking the right life-work balance by promoting flexible working hours and also through various employee benefits. Just to give you a few examples: As an employer we support parents by topping up the public parental pay during 12 months. We see that this makes women return back form parental leave more quickly, at the same time as men increasingly go on parental leave. We also work with internal and external mentoring networks specifically directed towards women and we always want to have at least one female candidate when we are recruiting for senior positions. SEB is engaged in a very smart initiative called "Battle of the numbers." This is a network where 10 of the largest Swedish companies started benchmark work to get more women in top positions. During one year, 10 women from each company will contribute with good examples and spread them among their organizations -- a very hands-on practical way to work.

What advice would you give to a young woman wanting to be like you and become a CEO?
Focus, work hard... there are no free lunches, do not be too quick to move on, instead see to it that you deliver on what you have set out to deliver on, actively apply for jobs with a P/L responsibility and be sure that you enjoy your job. If you do not have the passion, you will never be able to put in all the energy and time that is needed. I always look for people who have the right values and who are genuinely dedicated to what they do.
Who is your role model?

I do not really have one specific role model. I get a lot of inspiration from meeting customers, other CEOs, staff in SEB.

You have been a CEO for eight years, a very long time to be in such a high-stress, time-consuming role. What do you do to de-stress and relax?
To be able to stay in positions like this for long you have to like what you are doing. I get a huge amount of energy from my work, especially in meetings with customers and with all the fantastic people that work in SEB. Of course my work is pretty intense, but once in a while I have a less intense week when I usually seize the opportunity to reflect. Everyone needs a break once in a while, so do I. My family and I travel a few times per year and then I usually spend the days in a comfortable sun chair by the sea or in our summer house. And of course I regularly work out.

This is the first in a series of interviews asking Swedish and European businesswomen: What is the secret to your success? See here for more video interviews on this topic as part of U.S. Embassy Stockholm's Women's Empowerment initiatives:
Popular in the Community