It was something right out Herb Caen -- or maybe one of Pat Steger's society columns. Yeah, I know, unless you're a San Franciscan, you're probably not going to know those names, so let me hip you, and then we can move on. Herb was the dean of San Francisco newspaper columnists, the quintessential man-about-town, guy in-the-know, and attendee at every major event. He knew and hobnobbed with all the heavies and celebs -- the preeminent chronicler and arbiter of the way it was in Bay Area pop culture and journalistic circles. His columns were a combination of gossip, local tidbits, commentary, word play, and an ongoing homage to San Francisco and those fortunate enough to live here.

A mention in Herb's column could be like solid gold -- or solid mud, if one of those mentioned was caught doing something naughty. Herb not only reflected the heartbeat of the City, but for many (like me) was the main vein that jump-started the flow every morning along with that first cup of coffee.
And what Herb didn't cover with wit and charm, and often a dagger-like skewer, Pat Steger wrote about with elegance and civility, as his colleague and the long-time society editor for the San Francisco Chronicle. She wrote about a world of the upper crust, descendants of old money and possessors of new -- and always made it sound so glamorous, so tasty, and so undeniably upscale and deliciously wonderful.
Neither Herb nor Pat are with us anymore, but a recent Sunday event at Wente Vineyards in Livermore was clearly their kind of scene. It was the launch of Annika Sorenstam's new Chardonnay -- part of a joint venture with the folks at Wente.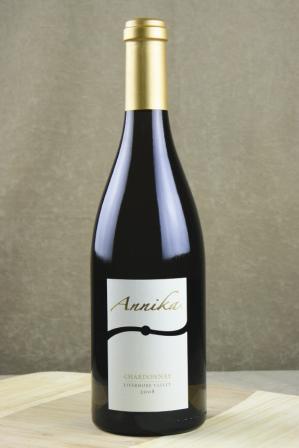 In attendance, over 100 well-heeled fans and glitterati from the golf and wine sets, each of whom got to socialize up-close and personal with Annika in a morning golf clinic, a shotgun round of golf on the Greg Norman-designed Course at Wente Vineyards, and an early evening outdoor dinner party.
It's been said that Arnold Palmer genuinely enjoyed his role of being Arnold Palmer. He relished the adulation, took pride in signing autographs and acknowledging his fans. So too, it appears the once overly shy Annika -- who reportedly threw golf tournaments early in her career because she didn't want to make a speech -- has confidently stepped into a Palmer-like mode, now quite comfortable savoring the spotlight of her success.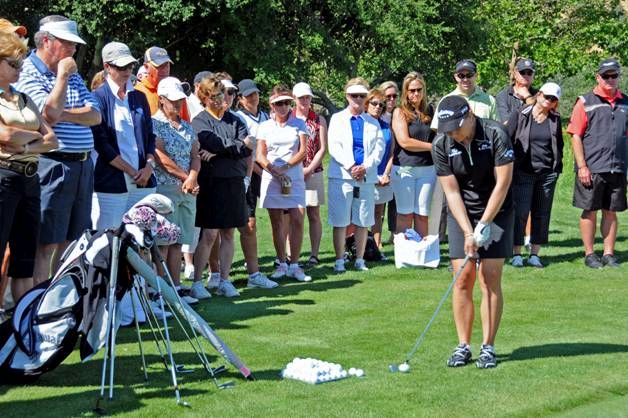 (photo by Robert Kaufman)
Her morning clinic at Wente was prototypic Annika: informative, amiable, and endearing, as she admitted to the crowd early on, "I forgot to pack my wedges. I put in plenty of diapers, but no wedges." A few moments later, when talking about reading breaks to align with the mountains in the background, and the ball broke the opposite way, she immediately quipped, "well, I guess you can throw out that tip. Who can ever get this game anyway?"
Later, while paired with her parents in a scramble format golf round, I had just sunk a 15- foot birdie putt for our team before reaching the elevated par-3 where Annika met and took a picture and a shot with each group. My subsequent shot was one of my better efforts of the day, where upon her father jibed, "it's about time you did something for the team!" To which Annika joked (to me and the group) "see what I've had to put up with all my life."
But clearly the day was about promoting the wine, as hostess Carolyn Wente presented Annika to the media and the crowd, along with fifth generation winemaker, Karl Wente, who explained how it all came about.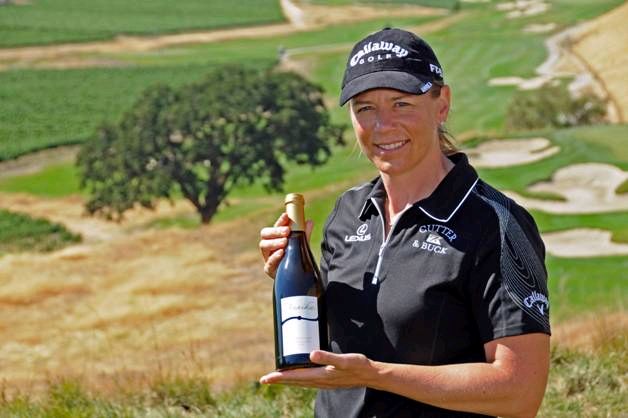 photo by Robert Kaufman
"Her fingerprints are all over these wines," he said, as he talked about the process beginning in the lab, originally presenting her with some 30 different wines from which a structured, measured tasting and mixing of flavors ultimately developed into the final product. "It sounded like a fruit salad to me," she said when referring to that first grouping of tastes, and recounting of spitting each into the bucket rather than swallowing. And while Wente was scientific and ardent about the process, Sorenstam was equally passionate about the ultimate result. "I wanted something that would go well without food, that didn't need to be paired with something," she said. "When you take your last sip, I wanted it to be something remembered."
The Annika Chardonnay follows an earlier offering of a Syrah red wine. Both are available in limited distribution and online at Annikavineyards.com. In the best Pat Steger tradition, it was a delightful function. Carolyn Wente endures as the consummate hostess, Annika as the definitive celebrity, and her parents (Tom and Guinella) are just flat-out lovely people. On all counts, I'm sure Herb and Pat would have agreed. Am glad I could make it in their place.

Calling all HuffPost superfans!
Sign up for membership to become a founding member and help shape HuffPost's next chapter