Houston's openly lesbian Mayor Annise Parker, newly re-elected to a second term, says President Obama needs to evolve "faster" on marriage equality, and that the Democratic platform should promote same-sex marriage. She also slammed a "hard-core group" in Houston -- the largest city in the U.S. with an openly gay mayor -- that is "just mortally offended that there is a lesbian mayor."
Speaking on my SiriusXM radio program, Parker, who was elected to her first term in 2009 and won re-election in November of last year, said she's happy to have won reelection without a runoff against five opponents (getting just over 50 percent of the vote) but that she had to "work harder" than she believes she should have had to in order to win.
"While it's been a tough time to be an incumbent at any level of government, there's definitely a hard-core group here that is just mortally offended that there is a lesbian mayor, and one of my opponents ran specifically because of that issue and raised it at every opportunity," she said.
And Parker described how she's often held to a different standard because she is a lesbian.
"It's been interesting to me, she said. "I recently joined 90 other mayors as part of the Freedom to Marry initiative. Local headlines--there was a backlash around that. And sometimes I sort of scratch my head. Okay, I'm an out lesbian. They know that. I'm in a long-term relationship. And yes, I want the ability to marry my spouse. And here I am, one of 90 mayors from around the country, and somehow it provoked this wave of hate mail. And the funny thing is that this initiative, it actually came from my mayoral colleagues in the big cities. This was Antonio Villaraigosa from Los Angeles. It was Mayor Bloomberg. It's Mayor Menino in Boston. Nutter in Philadelphia. Emmanuel in Chicago.They had it worked out and then they invited me to join. This is not an initiative from the GLBT community. But because I'm a part of that, it's like, somehow in people's eyes down here, I've changed from my role as mayor of Houston into lesbian activist. Well, I'm the mayor of Houston first, but I'm still a lesbian. And I care."
When Houston made history in 2009 as the largest city to elect an openly gay mayor, Parker got a phone call from President Obama. But on her re-election she got a call from someone else.
"I guess when you're running for re-election it's no big deal," she said, laughing. "Vice President Biden called and I had a nice chat with him. First election, the president. Second election, the vice president."
Parker says that President Obama, on the issue of marriage equality, "needs to evolve a little bit faster and is not clearly where I think he ought to be." She also agrees with activists who are pushing the Democratic National Committee to include marriage equality in the platform hammered out at the party's convention this year.
"I think it should [include marriage equality], period, end of sentence," she said. "But it sort of goes to the conversation we just had about President Obama -- he needs to evolve faster, he needs to know where his base is. But if he doesn't get there, and if the party platform doesn't get there, I'm a pragmatist and I look at the alternative. Let us not go to the Democratic convention and rip each other up as Democrats because we're not getting to the right result fast enough. Let's try to move people along as far as we can, and then join ranks. Please, Rick Santorum? Newt Gingrich? That's truly scary. Mitt Romney -- not a good choice."
Listen to the full interview, and then check out Parker and other LGBT politicians who were victorious in 2011 below: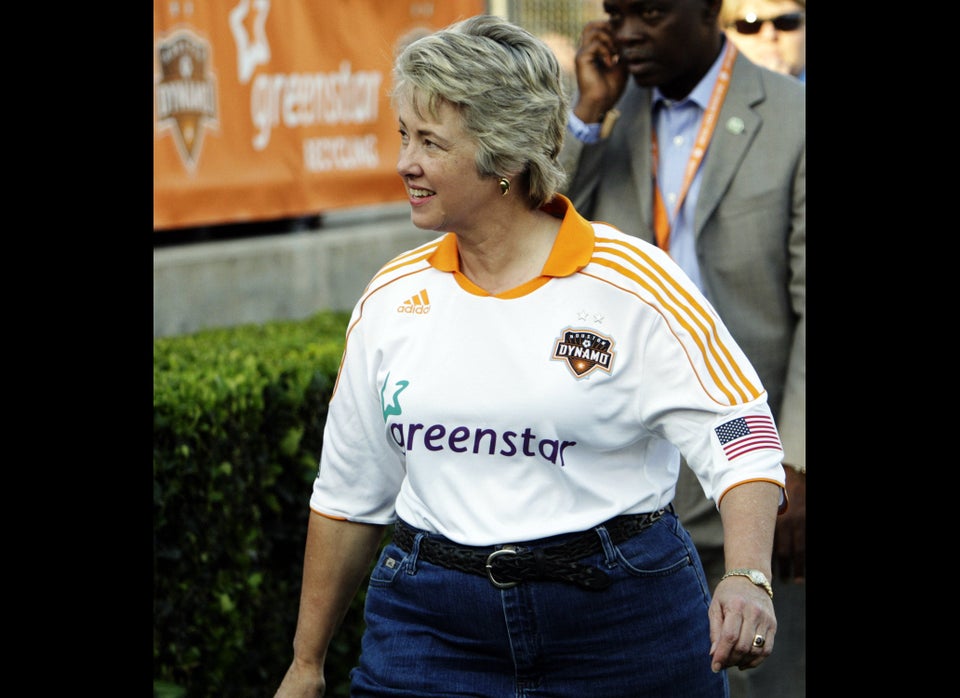 LGBT Election Victories 2011(CLONED)
Popular in the Community