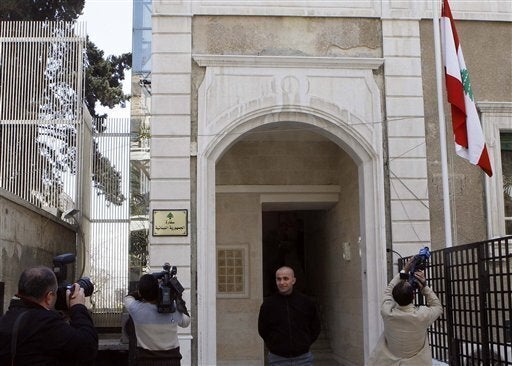 DAMASCUS, SYRIA -- The screen showed "shock and awe" and Saddam's family scrambled to pack their bags. "I've seen this three times here since it came out," Khalid* said as the next scene opened. At a birthday party in the late 1970s, Saddam's daughter received a gift from President Ahmed Hussein al-Bakr before Saddam took him into his office and forced him to resign.
We were watching House of Saddam six years to the day after the American invasion. Damascus spread out below the balcony of Khalid's apartment in one of the myriad suburbs of hastily built concrete sprawling up the dry mountains that hug the city. Over a few hours of sitting and talking, with glasses of whisky and spoonfuls of hummus and Iraqi cheese, talk of the war and its disasters came up plenty, but Khalid and his friend Hussein* never remarked on the anniversary of the war.
Instead they focused on the film. In a smoky assembly hall, Saddam, holding a cigar, purged the ranks of government after his take-over. "Like Capone," Hussein said as a lineup of political opponents were shot point-blank. "Like Chicago, no?"
They talked freely of Iraq, describing the insurgency, the Mahdi Army and Al Qaeda less as the fault of American troops than the inevitable legacy of Saddam. On the screen, Saddam flirted with an Iraqi schoolteacher after her students sang to him.
"The actor, I don't know if he's Iraqi, but he speaks English with the perfect Iraqi accent," Khalid noted.
He said slyly that the film was forbidden in Syria as he cautiously loaded it into his computer. But in fact I've seen the docudrama on sale at bootleg DVD shops throughout Damascus (not so Waltz with Bashir, which one shopkeeper told me plainly was "not available here, anywhere").
Khalid and Hussein are two of the 1.2 million Iraqi refugees here. The numbers are probably higher, but that is the Syrian Ministry of Foreign Affairs official count of Iraqis with valid visas - though the government designates them "Arab guests and visitors." Syria has taken the bulk of Iraq's refugees and that has been widely reported. But too often the stories of Iraqi lives in distant suburbs of Damascus are reduced to details amid the politics of how to solve the crisis.
Khalid and Hussein are friends from Baghdad, though Hussein in his forties is a bit older. He is Shi'i; Khalid is Sunni. None of this matters to them.
"Older relatives of mine, generations ago, they were Christians," Hussein explained.
Hussein talked about the mix of religions in Iraq; he seemed intent on not talking about sectarianism. "I am Shi'i and he is Sunni," Hussein said. Khalid interrupted. "And I am Sunni and he is Shi'i." They both nodded and said together that this was no problem. "We are after all Iraqis, really."
They turned off the film after thirty minutes, long enough to see the start of the Iran-Iraq war and a scene of Saddam walking through a tented vegetable market, dismissing the questions of a foreign journalist.
Khalid showed grainy cell phone videos from a recent trip home: Baghdad's famed book market, the reopened National Museum, an old man playing a qanun near the banks of the Tigris to a small audience, and his young niece running around the caked garden of his parent's house.
"See the women in the crowd?" he said as the camera panned over a mix of people - including unveiled women - listening to the old man and his qanun along the Tigris. "Six months ago, even three months ago, that wouldn't have been possible."
Yet he does not go back except for brief visits. Hussein arrived more recently, and like Khalid has close family still in Baghdad. Khalid told me some time ago that he left because his name alone had made him a target for the Mahdi Army. "I still can't live the kind of life I want to in Iraq," he said, and that's why he's in Damascus.
Hussein left Iraq after receiving his own threats. Being Shi'i and keeping Sunni friends made him a target for the Mahdi Army, he said, just as in the reverse you are a target for Al Qaeda or other radical Sunni groups.
Khalid let out a string of dirty jokes - it was getting late - and then returned to talking about the National Museum. "We think we are the Sumerians, after all, their descendents, and we should have protected it," he said.
The conversation darted in different directions and I remembered the live footage of American bombs on Baghdad six years ago. Between the distance of those images and sitting on a couch past midnight hearing Khalid and Hussein's stories, I wondered where they had taken cover during that time. Then I remembered what Hussein told me weeks a few weeks ago:
"I went to the countryside south of Baghdad with my family, to wait for the war to stop."
*Names have been changed to protect their identities.
Calling all HuffPost superfans!
Sign up for membership to become a founding member and help shape HuffPost's next chapter