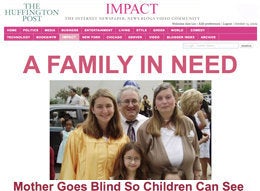 I'm thrilled to announce the launch of HuffPost Impact, our new section devoted to service, causes, volunteering, and giving back. Developed in partnership with the impassioned team at Causecast, HuffPost Impact will use the tools and power of online journalism to help people get involved, work together, and bring about real change. It offers our readers the opportunity to read a news story that moves them, then take immediate action in tangible, specifically tailored ways -- ranging from making a donation to a charitable group, to volunteering and contributing directly to an individual in need, to signing a petition and signing up to stay updated on stories that interest you.
At HuffPost Impact, reaching the end of a story is just the beginning of the chance to make a difference.
This section holds a special place in my heart. It's an idea I've been pursuing in one form or another for over 15 years. Back in the early 90s, I remember making the rounds in Washington, meeting with Brian Lamb, Rick Stengel, and Alan Khazei, among others, pitching the idea of creating C-SPAN 3, a channel devoted 24/7 to the work of nonprofit groups and giving back.
We had channels bringing us wall-to-wall coverage of the House and the Senate, and all things Washington, why not one devoted to showing that service and giving to others is also something that warrants our attention around the clock, not just at Thanksgiving and Christmas?
I pictured people being able to tune in at any time, day or night, and see programming that moved them, and inspired them to take action. That was before I recognized the power of 24/7 engagement made possible by the Internet -- so that with a click and a link we can not only learn all about a cause but also immediately take action... and make an impact.
That's exactly what we are launching today. And we've found the perfect partner in Causecast, a rapidly-growing online community and social action network that connects, promotes, and empowers both nonprofit organizations and individual activists. They are committed to transforming interest into real action -- and to the power of coming together as a community to address the multiple crises we are facing.
We will also be tapping into the tremendous resources of All for Good, the open source "Craigslist for Service" I wrote about in June, and on whose advisory board I now serve. To start with, in response to the health care crises in the lives of millions of people, we've created a specialized All for Good-powered widget on the Impact page that will offer multiple ways for people to get actively involved in helping.
And we are delighted that Create the Good has signed on as an inaugural sponsor of HuffPost Impact. Create the Good is a network of people drawn from the AARP's nine million volunteers and donors who are sharing tools and ideas to help make a difference in communities across the country. Its new site -- which is powered by the All for Good database -- connects people who want to volunteer to opportunities to serve.
On the eve of Barack Obama's inauguration, I wrote that "the challenges America is facing will require a new era of citizen responsibly and engagement."
It is clear that this moment in history demands that we stop waiting on others -- i.e. our leaders -- to solve the problems and right the wrongs of our times. We desperately need to mine the most underutilized resource available to us: ourselves.
Ten months later, this is truer than ever. As a candidate, Obama had promised to make a call to service "a central cause" of his presidency. But, as we've seen, the urgent demands facing his administration have pushed the president's no-doubt heartfelt commitment to service to the sidelines.
But we can't let the longing to be a part of something bigger than ourselves simmer on the backburner. There is too much suffering to be alleviated, too many urgent needs to be met.
Not waiting for the government to fix everything from the top down; featuring the stories of those working to make things better from the bottom up; and acknowledging the importance of changing things one person and one community at a time -- that is what Impact is all about.
So check out HuffPost Impact... and get involved. Learn. Act. Make an Impact.
Calling all HuffPost superfans!
Sign up for membership to become a founding member and help shape HuffPost's next chapter