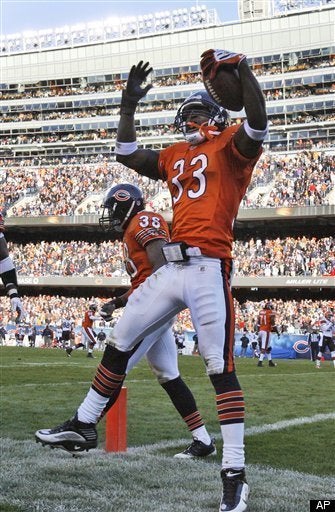 Last month, HuffPost launched two new sections that I felt a very deep and personal connection to. Books have been a lifelong passion of mine, and our Impact section, dedicated to service, causes, and giving back, is an idea I've been pursuing in one form or another for over 15 years.
Today we are launching another new section, this one covering a subject I have never really cared that much about -- sports. And I couldn't be more excited.
Ever since we began adding sections to HuffPost, people have been asking me, when are you going to start covering sports? And when they asked, I could see the passion in their eyes. It's the way I feel about books, and service, and politics. It's more than just an interest -- it's an abiding fascination, occasionally slipping over into love. And obsession. It makes the heart pump and the adrenalin flow.
It's not that I've never cared about sports or paid no attention to them. But my interest was usually tied to a relationship I was having with a man who loved soccer (or football as we called it in England), or who couldn't get enough of baseball or basketball or tennis. I drew the line at watching golf, however, no matter how crazy I was for the guy. But as soon as the relationship broke up so did my caring about who won or lost or who scored the winning touchdown.
The one thing about sports that I never lost interest in was the language and unique terminology that accompanies each game. I particularly loved how often sports terms and metaphors are used in politics. This politician really needs to swing for the fences if he hopes to win Iowa. That one is doing an end run around Congress by going directly to voters. Lobbyists are applying a full-court press to derail reform. The best defense is a good offense. It's time to throw long. It's the bottom of the 9th -- time to send Bill Clinton to the Hill to twist some arms. Election Day is going to be a photo finish. And, of course, the case against Saddam is a slam dunk!
So, as the whistle blows, and the starter pistol fires, here comes HuffPost Sports. We'll give you the scores -- but that won't be our only focus.
Sports today is about much more than the game on the field. So we'll follow all the off-field action too -- whether it is a serious story about steroids or the alarming new details about head injuries in the NFL or a fun look at the latest sports scandal or high-profile romance.
In an era where a boneheaded tweet can get you cut and NBA players react to a killer dunk with a barrage of Twitter accolades, we'll also be keeping track of all the athletes opening up via the new media. That means you, Ochocinco!
You'll get highlights and lowlights, must-see video clips, and fresh takes from a broad array of bloggers, weighing in on anything and everything from the world of sports.
So check it out. And let us know what you think. And if you have any tips or special requests get in touch with our fabulous sports editor, Whitney Snyder, who is so passionate about sports he can even make me care if New Orleans goes undefeated or if LeBron will end up staying in Cleveland.
We will be announcing your picks for the Ultimate Game Changer in each of our 10 categories next Thursday, November 19. Voting will remain open in all categories until Wednesday, November 18 at 12 noon ET. So cast your vote and help push your favorite over the top: here for Technology, here for Wellness, here for Media, here for Philanthropy, here for Sports, here for Business, here for Politics, here for Style, here for Entertainment, and here for Green.
Popular in the Community