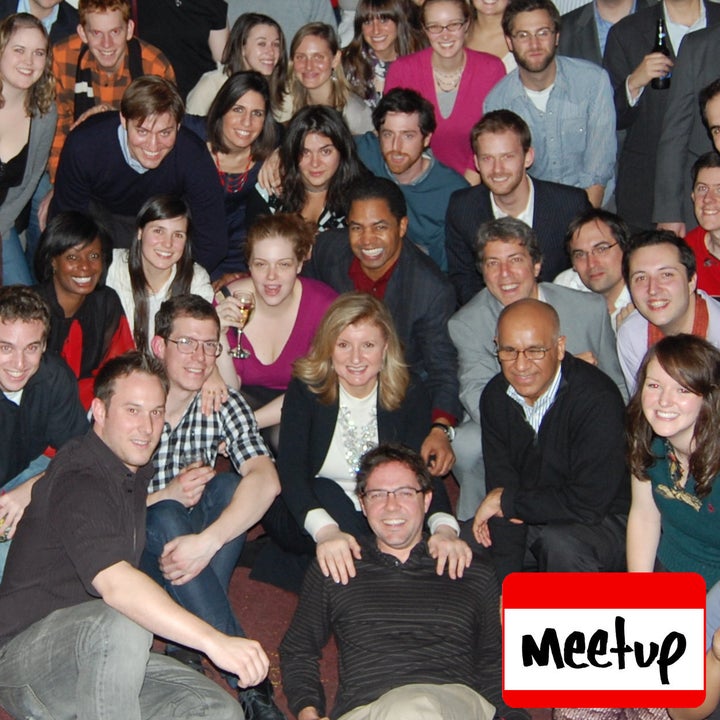 At a recent New York Tech Meetup, the organization's co-founder and CEO Scott Heiferman smashed an iPad with a hammer. The obvious twist on Apple's famous "1984" commercial came about as Heiferman explained: "Sometimes you have to use the Internet to get off the Internet. Other times you need to use a sledgehammer to get off the Internet."
While there's nothing wrong with sledgehammers now and then, we're definitely a fan of the former scenario. And so The Huffington Post has teamed up with Meetup -- a global network of local groups with common interests -- to turn the conversations about the news on our site into face-to-face encounters.
Using the new Meetup Everywhere platform, HuffPost will help our readers connect to other readers nearby to self-organize Meetups around the news and to report back to our Social News team. We're calling the program HuffPost Thursdays, and we're really excited about the possibilities.
Some of you might remember that HuffPost Green partnered with Meetup to bring concerned readers together to talk about ways to help in the oil spill cleanup effort. On June 8, 2010 -- World Ocean Day -- nearly 2,000 HuffPost readers in over 400 locations around the world joined in by sending back photos or writing up reports that helped guide our coverage.
But our goals for HuffPost Thursdays are far more evergreen (pardon the pun.) Quite simply, we just want to help start conversations around news events and encourage real-life relationships between members of our large and growing number of users. With one of the most active commenting communities on the web -- over 3 million comments are posted every month -- HuffPost aims to be a two-way channel for the news. And while editors will blog weekly with some ideas for conversation starters, we want YOU to shape this program.
In reflecting on his iPad-smashing stunt, Scott from Meetup said:
I really do feel like 2011 will not be 1984. And the explosive thing that's happening on the internet with Foursquare and other things, is that it's about integrating into real lives. We're headed into an era where people are going to be more powerful because the Internet brings them together in new ways. New businesses, new forms of community, new ways of getting things done together.
With the help of the fine folks at Meetup, we hope to lead the way into this new era. (We're on Foursquare now, too, by the way.) But we won't be wielding sledgehammers; rather, let's make our conversations about the news be the brick and mortar with which we can build a better democracy.
Just click on the map below to find a Meetup near you.
Popular in the Community