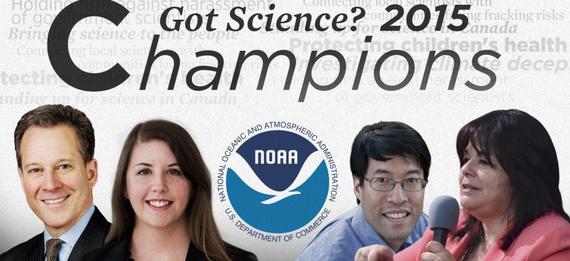 At the Union of Concerned Scientists, we are inspired by our annual Got Science? champions, whose passion for the truth exceeds their fear of censure or political unpopularity. In honor of their courage and commitment, we're excited to announce 2015's winners. These five champions stood up for science and stood out among their peers, spreading scientific facts in service of the public good.
Eric Schneiderman: Investigating decades of climate deception
The Union of Concerned Scientists has worked for years to expose campaigns funded by major fossil fuel companies that deliberately mislead the public about climate change. This year, as we brought more information on such deception to light, New York's attorney general Eric Schneiderman took a bold step toward holding one of these companies legally accountable. In November, his office subpoenaed decades of correspondence and financial records from ExxonMobil, launching an investigation into whether ExxonMobil knowingly deceived its shareholders on the risks to their investments from climate change, and the public by financing climate change-denying lobbying groups.
Schneiderman's investigation marks an important first move toward holding the company responsible for its known efforts to actively deceive the public about the reality of climate change -- campaigns with disastrous consequences for the climate and people worldwide. His courageous move on Big Oil deception may be the first handful of a rapidly accelerating snowball.
Katie Gibbs: Spotlighting science in Canadian democracy
For the last ten years, journalists chasing a good science story in Canada had to ask the government for permission to speak with scientists. Frequently, these requests would be denied, and scientists forbidden to discuss their own research. Katie Gibbs, co-founder and executive director of the Canadian nonprofit Evidence for Democracy, began keeping a record of these incidents, as well as funding cuts, program closures and anti-science policy decisions across Canada -- and her organization became a powerful voice for scientific free speech.
During this year's election, Gibbs and her team worked to put science in the spotlight, pushing candidates to reveal their positions on evidence-based policy making. Science became a talking point -- unusual for an election, says Gibbs. And Canadians elected a new administration that immediately un-muzzled its federal scientists. "This shows the impact of the scientific community when we organize and mobilize," Gibbs says.
Richard Pan: Protecting children's health
Health care professionals and public health experts in California spent the first few months of 2015 desperately trying to contain a measles outbreak that began at Disneyland. At least 125 California residents were infected, and among the victims were some of the most vulnerable: pregnant women, newborns and infants in neonatal intensive care units. This largely avoidable episode exposed the frightening consequences of the anti-vaccine movement.
California State Senator Richard Pan, a pediatrician by training, stepped in to address the problem by sponsoring a bill requiring that all schoolchildren in the state be vaccinated, closing the religious and "personal belief" exemption loophole that many parents had leaned on to avoid vaccinating their children. The bill was signed into law in July, and since then, Pan has been the target of death threats, protests and a recall campaign for his seat in the state legislature. He's taking the recall effort seriously, but has no regrets about his science-based response. "I ran to be sure we keep our communities safe and healthy," Pan told The Sacramento Bee. "This bill is a shining example of me keeping my promise to the people of my district."
NOAA: Holding firm against harassment of government scientists
The National Oceanic and Atmospheric Administration published a paper in Science this summer based on updated data on global temperatures, showing that the rate of global warming has not slowed in recent years. The paper was peer-reviewed, the adjustments were explained in a straightforward manner, and the research -- including methodology and data -- was made publicly available.
Sadly, Representative Lamar Smith of Texas, chair of the House Science Committee, seized on the data adjustments in an attempt to 'prove' that federal scientists are lying about global warming. In a move from the climate change-denier playbook, Smith hit NOAA with a subpoena for seven years' worth of the scientists' emails, peer review comments, notes, and more.
NOAA Administrator Kathryn Sullivan and Chief Scientist Richard Spinrad have refused Chairman Smith's demand, instead providing extensive briefings on and access to all of the work behind the paper. They're holding firm against Smith's subpoena as of this writing, presenting a unified front against a troubling trend of harassment of federal scientists.
Irma Muñoz: Bringing science to the people
As founder and president of the Los Angeles-based environmental activist group Mujeres de la Tierra, Irma Muñoz's work is informed by a radically simple principle: decisions with local impacts should be informed by the people they'll affect. She's put this principle into practice on several issues, most recently with residents of low-income neighborhoods in which oil and gas companies are exploring opening fracking sites -- who are rightfully concerned with the public health risks associated with oil and gas development.
Muñoz and Mujeres de la Tierra partnered with the Union of Concerned Scientists in 2015 to help empower people living in these communities to advocate for their own health and safety. Working with UCS, she and Mujeres de la Tierra connected residents of at-risk communities with seismologists, water and air quality experts, and other scientists who could help answer questions about oil and gas development in their neighborhoods, and provide the resources residents needed to effectively address such development. Thanks to her vision, many of the connections forged between communities and local scientists are becoming lasting partnerships.
Vote for your favorite Got Science? champion!
Congratulations to our 2015 Got Science? champions! Visit ucsusa.org/2015ScienceChamps to vote for your favorite Got Science? champion from this list, or nominate one of your own.

Pamela Worth is a writer at the Union of Concerned Scientists. More at www.ucsusa.org
Calling all HuffPost superfans!
Sign up for membership to become a founding member and help shape HuffPost's next chapter