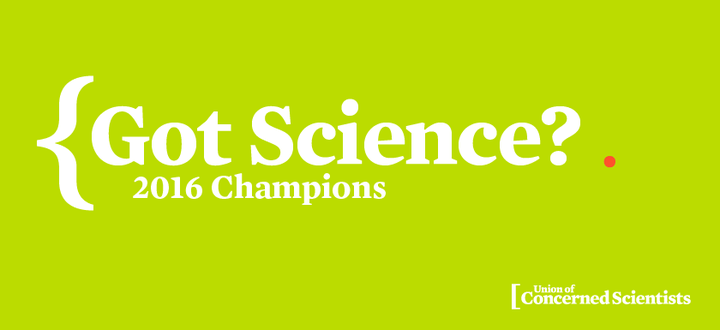 Now more than ever, science needs champions—those who defend science against powerful special interests, and those who practice science in service of a better world even in the face of political backlash. Each year, the Union of Concerned Scientists chooses five Got Science? Champions: people and groups who've stood up for science, and used it as a tool to change people's lives for the better. We're proud to present the five winners for 2016.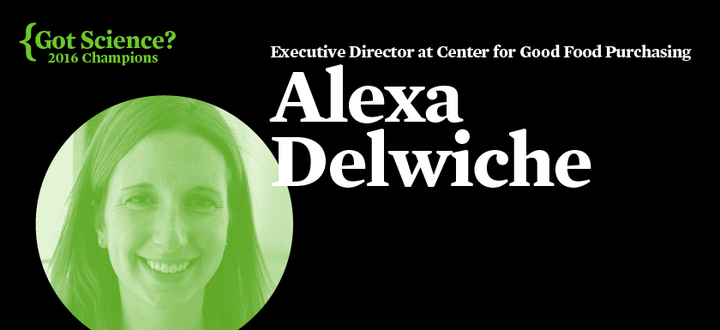 Alexa Delwiche: Creating a gold standard for good food
Fixing our broken food system requires innovative ideas, investment in smart solutions—and a lot of hard work. When Alexa Delwiche was tasked by the mayor of Los Angeles to improve the city's food policy, she helped build a coalition of farmers, activists, food service workers, low-income consumers, and distributors. Together, they created the Good Food Purchasing Program, which encourages institutions with large budgets for food, such as school districts, to align their spending with five core values: nutrition; sustainability; a valued workforce; local economies; and animal welfare. "It's designed to do for food what LEED did for energy efficiency in buildings," says Delwiche, who helped implement the program in the L.A. school district, the city's largest purchaser of food. In its first year, the program redirected $12 million in produce purchases to local growers, bumped minimum wages for delivery drivers, and improved the nutritional quality of 650,000 daily meals served to students. Several other California school districts have signed on to the program, and Delwiche is working with cities nationwide to spread its benefits.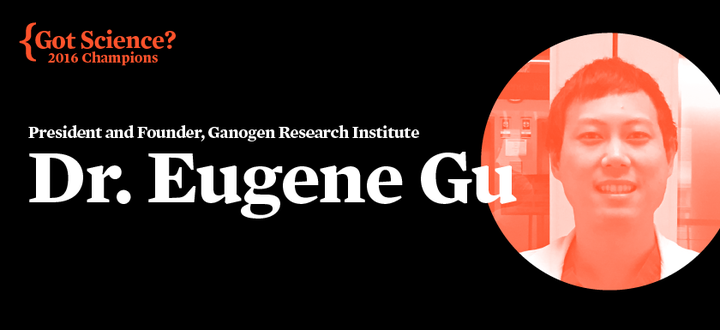 Eugene Gu: Standing strong against political harassment
At age 30, Dr. Eugene Gu has already earned an MD from Duke University, started a medical residency at Vanderbilt University, and launched his own company, Ganogen Research Institute, which aims to cure lethal congenital conditions using fetal tissue to grow functioning human organs for research and transplants. Unfortunately, Gu has also drawn the ire of antiabortion activists, and the attention of the deceptively named US House of Representatives' Select Investigative Panel on Infants' Lives. Although Gu has put his Ganogen research on hold as he completes his residency, he was delivered a subpoena this year from armed US marshals, demanding documentation on his connections to fetal tissue suppliers. "I'm just a regular guy," says Gu. "I had to worry about getting an attorney, going to jail. It's like a nightmare." But he believes in his research. "I'm not giving up, even in the face of a witch hunt," he says. "My advice for young career scientists: don't give up. It's people like us who will change the world."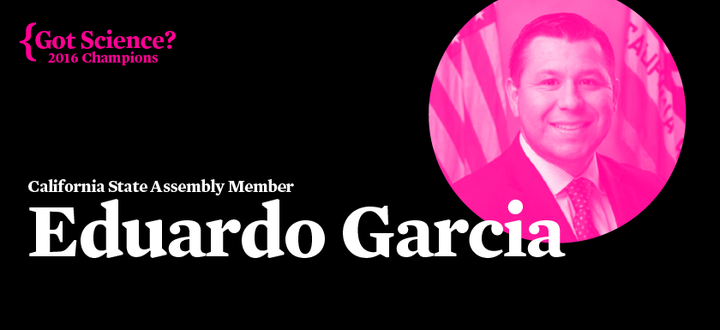 Eduardo Garcia: Leading California's charge for environmental justice & climate protection
The state of California has led the nation for years in reducing global warming emissions to fight climate change. Ensuring that low-income and minority residents aren't left behind in the state's cleaner energy economy is California Assemblyman Eduardo Garcia. In 2016, Garcia guided a landmark pair of bills—SB 32 and AB 197—through the state Assembly and into law. These bills will lower carbon emissions to 40 percent below 1990 levels by 2030, while prioritizing low-income communities, including those composed predominantly of people of color, that are disproportionately affected by pollution, global warming emissions, and the effects of climate change such as droughts and heat waves. "My district is demographically Latino, young, economically disenfranchised, medically underserved, with an economy based on agriculture and tourism," Garcia says. "Conversations about ice caps and polar bears don't resonate with folks. What does is air quality, environmental justice, and investment into renewable energy that creates jobs."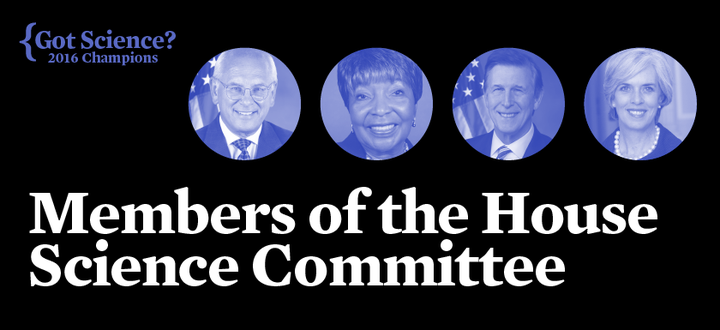 Eddie Bernice Johnson, Paul Tonko, Don Beyer, Katherine Clark: Defending science and free speech
The House Science Committee's primary responsibility is jurisdiction over federal scientific research and development. However, its current chair Lamar Smith has misused his power to issue subpoenas to several attorneys general and nonprofit organizations, including the Union of Concerned Scientists, demanding to see correspondence among those working to expose ExxonMobil's campaign to suppress climate science. Fortunately, there are other elected officials on the House Science Committee who recognize the subpoenas for what they are: harassment. Representatives Eddie Bernice Johnson, Paul Tonko, Don Beyer, and Katherine Clark released a statement condemning the subpoenas as unconstitutional, and have organized more letters and statements of support from scientists and activists against Chairman Smith's abuse of power. These committee members understand the dangerous precedent Chairman Smith has set by attempting to chill the investigation into ExxonMobil's climate deception. As Rep. Tonko explains: "It has never been more important for elected officials to stand up for science. Together, we will keep those accountable who ignore facts and science."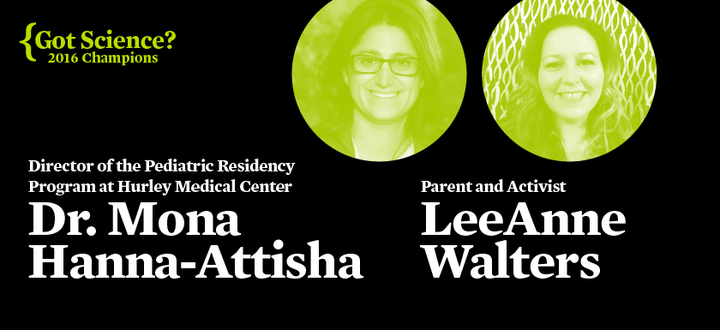 LeeAnne Walters and Mona Hanna-Attisha: Protecting Flint's children
LeeAnne Walters and her husband and children lived in the same home in Flint, Michigan, for years. They had no problems with their water until the city switched its supply to the polluted Flint River—after which they began noticing a drastic difference. "The color would range from light yellow to brown. It looked like cooking grease," Walters says. "The city said it was our plumbing." Her concerns were minimized by officials for months; she was offered a payout to keep quiet about the levels of lead the city eventually found in her water, and even threatened with losing custody of her children. Walters kept pressing for tests and federal involvement until finally, the EPA came to Flint and the story broke nationally. "Follow your gut, don't back down," she says. "Everyday citizens can make a difference."
At the Hurley Medical Center, a public hospital in Flint, Dr. Mona Hanna-Attisha is director of the pediatric residency program. When she heard rumors about lead in the water, she researched her hospital's records and found an irrefutable correlation between the switch to Flint River water and spiking diagnoses of lead poisoning in children. She immediately went public with her results—and just as quickly, officials tried to discredit her. "I was put through the wringer when my credibility was questioned," Dr. Hanna-Attisha says. "But for eighteen months Flint residents were ignored. Thinking about them—and particularly the children who, through no fault of their own, were exposed to a neurotoxin—put steel in my spine to speak truth to power."
Both Dr. Hanna-Attisha and Walters note that Flint's water crisis is far from over.
"People are still living off of bottled water," says Walters. "I've made it my personal mission to make sure this never happens to anyone again."
Congratulations to our 2016 Got Science? champions! Who do you think stood up for science in 2016? Tweet to @UCSUSA to let us know.
Popular in the Community