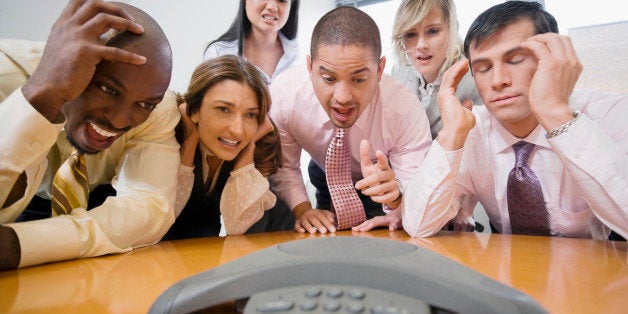 The conference call is a beautifully awkward part of our 9-to-5 lives. Its conventions are universal -- cringe-worthy, frustrating and sometimes downright comical. In partnership with VTech, we're taking a look at the hallmark moments of a reality we know all too well.
1. "You know, believe it or not, it was raining all weekend."
Someone's always late to a conference call, and if you make the mistake of being on time, you're obligated to make awkward small talk while you wait. You've become a certified professional at acting interested in people's babies, weekend plans, and the storm that blew through town last night.
2. "You've got Greg from corporate."
You've finally remembered the point of the call, and the conversation is moving along pleasantly. Cue the annoying beep-ins as latecomers join at random intervals, bringing everything to a jarring standstill. Ten minutes into the call, "who just joined us?" becomes the most tersely uttered sentence ever.
3. Where could you possibly be right now?
Some people just don't seem to know how to use the mute button, and it always seems to be the person who sounds like they are smack dab in the middle of Grand Central Station. Coffee machines, dogs barking, people having loud conversations about their weekend-- we've heard it all. You thought you were talking to a business person at their desk, but it sounds like you were wrong.
Then there's the other way that the mute button can cause trouble. You do know how to use the mute button, and you did honestly think it was on when you turned to your coworker to make a snarky comment about what someone else just said.
When two people start speaking at the same time, the "who's talking next?" dance ensues. First comes the awkward pause. Then, the endless chorus of "no, you go ahead" begins. This stop-and-start cycle can repeat...well, forever.
6. I Think You Need To Move A Little Bit Closer

It appears that no one can hear anything you're saying unless you're talking three inches from the call station. As you knock shoulders with your boss, his hot, 1pm post-lunch breath is seriously invading your personal space. A conference phone with wireless mics is so necessary.

7. I'm Sorry, What Are You Referring To?
Someone starts talking about a document or link, and as you scramble through your inbox, trying to find it, they ask for your opinion about the statement on page four. You go for the time-tested standard: "I don't think I was on that e-mail, actually."
8. Is There Anybody Out There?
While you are speaking, you hear keyboards clicking and soft conversations. When you open the floor for the questions, comments and effusive compliments, you receive deafening silence. Someone must have been listening, right? (Right?!)
The last person has said what they needed to say, next steps are addressed, and suddenly everyone realizes the call is over and falls silent. You and three other people jump in simultaneously to say goodbye, and as a nervous reflex you press "call end" before you're done with your sentence. Wasn't that fun?
We accept that these calls are a fact of life, but there's no reason why you should fall victim to tech pitfalls on top of it all. VTech's Eris Station offers solutions to your conference call woes, like interference-free conferencing and Dynamic Noise Reduction technology, making the experience a little easier. Humans are awkward, but your technology doesn't have to be.
VTech is the #1 manufacturer of cordless phones in the world. Its emerging line of innovative business telephones with intuitive design increase productivity and communication in the workplace.