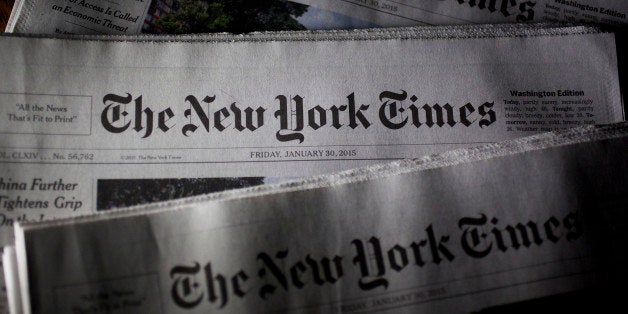 It's been a pretty good year for some arresting media corrections and apologies.
And some telling non-apologies.
In London The Times has been getting its international and religious history wrong - VERY wrong:
CORRECTION: Karol Wojtyla (remember the civilian name for John Paul II?) was referred to in Saturday's 'Credo' column as "the first non-Catholic pope for 450 years". This should, of course, have read "non-Italian". We apologize for the error.
That really is just the quaintest of errors to make. You'll remember of course the old rhetorical question: 'Is the Pope Catholic?' Evidently someone at The Times of London thought it was still debatable.
Just by the by ... I once, a long time ago, happened to run a department for a British network television TV company making journalistic programs about religion and ethics - and we called our weekly flag-ship program Credo. I'm now glad to see The Times, which was known for a century or more by the nickname "The Thunderer", for its traditionally stentorian and stern editorials, isn't beneath borrowing a title. In this case maybe from me (I just wonder?) and for its weekly Saturday column that's been running for several years now. Could "The Thunderer" be retrospectively stealing someone else's old thunder, as it were?
I DON'T WANT TO LEAVE OUT ANOTHER TIMES - my present-day hometown newspaper, The NEW YORK Times.
And keeping to the religion realm ... The New York Times has been getting its biblical narratives wrong, in an op-ed column.
CORRECTION: An earlier version of this column misidentified the sea that God parted for Moses and the Israelites in the Book of Exodus. It is the Red Sea, not the Dead Sea.

The column being corrected here was one by regular columnist, David Brooks, writing about 'Conquering Fear'. Suffice it to say that one of the greatest professional fears any Times journalist must live with is that of appearing in the Corrections section.
NOT A CORRECTION THIS TIME, but a complaint aimed at getting a correction. It concerns The New York Times, again. The paper was sent a letter by a reader, Jason Feifer (who's also an editor at MAXIM magazine - that universally-acknowledged pantheon dedicated to correctness) complaining about the Times' coverage of NASA's rocket mission to Pluto.
LETTER TO THE EDITOR: I have been gripped by the coverage of Pluto this week, and thank The Times for its comprehensive reporting. However, I have spotted an error: In Dennis Overbye's Wednesday story, "A Window Into Pluto, and Hopes of Opening Other Doors," he writes: "It was an extraordinary time for a cosmic selfie, a historic day in space and here on earth." A selfie is a photo that someone takes of themselves, not simply a photo of someone (or something).
Unsurprisingly, no correction was forthcoming. But I love such pedantry. Or rather, I love being a pedant myself. I remember once writing in a column (one that's oddly gone missing, despite the allegedly endless 'long tail' of the internet) that director Sofia Coppola had offended me in her otherwise enjoyable, if thin, movie Marie Antoinette.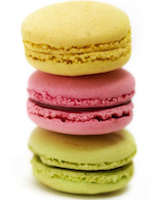 For one scene, a great song from the New Wave band Bow Wow Bow, "I love Candy" (you know, with its pounding Bo Diddley beat) played on the soundtrack as Marie Antoinette's court indulged in all sorts of sweet decadence.
Visually, this portrayal included mouthwatering shots of those distinctive sandwich-style macarons from La Duree's store in Paris ... and now all over the world of course. BUT ... those double-tiered macarons were only invented in the 1830s - forty years or more after Marie Antoinette was beheaded. In her day they were flat and consisted of a single layer. I rest my case.
JUST TO SHOW THAT WE BROADCASTERS can't afford to be sanctimonious or superior about print media, which of course sticks around for a while for us all to see ... and we might think because we're in a spoken media, our mistakes just go out over the air and no-one really notices. I want to point to how Diane Rehm, that doyenne of the Washington radio world, on WAMU and distributed nationally by NPR nationally, can (pretty untypically, I should say) get something wrong.
Rehm was picking up suggestions from listeners for questions to ask Senator Bernie Sanders, and she settled on one about his (allegedly) having both US and Israeli citizenship. She asked him about it as if it were a fact. He was surprised that she'd thought he had dual citizenship, and he pointed out he certainly didn't. She corrected herself, and apologized. And here's the thing ... Rehm then very fully apologized, again, the next day.
APOLOGY: On yesterday's show I raised the issue of dual citizenship with presidential candidate Bernie Sanders. This is an issue that has come up over the years in American politics. One of our listeners suggested by Facebook that I ask Senator Sanders about Internet speculation that he has dual citizenship with Israel. But instead of asking it as a question I stated it as fact and that was wrong. He does not have dual citizenship. Senator Sanders immediately corrected me. I should have explained to him, and to you the audience why I thought this was a relevant question and something he might like to address. I do apologize to Senator Sanders and to you for having made an erroneous statement. And I am glad to play a role in putting this rumor to rest.
Pretty fulsome, and classy, don't you think?
THE OTHER TRADITIONAL BROADCASTING medium, television, is quite naturally prime territory for error-hunting - especially the 24-hour news cable outfits. As Africa has gotten to be a more and more frequent focus for CNN's reporting, even in the US domestic service nowadays, you'd think fundamental mistakes in geography would be high priorities for the network to avoid.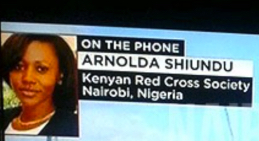 So how in the world might we explain this? When Somali-based al-Shabaab terrorists attacked Kenya's Garissa College in April, CNN sensibly got Arnolda Shiundu, spokeswoman for Kenya's Red Cross, live on the phone. However, their on-screen labeling said she was reached in the capital city, Nairobi - - accurate enough in itself, but they astonishingly placed Kenya's capital in the wrong country ... Nigeria.
In this instance I saw NO correction or apology, just a not-especially-hurried replacement of the offending caption, plus silence. It became more grist to the mill of many, many Kenyan complaints about CNN, some warranted, some not, gathered under the regionally trending hashtag #SomeoneTellCNN
SOME ERRORS DO JUST HAPPEN because of mishearing. The Texas Tribune had this possible example of just that:
EDITOR'S NOTE: An earlier version of this story incorrectly quoted U.S. Senator Ted Cruz saying that President Obama could have "told the American people that he hurt them." Cruz said Obama could have "told the American people that he heard them."
While I say that it might have been a case of mishearing, I guess it might equally have been Ted Cruz's own wishful-thinking.
APOLOGY: The Ottawa Citizen wishes to apologize for our apology to Mark Steyn, published October 22nd. In correcting the incorrect statements about Mr Steyn published October 15th, we incorrectly published the incorrect correction. We accept and regret that our original regrets were unacceptable, and we apologize to Mr Steyn.
It seems merciless in its self-flagellation, doesn't it? Or then again, do I detect the faintest hint of Canadian irony?
Calling all HuffPost superfans!
Sign up for membership to become a founding member and help shape HuffPost's next chapter