By Tim Marema, Daily Yonder Editor
New annual job numbers from the Bureau of Labor Statistics confirm that the effects of the Great Recession went deeper and have lasted longer in rural America than they did in the rest of the nation.
The 2017 annual jobs report shows that rural counties (defined as nonmetropolitan) still haven't gotten back to levels of employment they saw in 2008 at the beginning of the recession.
Rural counties had 750,000 fewer jobs in 2017 than they did in 2008. That's a drop of 3.5 percent over the nine-year period.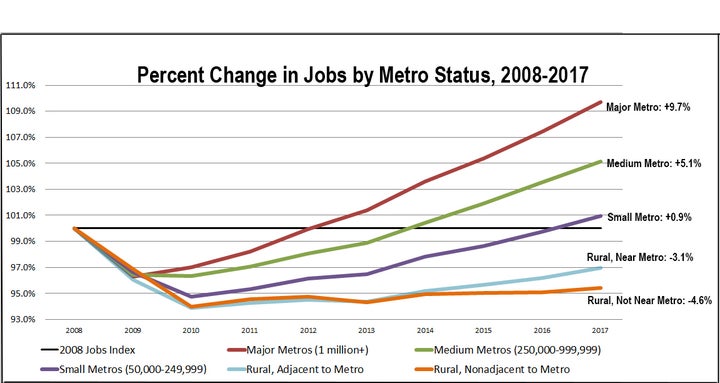 Meanwhile, the nation's largest metropolitan areas (those with populations of 1 million or more) climbed out of their job deficit by 2012. In 2017 they had 10 percent more jobs than they did in 2008. That's an increase of 7.8 million jobs. (Major metropolitan counties are shown in the red line in the graph at the top of the story.)
Rural employment did grow slightly from 2016, the report shows. An increase of 0.4 percent added another 78,000 jobs to rural counties in 2017. Rural counties that were closer to metropolitan areas (the light blue line in the graph) had a slightly better growth rate over the last year than more remote counties (orange line).
The report also shows that the gap between the biggest and smallest counties is increasing over time. In general, the more urban the county, the bigger the rate of job growth. The nation's largest metropolitan areas increased employment by about 2 percent from 2016 to 2017. The nation's smallest metropolitan areas (purple line) added employment at about half that rate.
The BLS annual job reports provide an easy way to compare year-to-year figures without having to account for factors like seasonal employment, which skew employment figures.
(The Daily Yonder also tracks monthly job reports, but those reports only allow us to compare the same months in previous years. Nonetheless, our reporting on monthly figures confirms the pattern of large counties adding jobs at a faster rate than smaller counties.)
The 2017 employment pattern also roughly matches trends revealed in the most recent county population figures from the U.S. Census. Rural counties closer to metro areas had more U.S. residents move there than leave. But rural counties not adjacent to metro areas had a net loss in population due to domestic migration.
How this story defines rural America: This article uses the federal Office of Management and Budget Metropolitan Statistical Area (MSA) definition, further categorized by MSA population size and the proximity of nonmetropolitan (rural) counties to metropolitan areas. Metropolitan counties have a city of at least 50,000 residents. Metros can also include such a county's surrounding counties, based on measurements of economic integration. More information is available from the USDA Economic Research Service.
Popular in the Community