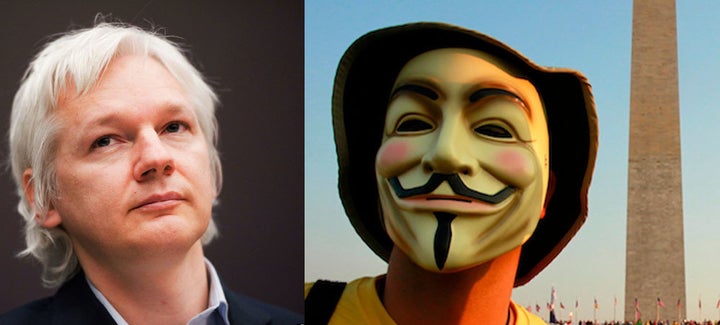 Wikileaks on Monday began publishing details of its latest trove of secrets: more than 5 million emails from the global intelligence company Stratfor.
But Wikileaks could not have done it without the help of its apparent new source: the hacker collective Anonymous.
By teaming up on this new disclosure, Anonymous and Wikileaks forged closer ties. But for Wikileaks, those ties could erode its legitimacy as a whistle-blower, according to Steven Aftergood, an expert on government secrecy at the Federation of American Scientists.
Aftergood said the way Wikileaks acquired information from Anonymous is different -- and more troubling -- than how it acquired secrets from others sources, such as Pfc. Bradley Manning.
Manning is fighting charges that he leaked hundreds of thousands of classified documents -- including battlefield reports from Iraq and Afghanistan, and diplomatic cables -- to Wikileaks.
"These records were not leaked. They were stolen," Aftergood said in an interview about the Stratfor emails. "Bradley Manning was an insider who had authorized access to the records and leaked them. Anonymous stole them from a private entity and Wikileaks is now publishing stolen records. It clearly puts Wikileaks on the wrong side of the law."
According to Wikileaks, it is working with more than 25 news outlets worldwide to sift through the emails, which date from between July 2004 and late December 2011. The communications "show Stratfor's web of informers, pay-off structure, payment-laundering techniques and psychological methods," Wikileaks said in a press release. Stratfor's chief executive officer and founder, George Friedman, has said the stolen emails would not reveal anything significant.
Anonymous has long been supportive of Wikileaks, and recently, Assange expressed his gratitude. In October, he reportedly showed up at an Occupy London rally wearing an Anonymous mask. In a video from the rally, Assange claimed that more than 100 people from Anonymous were "arrested, raided or detained for defending Wikileaks and defending me personally."
For Anonymous, which has frequently published the internal communications of companies and government agencies, the decision to team up with Wikileaks gives the hackers a greater audience, one member of Anonymous told Wired.
In an interview last month with Rolling Stone, Assange said by aligning itself with Wikileaks, Anonymous also receives something else: an education.
"As a result of joining our battle and trying to protect themselves, they have come to see that the threats related to Internet freedom come from the military-industrial complex, the banking system and the media," he was quoted as saying. "The media is the third big power group, because when you're involved in something like this, it becomes newsworthy."
Calling all HuffPost superfans!
Sign up for membership to become a founding member and help shape HuffPost's next chapter
BEFORE YOU GO