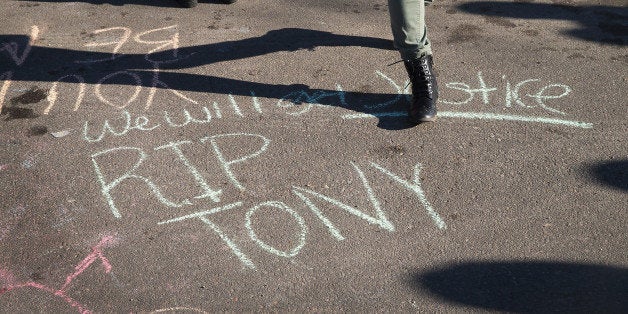 (Reuters) - Cyber attackers are targeting city and county computer systems in Madison, Wisconsin, in retaliation for the shooting death of a 19-year-old unarmed black man by police in the Wisconsin capital, city officials said on Tuesday.
The cyber attack was hitting the police department as well as other city and county websites with varying levels of intensity, blocking legitimate Internet traffic to and from the governmental agencies, officials said.
Local, state and federal law enforcement agencies, including the FBI, were working to trace and apprehend the culprits, said Paul Kronberger, Madison's chief information officer.
"They're preventing us from utilizing the Internet. That's a huge thing," Kronberger said. "There is not a lot we can do about it. The people who do this kind of attack are very skilled."
The attack, which began Monday afternoon, was thought to be initiated by Anonymous, an international network of activist computer hackers, in response to the fatal shooting of Tony Robinson by a white Madison police officer on Friday.
Robinson's death has sparked outrage and protests reminiscent of those seen in Ferguson, Missouri, and other U.S. cities after the August police shooting of Michael Brown, 18, an unarmed African-American, by a white Ferguson police officer.
"We do know that Anonymous has claimed responsibility for this and there are people actively working to prevent it from damaging our ability to take care of business here," Madison police spokesman Joel DeSpain said.
The attack was discovered around 4:30 p.m. Monday when police officers found "intermittent connectivity issues" that escalated to complete outages with their computer systems, DeSpain said.
Robinson was shot Friday evening after Officer Matt Kenny responded to calls about a man dodging cars in traffic who had allegedly battered another person, according to police officials.
Kenny is on paid administrative leave while the Wisconsin Department of Justice investigates the shooting.
Police shootings and police tactics were the subject of scrutiny in Washington as more than a dozen protesters critical of police attended a District of Columbia Council meeting on Tuesday.
The protesters were critical of what they called racially biased policing, including "jump outs," or the stopping of citizens by plainclothes officers in unmarked cars, which they said are disproportionately used in black neighborhoods in the U.S. capital.
Police Chief Cathy Lanier said "jump outs" were not official policy.
(Reporting by Carey Gillam; Additional reporting by Lacey Johnson in Washington; Editing by Bill Trott, Jonathan Oatis and Eric Beech)
Support HuffPost
Every Voice Matters
Popular in the Community