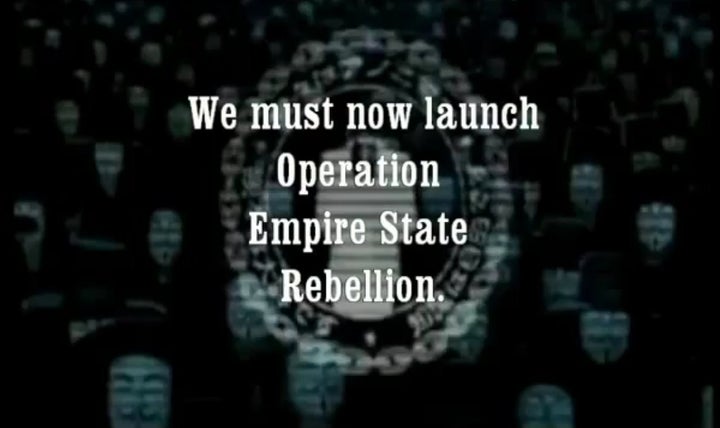 If a new video purportedly by cyber-group "Anonymous" is to be believed, Federal Reserve Chairman Ben Bernanke has become the focus of a pointed threat.
In the video, uploaded on Saturday, the anonymous group, self-described as loosely connected and Internet based, allegedly claims that the Federal Reserve is guilty of "crimes against humanity" and calls for the resignation of Ben Bernanke. In addition, the group would seem to demand the break up of the Federal Reserve and other major banking institutions.
In response to criticism of the Federal Reserve's secrecy, Ben Bernanke this year gave the first-ever press conference by a Fed chairman. He plans to make the press a quarterly affair. The duties of the Federal Reserve include regulating bank and setting interest rates, among others.
This is not the only high-profile threat by the group -- also threatening Bank of America and Sony -- nor is it the first time the group has taken aim at Bernanke. The group first requested his resignation on March 12 of this year, in a similarly-designed video, according to Business Insider.
Both Bernanke-related videos link to the same domain name: AmpedStatus.org. In an April video threatening Sony with a data breach, a group, also said to be part of Anonymous, uses a similar-looking emblem to represent themselves, although the domain name, irc.anonops.in, is different.
Anonymous does not have one central site to confirm of deny the video is in their name. Searches for official confirmation did not prove successful.
If Bernanke doesn't resign by Flag Day, June 14, the video calls for public protests until demands are met, under the name "Operation Empire State Rebellion." But as Cnet News points out, it remains unclear whether the group will engage in cyber attacks against the Fed if it chooses to escalate.
The group is currently being blamed by Sony for allegedly hacking and shutting down its Play Station system in May, an accusation the group has denied.
Just this past Sunday, Anonymous reportedly took down the site of the Spanish Police, the Wall Street Journal reported on Monday. Spanish police claim to have no evidence that the individuals in question are associated with the group.
Watch the Anonymous video here:
Related
Popular in the Community