 As Israel and Hamas continued their deadly conflict in Gaza Thursday, the hacker group Anonymous rallied to the Palestinians' side, launching a digital attack against websites belonging to the Israeli government.
Beginning early Thursday morning, the hacker group announced a mission to crash and deface websites belonging to the Israeli Defense Forces, Israeli Prime Minister Netanyahu and other Israeli websites belonging to security and financial corporations, according to Global Post.
On Twitter, an account linked to Anonymous called on followers to bring down more than 40 websites belonging to the Israeli government and military. The group is known for launching so-called "denial of service" attacks that overwhelm websites with traffic, causing them to crash.
"To the people of Gaza and the 'Occupied Territories', know that Anonymous stands with you in this fight," the group said in a statement. "We will do everything in our power to hinder the evil forces of the IDF arrayed against you. We will use all our resources to make certain you stay connected to the Internet and remain able to transmit your experiences to the world."
The hacker group posted a message on one website claiming to have taken down Israeli's "top security and surveillance website." The statement included a photo of what the group said were burning buildings in Gaza and said: "We Anonymous will not sit back and watch a cowardly Zionist State demolish innocent people's lives."
But while heavy on rhetoric, Anonymous' mission may not have caused much harm. Forbes writer Andy Greenberg notes that most of Anonymous' target websites were still online.
The long-simmering conflict between the Israelis and Palestinians sharply escalated Wednesday, with rocket fire and Israeli airstrikes. The fighting has killed at least 15 Palestinians and at least three people in Israel over the past two days, according to The Associated Press.
Clarification: Language has been amended to reflect the military capacities of each side of the conflict.
Related
Before You Go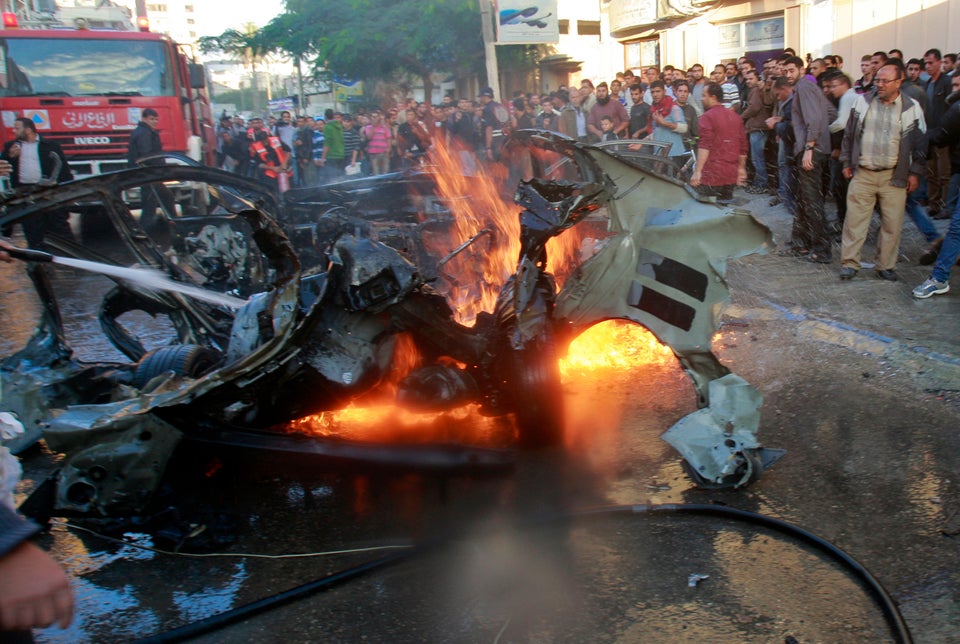 Israeli Strike Hits Gaza
Popular in the Community