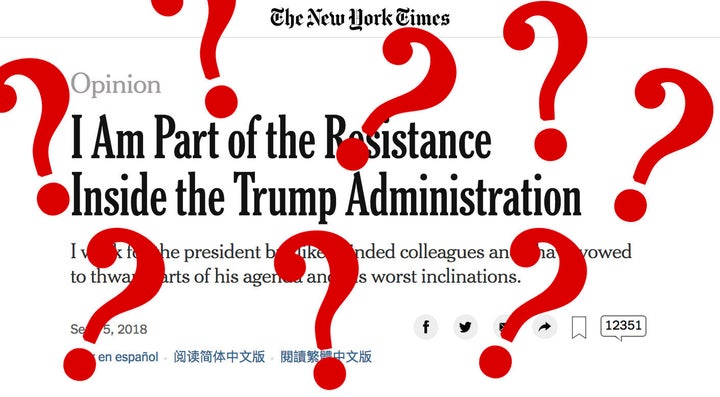 If you've been awake at all over the past 24 hours, you've likely heard that The New York Times published an anonymous op-ed from someone it described as a "senior official" on Wednesday, titled "I Am Part of the Resistance Inside the Trump Administration."
As the editors wrote in a note at the top of the piece, running an anonymous op-ed is a highly unusual move for the Times. Strict security measures were required. Because of a strict firewall between the newsroom and the opinion section, not even the Times' news-side employees know who the mysterious "West Wing" cosplayer is. But we figured we'd ask them anyway.
On Thursday, we contacted a wide assortment of New York Times newsroom staffers and asked for their guesses about the mystery man or woman. Their responses, which are all based on nothing but their intuition, are below.
We will update this list as more blind guesses become available.
I do not [want to guess] ... Unless you want a really stupid out of left field guess like Barron Trump.

I want it to be Karen Pence. Please let it be Karen Pence.

Wish I knew! Very tightly held here.

I guess my leading guess is [White House counsel Don] McGahn. But my second guess is nobody we've heard of.

Lol. [Supreme Court nominee] Brett Kavanaugh. Anything for journalism.

My anonymous guess is someone connected to VP or someone connected to [U.N. Ambassador] Nikki Haley.

I'm going to say Robert Wilkie, Secretary of Veterans Affairs.

IT guy who fixes certain printers faster — much faster — than others, or [Secretary of Defense James] Mattis.

Maybe like ... someone who works for Pence??

Honestly, no idea. Whoever it is seems pretty craven, opportunistic and fully bought into white nationalist policies as long as they're executed without angry Trump tweets, which doesn't really narrow it down, so idk.

I'm going [Vice President Mike] Pence.

Vermin Supreme.

If you need a name I'll say Mattis, based on absolutely no inside info, I hasten to add!

You're right, this is very dumb. Uhhh no idea, maybe [National Economic Council Director Larry] Kudlow?

The butler who delivers Trump's Diet Cokes after he pushes the button. His version of resistance is secretly delivering the president a Coke Zero every time.

Oh I have no idea, really. Sorry!

Based on no information whatsoever, the names I thought of were McGahn and Pence. Though I suspect it's someone no one knows.

Unfortunately, mine is incredibly boring... but almost certainly someone we've never heard of!

V stupid will ignore
just fwded to make you laugh
[Note: We assume this person meant to forward our emailed inquiry but replied instead.]

I haven't read it.
Are you a New York Times newsroom employee? Did the anonymous op-ed writer come to you in a dream? Let us know.
Popular in the Community