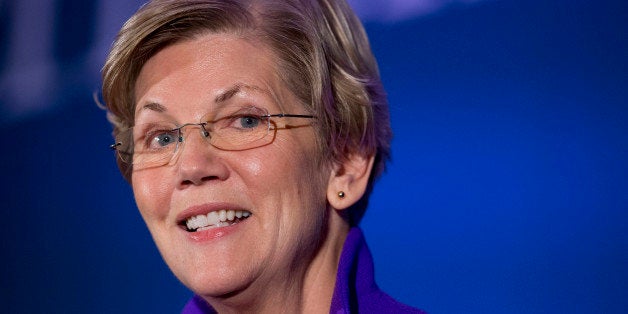 "In this case, the thing Warren was against -- adding another Wall Street anti-regulatory guy -- wasn't even remotely true," said one senior Wall Street Democrat who has worked in government but, like many interviewed for this article, declined to be identified by name to avoid Warren's wrath. "There is no one in government right now who has any market or finance experience. It's not like there are 'too many.'"
Sweet Yeezus. More like "declined to be identified to avoid having their name associated with a statement that's howlingly ludicrous."
Look, I can understand if someone has passed through the revolving door a bunch of times and now holds the view that there is insufficient market or finance experience within the federal government's financial bureaucracy. But to say "there is no one in government right now who has any market or finance experience" is, to use the academic term, bonkers sauce. You don't need to look further than the guy who runs the Treasury, Jack Lew, who was formerly the chief operating officer of CitiGroup's Alternative Investment prop-trading unit, where he had something of a storied history.
Let's do look further, though! Your Federal Reserve governing board has several members who, I'm guessing, would love to throttle Mr. or Ms. Anonymous Source for the above quote -- most notably Federal Reserve Governors Jerome Powell (Carlyle Group), Stanley Fischer (CitiGroup) and Lael Brainard (McKinsey).
Throughout the regulatory landscape you'll find a slew of top officials who very well might take umbrage at Anonymous McSourcy's version of events. Many of these people are former law partners whose clients were definitely under the impression that they knew their way around markets and investments. Like, say, SEC Commissioner Luis Aguilar (partner at McKenna Long & Aldridge), CFTC Chairman Timothy Massad (partner at Cravath, Swaine & Moore) and CFTC Commissioner Sharon Y. Bowen (partner at Latham & Watkins). The Office of the Comptroller of the Currency has its own murderers' row of leaders who can make the same boast.
In moving from the private sector to government, the newest Republican member of the Commodity Futures Trading Commission has acquired potential conflicts that ethics lawyers say could force him to stay away from matters involving major companies regulated by the agency.

J. Christopher Giancarlo joined the CFTC in June after working at a derivatives brokerage and serving as chairman of an industry lobbying group. Six weeks later CME (CME) Group Inc., the world's largest futures exchange, made an offer to buy Giancarlo's former employer. In short order, his old firm's stock price surged, adding an extra windfall to Giancarlo's multimillion dollar severance as he divested his holdings.

Giancarlo's conflicts are emblematic of the CFTC's shift from a sleepy overseer of agricultural contracts to a desirable place for Wall Street executives to try to influence regulation and burnish their resumes. The change can also be seen in high-paying jobs given to departing officials. Shortly after Giancarlo arrived, another commissioner, Scott O'Malia, left for a seven-figure position heading a derivatives trade association.

The CFTC "is like a stock and its value has gone through the roof," said Jeff Connaughton, an ex-lobbyist who wrote an expose on the financial industry's power in Washington. "The revolving door, therefore, is a brighter shade of green."
Someone better tell this anonymous source that "Bloomberg News" is this whole news agency that, like, people can read for free and find out what's going on, and whatnot.
At any rate, I'm guessing it wouldn't be "wrath" that this anonymous person would earn from Elizabeth Warren, but rather "pity." The poor dear's certainly earned mine.
Calling all HuffPost superfans!
Sign up for membership to become a founding member and help shape HuffPost's next chapter
BEFORE YOU GO
PHOTO GALLERY
Elizabeth Warren