The day my former best friend Anne sent me a text from the Miami airport saying she would be back in New York City visiting her parents, my entire body ached with nostalgia. I wanted to see Anne, but not because of Anne.
I wanted a do-over — this time with food in my belly.
I've been in recovery for anorexia nervosa for nearly 20 years. I'm healthier now, but there are times when I miss not being healthy.
Anorexia nostalgia — the feeling that you wish you could return to the time you battled anorexia — is a normal occurrence for people in recovery. It's also a shameful secret few will talk about when you're fighting for your life. One day you might want revenge for the kid you let down. You might miss your old anorexia life so much, it feels as if you'll lose months looking up people who knew you then, wondering whether conversations and life would have been different if you hadn't been living in fog. You may even want to relive it without food, for old times' sake, so that you can feel light, powerful and still. When the bad stuff took up so much of your life, sometimes you miss the bad stuff too.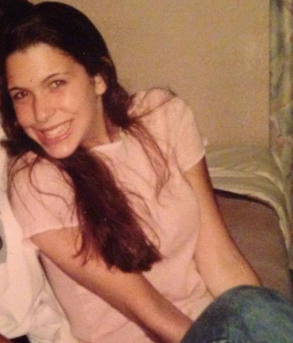 I have decades of memories in which everything but my anorexia is fuzzy. When I think back, that familiar nostalgic ache comes on like fever and worsens when I realize there's nothing I can do to relive life without the lie of anorexia.
A trip with my mother at 19 through San Juan, Puerto Rico, a city I later learned is juicy with sorbet and citrus structures, is nothing but pavement, dizziness, holding my breath at menus, and exhaling on shrimp ceviche (lime, buoyant, served in a glass, clear, clean, safe).
Other memories include the roller-skating parties when I hid in bathrooms while birthday cake was served, waiting for the lit disco ball to start spinning again.
The day I wasted shivering under a blanket on Karekare's black sand beach. I had always wanted to visit New Zealand, but I spent two weeks cold and too tired to really see any of it. My then-boyfriend was nice. He tried.
I wasn't fine. I was scared of being far from home. I was scared of his mother's white rolls and fried meats. "Maybe we'll get married one day, and I'll bake white bread and fry meat," I thought then. But when I closed my eyes, I couldn't picture us. I let two more years pass before I caught him chatting up the healthy girl he would marry. The only good thing about being scared into stillness is getting to see infinite possibilities for everyone else, which is proof that there may still be time for you to catch some of those opportunities too.
Growing up, Anne and I were separated by one block. She was one of a few kids I knew in New York City who had a pool. I spent hours in her bathroom, pulling on sticky swimsuits, cupping my flesh, growing angrier that my body had needs and that it still forgave and rooted for me when I tried to deny it food. In a few years, I'd know what winning felt like, when my body would relent and allow me to manipulate my breath, turn my fingertips blue and slow down my heartbeat so that it was random and unpredictable, the way everything else in life felt.
"You might miss your old anorexia life so much, it feels as if you'll lose months looking up people who knew you then, wondering whether conversations and life would have been different if you hadn't been living in fog."
After Anne texted me and we agreed to meet, I thought back to those days with her and realized our friendship coincided with my deteriorating relationship with food and my body. Without an anorexic past, I might have remembered Anne, just Anne, and the average, mostly joyful and privileged childhood we shared.
But anorexic memories are shade on every sunny day. Instead of remembering Anne, I found myself wondering if the leather sectional in her den would still feel like quicksand that fanned your thigh fat out on July afternoons spent in shorts. If we sat together, could I keep my hands on the table and not use them to protect my stomach? What would it have felt like to not hide in her bathroom and watch as girls and boys from our class, dripping water from their hair, delivered pizza to their mouths on chlorine fingers? So many psychiatrists and nutritionists have passed through my life since those pool parties, but at that time, I didn't have their lessons. I didn't know pizza wouldn't make my body swell right there on Anne's grass. I know now that I'm not different or special or here to be punished.
The last day I saw Anne is one of my most painful memories.
Justine, Anne and I were sprawled out on her bed. Their friendship was new, but they laughed a lot together, whispered about boy parts and felt emboldened by this new knowledge that they owned boys' bodies. I liked boys too. But I was slower and wished they were slower.
I had eaten only one apple that day and fell asleep on Anne's bed. When I woke up, Anne and Justine were talking and laughing in the kitchen. They had moved on. I was too tired to move with them.
If you can commit to recovery for life, your fatigue gradually subsides and is replaced by short bursts of energy at first and then life itself, as if it never left you. You may get an opportunity to indulge in anorexia nostalgia by revisiting old friends or beautiful places where you refused to eat and couldn't see all the colors in front of you. And you might think, "What if I am disappointing now to people who knew me then? What if it's so much better now and I have to accept how much time I lost? What if I haven't learned anything?"
A few days after our text exchange, I met Anne, and we sat in her parents' kitchen that we had spent so much time in as teens. Stone bangle bracelets and amulets that Anne now sold by the beach were spread across the table. When Anne moved out, her parents had filled in their pool. Imagine all that time wasted in her bathroom, and it's that easy to grow grass over a pool.
"What are you doing now?" Anne asked. "You have two kids, right?"
Through recovery, I've found that it isn't difficult to talk about yourself when you stop hiding. Anne spoke about her freedom in Miami — her favorite coffee shop, bad dates, a woman who sold her crystals that could change lives. She remembered that I was a Taurus and asked if she could do my chart. I felt bad telling Anne that I don't believe in astrology. I agreed anyway and reached for a pita chip, because it was there, because that's what you do when someone offers you food and because I like pita chips.
"You may get an opportunity to indulge in anorexia nostalgia by revisiting old friends or beautiful places where you refused to eat and couldn't see all the colors in front of you."
"I brought something," Anne said. "These are perfect for you."
She slid two bangle bracelets across the table to me: jade for courage and rose quartz for love and inner peace. Self-love, maybe. I can't remember. I ran my finger along the bracelets and realized my hands had been on the table the entire time. I still can't pick my body out in a lineup, but I no longer need to touch my body to make sure it's still there.
I had thought of Anne over the years and had made peace with how we drifted apart. The real reason I came was that I owe the little girl who feared her near-naked body in her best friend's pool the privilege of letting that body grow, without interfering to bend, sculpt and beat it into submission.
But once back in the house that Anne grew up in, I realized there is no release, not the way I had expected. There is no second try. Anne doesn't owe me one. The best we can do is give what we've got right now — astrology, hugs for her mother, dumb jokes, crystals, baby photos of our kids. Whatever it is, it's good, and it's enough, at least for me.
Anne's mother had been grilling peppers on the stove. Their carnival colors blackened and frayed on the grill. I glanced at the clock and realized I had to pick up my daughter in 20 minutes.
"Before you go, you have to try these peppers," Anne said.
I agreed and let her fill up my plate. The cooked peppers were smoky, sugary, their skins slick with oil. I guess they've always been this way. But now I can taste them.
Do you have a personal story you'd like to see published on HuffPost? Find out what we're looking for here and send us a pitch!
Support HuffPost
At HuffPost, It's Personal
Popular in the Community