 "There is no greater agony than bearing an untold story inside of you." -- Maya Angelou
15-year-olds aren't supposed to have strokes. At least that's what I thought. I try not to think about it too much. Even now, I only have bits and pieces; shards of memories that somehow remained intact even through the trauma my brain endured that day...
When I arrived at Children's Medical Center, I weighed just 58 pounds. After a five-year battle with Anorexia Nervosa, my body had reached its breaking point. Nearly every system in my body was shutting down. All four valves in my heart were leaking. My skin was yellow from liver failure. I hadn't taken a sh*t in over a month. I was dying.
The first emotion I remember is rage. It was a violent, fire-in-your-veins, so angry-you-could-kill-someone kind of rage. I wanted out. I wanted the pain to be over. I wanted to die. I was mad at myself for not having the courage to just do it quickly, angry at the hospital staff for thwarting my masked attempt. I was convinced that I was "meant to" endure this, that my long, drawn-out starving to death would prove my willpower to God. In the days prior to my stroke, I'd had vivid hallucinations -- of Jesus on a wooden cross outside my bedroom window and a satanic figure sneaking up under my bedroom covers to suffocate me at night. I thought I was meant to be a martyr. I thought God wanted me to die.
As the fury subsided, delirium set in. I became confused, defiant and completely irrational. I told the other patients that my mom would be there to pick me up and take me home any day now. I argued with the doctors that they couldn't possibly keep me overnight, because we didn't have insurance or money to pay. When a cardiologist told me she wasn't sure if I'd live another week, I told her she was full of sh*t. I hid the food they were trying to make me eat in my underwear, in flowerpots, even in my cheeks like a chipmunk -- convinced no one would notice. I didn't want to get better. I was convinced nothing was wrong.
I remember having nurses turn me over in the middle of the night to tend to the bed sores on my behind, places where the skin was so thin that my tail bone was starting to protrude through the flesh. I remember waking up to discover I'd wet the bed nearly every morning for the first three months I was there. I was ashamed, disgusted. I'd lost control of the muscles in my bladder; I was like an infant all over again. I remember shooting a nurse the bird when she told me I couldn't walk, only to fall to pieces on the floor when I angrily pushed the wheelchair away to give it a try.
Unbeknownst to me at the time, my arrival at the hospital had launched an investigation by Child Protective Services back at my home in Austin. The caseworkers deemed my mother an "unfit parent" and my sister and I were placed under custodianship of the State. My care was left to the doctors and nurses at Children's, while my sister was officially placed in foster care and sent to live with our godparents. My mother, herself an alcoholic and anorexic, had literally drunk herself into oblivion.
I spent the next sixteen months of my life in that hospital. I completed my junior and senior years of high school through a distance education program, talked my way through hundreds of hours of individual and group therapy and slowly, painfully worked to bring my body and mind back to life.
Over the next few months, as my body grew accustomed to having nourishment again, my temperament and personality began to change. I became quieter, more submissive and more trusting of the staff in charge of my care. One night, one of my nurses, Miss Connie, pulled me gingerly from my wheelchair and into her lap in a chair next to the window. Her curly blonde locks brushed my sunken cheekbones as we gazed out at the distant sunset together. "Just keep your eyes on that horizon, honey." she said. "You're going to survive this."
When Medicaid finally pulled the plug on funding for my treatment almost a year and a half later, I was unrecognizable from the day I'd walked in. I'd gained nearly forty pounds, and the feisty, fiercely independent spirit I'd been known for as a child was on her way back in (close to) full force. Although I was still significantly underweight and terrified to leave the security of the hospital, my medical team still managed to convince the caseworkers to grant me emancipation. At 17, I re-entered the "real world" as a legally recognized adult.
My doctor at Children's helped me make arrangements to move into a garage apartment with a close family friend who lived close to the hospital. I also managed to get a job at a local Starbucks earning just above minimum wage. By the grace of who-knows-what, the psychologist who had been the one to squeeze my hand that first day at Children's offered me nearly-free weekly therapy. I was lucky. I was blessed. I had enough resources to begin to put the fragments of my broken life back together.
Several months after my discharge, I took my first yoga class. Looking back on it now, I still find it hard to believe that I managed to find my way into that studio, with that teacher, at that moment in my life. I mean, really, what was I thinking? I was a recovering anorexic, barely able to feed herself, trying out a yoga class marketed to women wanting to lose weight.
I wish I could say I went to yoga because I had some inkling that it would offer me something deeper, because there was an inexplicable spiritual tug, because I was looking to reconnect with my body and begin the real process of healing. Quite the contrary. My motivations for trying yoga were almost entirely pathological. I was looking for a quick fix, a sneaky way to burn calories without arousing the suspicions of my treatment team. So it should be no surprise that I went straight to a "power yoga" class.
It seems almost laughable now, but my first teacher was this big, voluptuous black woman... one f*cking powerhouse of a human being. She emanated strength, beauty and grace like no one I'd ever met before. On the evening of my first class, I timidly walked into the studio and heard this loud and bellowing voice sing out "Well, hello there!" from inside the practice room. Her feet thumped with confidence as she trotted toward me on the hardwood floor. I was completely mesmerized by the way she carried herself, how she softly but powerfully filled the space.
For years, I'd been starving myself in order to take up LESS space in the world. I'd been taught by my own mother that strength came from mastering the wild whims of the body, controlling your instinctual urges, from proving you were stronger than others through stubborn will. And here was Diana... a woman who could hold all two hundred pounds of her sweet self up in a handstand with ease. A woman who inhabited her life-given figure with confidence, compassion and fierce femininity.
Diana not only stood counter to the traditional image of yoga I'd seen plastered on fitness magazines, but looking back I realize that she was hilariously non-traditional in the way she led class...
This article is an excerpt of my chapter in the newly published anthology, 21 Century Yoga: Culture, Politics, and Practice, edited by Carol Horton and Roseanne Harvey. In the remainder of the essay, I chronicle my personal journey, focusing on yoga's central and at times challenging role in healing from an eating disorder. I invite you to read the rest my chapter, as well as the eleven other phenomenal essays in this book, which discuss contemporary North American yoga and its relationship to issues including recovery, body image, and spirituality. You can learn more about 21 Century Yoga by visiting the website, and purchase a copy either in print or Kindle edition.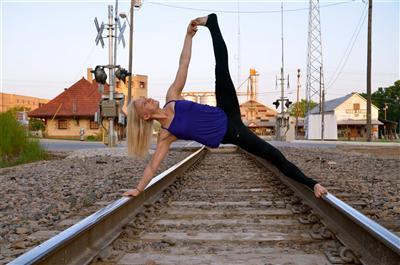 Chelsea Roff is Managing Editor for Intent Blog. She is a speaker, survivor, and advocate writing about women's health, humanitarian issues, and the intersection of science and yoga. Check out Chelsea's website and follow her on Facebook and Twitter.
Photo printed with permission from Chelsea Roff
Related