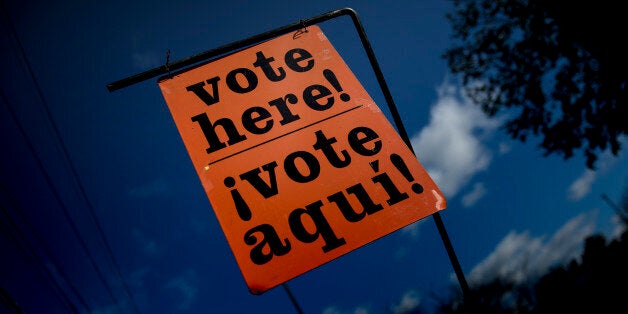 As Election Day approaches, the call to vote is loud and persistent. Latino voters especially feel the urgency to vote in a presidential race where immigrants have been demonized, and their contributions to the economy have been vehemently discussed as part of this long, contentious election cycle. News reports indicate that early voter turnout for Latinos is exceeding rates from past elections.
However, there is one population of voters that is largely barred from participating and has actually swelled through the decades: people with felony convictions.
Criminal laws are complex and vary from state to state, making the path to voter registration a very tough one for Latinos who have had contact with the criminal legal system. Other than in the states of Vermont and Maine, people with felony convictions are stripped of their right to vote.
Currently, there are 6.1 million voters who are disenfranchised because of a felony conviction. That number is more than five times greater than in the 1970s and almost twice as great as the number of disenfranchised voters in the late 1990s. The significant increase in disenfranchised voters is a side effect of mass incarceration, which spiraled to its highest rates in the 21st century. Thus, populations with high incarceration rates, like black Americans and Latino Americans, also experience high rates of voter disenfranchisement.
About half of disenfranchised voters have served their sentences, with the remaining either still serving time in prison or under parole or probation. While most states allow a person to regain their voting rights after serving their sentence, the process to restore one's rights can be cumbersome. One reason is that applications to restore voting rights often require documentation, such as identification cards, birth certificates, or social security cards that formerly incarcerated people may not have or are unable to afford. Another hurdle is that many people who leave prison are too preoccupied with reentry and survival, like finding jobs, housing, and reconnecting with loved ones. Registering to vote and voting is often a low priority.
People who leave the criminal legal system may also wrongly believe that they are barred from voting. For instance, the state of New York -- which has one of the country's highest Latino incarceration rates -- allows people who have completed their sentences to apply to have their rights restored without special documentation. There is much confusion by both state administrators and the public. A 2006 Brennan Center survey found that over a third of the state's officials responded that New Yorkers on probation are not allowed to vote. That is false. Moreover, nearly a third of local election boards illegally requested documentation from New Yorkers with convictions who were seeking to register to vote. Indeed, misinformation about the voter registration process is rampant.
Most troubling is the fact that four states still have blanket bans preventing people with convictions from voting. One such state is Florida -- another state with a high Latino incarceration rate -- where people must first apply for clemency before having their rights restored.
The result of tough voter disenfranchisement laws in this important battleground state means that about 1.5 million Florida residents cannot vote, or one in ten Floridians of voting age are disenfranchised.
Early voting in Florida has already seen a 150% uptick in Latino voter turnout compared to 2012, and it is not hard to imagine how much more power and strength the Latino vote could garner if felon disenfranchisement were a relic of the past. In fact, if voting rights were restored just for people who have already completed their sentences, 4.7 of the 6.1 million disenfranchised voters--a whopping 77 percent of all disenfranchised voters--would be eligible to vote.
Ultimately, felon disenfranchisement is undemocratic in a society where voter participation is fundamental to our political system and where civic engagement propels ideas to the forefront.
Restoring voting rights is an essential part of reentry and important in helping prevent recidivism. People want to--and need to--feel that they belong to a community and that society accepts them. Restoring the vote is also how we restore dignity and full citizenship. A person who serves his or her time for a crime should not be confined to another sentence: a lifetime of voter deprivation.
Unfortunately, Latinos in America face many barriers to voter registration and engagement, with felon disenfranchisement being just one of many. Nonetheless, we can surely cast our vote in honor of those who cannot and keep ourselves informed on this important civil rights issue to spur change. To find out if you are eligible to vote in your state, please visit this site.
Maritza Perez, Soros Justice Fellow at MALDEF
Anthony Papa, Manager of Media and Artist Relations for Drug Policy Action
The views and opinions expressed herein are those of the author and do not necessarily reflect the views of the Open Society Foundations.
Calling all HuffPost superfans!
Sign up for membership to become a founding member and help shape HuffPost's next chapter