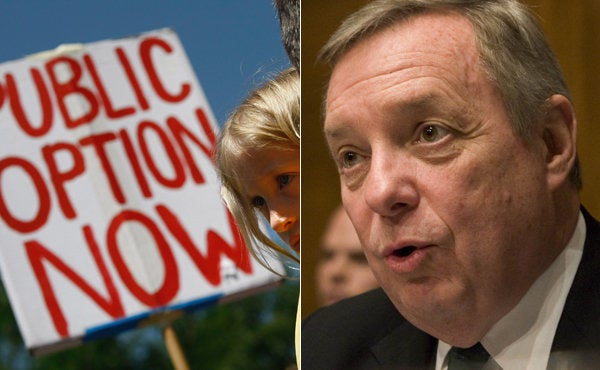 One of Barack Obama's chief allies in the United States Senate hinted on Sunday that a public insurance option could go by the wayside as Congress hammers out its health care legislation.
Appearing on CNN's "State of the Union," Sen. Dick Durbin (D-Ill.), one of the chamber's foremost progressives, said that while he supported a government-run option for insurance, he was "open" to alternatives.
"Just understand that, after we pass this bill -- and I hope we do -- in the Senate, it will go to conference committee," said Durbin. "We'll have a chance to work out all of our differences."
"So we'll see how this ends, but I don't want the process to be filibustered to failure, which unfortunately, many senators are trying to do," Durbin added. "I want to make sure that we do something positive for the American people."
The comments are similar to the line coming from the White House in recent days, with officials indicating that they would be open to a co-op based insurance model, provided that it had enough leverage to lower costs for consumers. (In this plan, non-profit cooperatives would get a charter from the government to take premiums from members and cover claims, expanding the risk pool for individuals buying insurance). Indeed, for Durbin to make the remarks he did on CNN is a strong indication that the party -- from Obama on down -- sees the public option as a likely victim in an effort to get 60 votes for health care's passage in the Senate.
However, not everyone is willing to concede that 60 votes are needed. On ABC's "This Week," former Vermont Governor and DNC Chair Howard Dean said that Democrats should be comfortable using reconciliation (which would require 51 votes) in order to get legislation -- including a public option -- through the Senate.
In an effort at bridging divides within the Democratic Party, Dean also complimented the more conservative Blue Dog members for forcing changes to the legislation that freed up small businesses from burdensome health care costs.
"This bill is terrific for a small business," said Dean. "The Blue Dogs made it a better bill, and I hope by the time gets through, it gets even better. Right now in the House bill... if you're a small business with a payroll of less than $500,000, you have no responsibility whatsoever to give your employees health insurance. That now becomes a subsidy based on your income. And then you can choose either the private or public sector. This is choice. This is real choice."
Popular in the Community