In early September, at a party in Washington D.C., author Sally Bedell Smith was approached by Terry McAuliffe, chairman of Sen. Hillary Clinton's presidential campaign, about her new book "For Love of Politics -- Bill and Hillary Clinton: The White House Years."
The conversation was, at first, coy. McAuliffe had been interviewed for the project - an intensely detailed look at the Clinton's marriage and political partnership - and was curious about the book's contents. According to both, the talk shifted to how the Clintons would react to what Smith had reported. Then accounts of what happened diverge.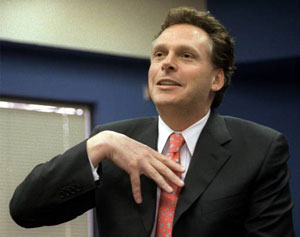 According to Smith, the former Democratic National Committee chairman unexpectedly blurted out: "[Bill Clinton] has read the book, and he told me it is devastating about him."
It was, for the author, a troubling admission. Virtually no one at that point had seen "For Love of Politics." The book was not slated for release for nearly two months.
"I was trying to prevent my jaw from dropping to the floor," Smith told the Huffington Post. "Only 20 galleys had been printed and everyone who received a copy had signed a confidentiality agreement... The worry is that it's only early September, and the Clinton camp now has a lot of time to develop a plan to undermine the book in some way."
In an interview with the Huffington Post, McAuliffe denied that President Clinton had ever seen or been disappointed with the book. "There had been rumors on this book and the president had heard it was a hit piece on him," the former DNC chairman recalled. "But she's crazy. The book wasn't even out yet."
Nevertheless, the morning after their encounter, Smith shot an email to Random House asking it to look into the matter. The publisher confirmed that officials investigated a possible leak but could not find the source.
For Smith, the episode fit the Clintons' reputation for being hands-on and, at times, overtly tactical in their dealings with the press. A month ago, The Politico reported that Hillary Clinton's presidential campaign had effectively killed an unfavorable GQ story by threatening to limit the magazine's access to the former president.

"That was of course the first thing that occurred to me," said Smith, whose work took more than 160 interviews and three years to complete, "I know enough about how they operate to know that they're pretty sophisticated and machine-like and they find hidden ways of going after people where they don't leave any fingerprints. And it is a trademark technique of Hillary."
When "For Love of Politics" finally hit stands on October 23, Sen. Clinton's presidential campaign mostly ignored its publication.
Smith is not the first Clinton biographer to suggest that the Clintons maneuvered behind the scenes to dull the effect of an upcoming book. Earlier this year, both Carl Bernstein's "A Woman in Charge" and "Her Way," by Jeff Gerth and Don Van Natta Jr., were leaked well in advance of their publication dates - one for an article by the Washington Post on a Friday before a holiday weekend.
"The Clinton machine did obtain an unauthorized copy of the book," Gerth told the Huffington Post via email. In addition, he said, "One campaign aide wrote a letter to the publisher (before the book was published) asking for a correction, based on a footnote in a review draft. The footnote had already been corrected (before the letter arrived and before the book was published). So her letter was moot."
McAuliffe dismissed the notion that the former president and his wife worked to preempt the book's impact, describing his conversation with Smith as merely "conjecture" about her writing.
As for what made President Clinton "devastated" about "For Love of Politics," Smith could only guess. More than 35 people were interviewed for the book under confidentiality, many of them on personal matters, she noted. The work also looked at several private papers and journals from the Clinton White House as well as notes from former Sen. Daniel Patrick Moynihan, D-NY, regarding the health care and impeachment battles that marked Clinton's first and second terms respective.
"[McAuliffe] didn't give me any indication.... I was kind of stunned," said Smith. "Terry is a bit of a talker and sometimes his mouth outruns his brain. I was taken aback that he would tell me that, and I couldn't figure out why. Was he trying to intimidate me? I couldn't figure it out."
Calling all HuffPost superfans!
Sign up for membership to become a founding member and help shape HuffPost's next chapter