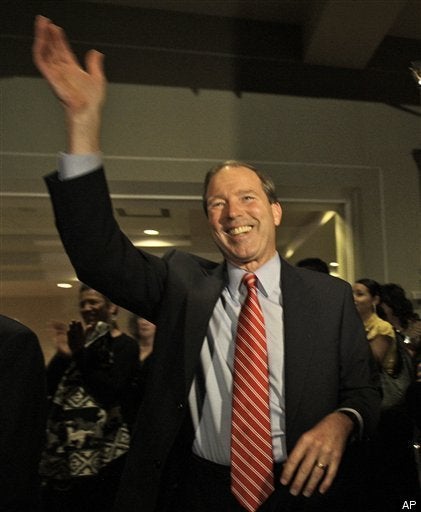 Another Democratic senator is making a legislative push that could alter the use of the filibuster, this time by trying to give senators more authority to change the parliamentary rules that bind their actions.
Sen. Tom Udall (D-N.M.) introduced a resolution on Monday that would give the Senate the ability to vote on its own rules and regulations every two years, when a new Congress convenes. Such a resolution would mean that a future Senate body would not have to operate under the guidelines of its predecessors, such as the rule that 60 votes are needed to end debate on legislation. In short: the filibuster could be drastically changed from its current incarnation.
"We, as elected representatives, have a duty to our constituents. But partisan rancor and the Senate's own incapacitating rules often prevent us from fulfilling that duty," Udall said in his remarks on the floor of the Senate. "While I am convinced that our inability to function is our own fault, we have the authority within the Constitution to act."
Udall's Communications Director Marissa Padilla explained in a brief conversation with the Huffington Post that this was not a frontal attack on the filibuster itself. Rather, what the senator is trying to do is lift the burden of outdated parliamentary stipulations. Since 1959, it has been mandated that Senate rules continue from one Congress to the next. The only recourse for change is provided in Senate Rule XXII, which states that a two-thirds vote of all senators is required to limit debate on a proposed rule change.
Mustering 67 votes for anything (let alone a congressional rule change) is an impossibly tall order. And, as Udall noted, it "effectively prevents the Senate from ever amending its rules" -- including changing the construct of the filibuster.
Padilla said the Senate would pass its own set of rules at the beginning of each Congress by a simple majority. The proposal, which as of right now has no co-sponsors, would then allow the Senate to lower the cloture requirement, or raise it, or keep it the same.
"Essentially no rules can change or many rules can change," Padilla said. "The Senator is saying the Senate has the right to do it under the Constitution."
It would, presumably, take 60 votes to pass Udall's resolution (Padilla was not entirely sure at the time of the interview), which makes passage unlikely. Democrats have proven remarkably timid about changing the rules of the body in which they serve fearing -- quite naturally -- that the day will come when they are in the minority.

Popular in the Community