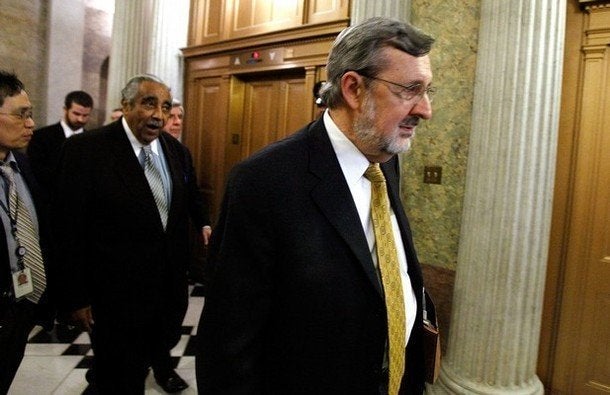 Yet another Democrat in Congress is alleging that the CIA included incorrect information in its records about past congressional briefings on interrogation policies.
Rep. David Obey sent a letter to CIA Director Leon Panetta on Tuesday saying that "in light of current controversy about CIA briefing practices," he was "surprised to learn that the agency erroneously listed an appropriations staffer as being in a key briefing on September 19, 2006, when in fact he was not."
Writes the Wisconsin Democrat: "The list the agency released entitled 'Member Briefings on Enhanced Interrogation Techniques (EITs)', shows that House Appropriations Committee defense appropriations staffer Paul Juola was in that briefing on that date. In fact, Mr. Juola recollects that he walked members to the briefing room, met General Hayden and Mr. Walker, who were the briefers, and was told that he could not attend the briefing. We request that you immediately correct this record."
The letter makes Obey the fourth Democrat to allege that the CIA's record of which members of Congress were briefed on the Bush administration's enhanced interrogation techniques contained factual errors. Former Sen. Bob Graham, in an interview with the Huffington Post, noted that the agency's records initially had him being briefed four times in 2002 about the interrogation techniques. Upon contacting officials with the CIA, it was determined that he had only attended one such briefing. Similarly, Sen. Jay Rockefeller has said that the records kept by the agency and made public on May 7 contained errors in regards to his briefings.
All told, the testimonies of these three Democratic officials bolster the case made by Speaker Nancy Pelosi that the agency's own account of those now-controversial briefings is misleading. Pelosi -- like Graham -- has insisted that members of Congress were kept in the dark in the fall of 2002 about the Bush administration's use of waterboarding on terrorist suspects.
Critics of the Speaker have chastised her for claiming that the agency would mislead members of Congress, with some conservative voices even calling for her resignation. Similar complaints have not been leveled at Rockefeller or Graham, so it will be curious and telling to watch the reaction that Obey's letter engenders.
Popular in the Community