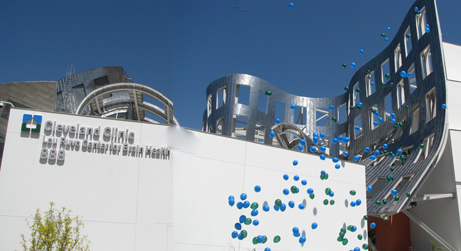 It was noteworthy when the first LEED-gold-certfied building -- rehabbed out of the shell of an outmoded, energy-wasting building -- was opened in Las Vegas. former President Bill Clinton attended that ceremony.
Now, something truly noteworthy has happened in Las Vegas and, hopefully, it is a harbinger of change for the better in the local healthcare landscape. Finally, after too many years that saw too many Las Vegans with the means to seek their care in other cities, the Cleveland Clinic has come to town.
This is significant because, sadly, Las Vegas has a more-than-usual broken healthcare system. Now, of course, there are some good docs and good institutional providers. At the same time, University Medical Center, the public hospital here, is in bad shape and losing millions. The former CEO was indicted for steering $50 million in contracts to his friends.
There was also a (rightfully) huge uproar when a group of endoscopy clinics potentially infected 40,000 patients by reusing contaminated syringes and vials of medicine. That was two years ago and lawsuits are still going strong against the clinic. A former patient was recently awarded more than $5 million in a suit against the drug manufacturer who packaged propofol. in large, multi-dose containers that were used at the clinic. The latter was one of the incidents that led the Centers for Disease Control (CDC) last month to release a training video for medical professionals on avoiding errors when administering medications.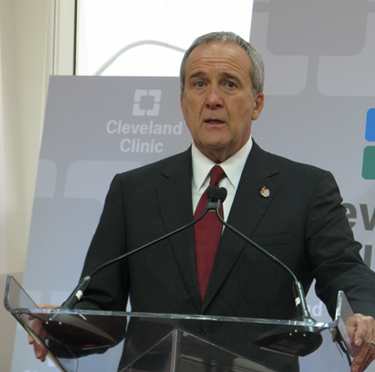 So what could draw the Cleveland Clinic into the Las Vegas healthcare landscape? It was the Frank Gehry-designed Lou Ruvo Center for Brain Health and its founder, Larry Ruvo (right)..
The senior managing partner of Southern Wine and Spirits of Nevada, Larry Ruvo came to Las Vegas from Niagara Falls when he was a child. With other relatives, his parents opened the Venetian Pizzaria. When his father, Luigi (Lou) became ill, Larry Ruvo found that no one could quite arrive at the proper diagnosis. He finally took his father to San Diego where he was diagnosed and cared for until his death.
"That's when the Lou Ruvo Brain Institute was born," he says. "That first dinner in 1996 was an extraordinary, amazing, unbelievable success and it evolved from there."
The demographic facts about Las Vegas make the city, Ruvo said, a natural location for a center to study and treat memory disorders and dementia associated with diseases like Alzheimer's, Huntington's, Parkinson's, ALS and others.
"One in eight people over the age of 65 -- and one in two over 85 -- is stricken," he noted. "Las Vegas is growing and many of the people moving here are in, or approaching, that age range. It's really a fitting location."
To finance the Lou Ruvo Center that will offer both patient care and cutting-edge research, he founded the not-for-profit Keep Memory Alive.
At the opening ceremonies of the $80 million Life Activity Center, Cleveland Clinic President and CEO Toby Cosgrove, MD, Larry Ruvo and Las Vegas Mayor Oscar Goodman, presided at the event. They were joined on the podium by Pat Strong.
She spoke movingly about her husband Jerry's battle with Alzheimer's. They were on vacation when the onset of the disease was marked with a seizure. In the two years since, she said, "Every time he had a seizure he'd lose more of his memory." It got to the point where her husband was no longer recognizing her.
She spoke of the treatment Jerry Strong had received, and the support she's gotten, at the Cleveland Clinic Lou Ruvo Center for Brain Health. Proof that they were doing something right can be found in the fact that Jerry Strong was at the ceremony with his wife, talking to journalists and relishing the moment.
After the formalities, the crowd moved outdoors where 1,000 biodegradable balloons were released into the air, sent up to honor those who suffer from diseases of the brain.
But, for those of us Las Vegans watching the balloons float away, they could have also symbolized the rising hope that, at last, our community has healthcare on a par -- or ahead of -- that found elsewhere. Now, we can hope that others follow in the steps of the Cleveland Clinic or, perhaps, that the Cleveland Clinic expands its scope of services in our city.