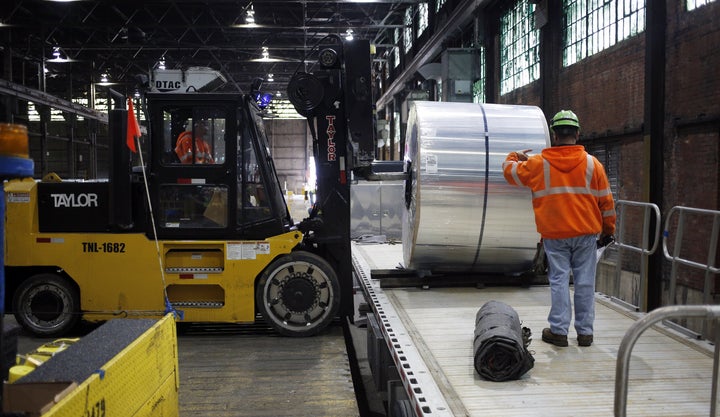 Co-authored by Dorothy Shapiro, Fellow and Lecturer in Law, The University of Chicago Law School
President Trump has promised to revitalize American manufacturing by renegotiating trade agreements and incentivizing companies to retain domestic operations. But there is another problem plaguing some American companies: poor corporate governance. And this one should be easier to fix. All it requires is that board members faithfully represent shareholder interests.
Exhibit A is the governance failures unearthed by activist hedge fund Elliot Management in its battle with the management of Arconic, part of the aerospace and automotive parts manufacturer formerly known as Alcoa. These failures exemplify the way that outdated corporate governance structures can harm the competitiveness of American companies. Shareholders, employees, and countless other Americans suffer as a result.
Alcoa was a prototypical rust-belt manufacturing company. It opened production in New Kensington, Pennsylvania in 1891, and its successes benefited millions in Pittsburgh and around the country.
The trouble for Alcoa started in 2008. The company's stock had a horrific year of returns falling from over $100 to around $10. Around this time, Dr. Klaus Kleinfeld stepped in as CEO, with a plan to rebuild the business and make strategic acquisitions. The plans largely failed, producing shareholder returns at the very bottom for large American companies. Nevertheless, Kleinfeld kept his job and earned millions in pay.
Last year, Alcoa spun off its aluminum production business into a new company called Alcoa, re-naming the parent company Arconic. The tale of these two companies is a case study in the impact corporate governance can have.
This spinoff created two very different companies—New Alcoa was given "a much better governance structure" than Arconic, in the words of Alcoa CFO William Oplinger. Specifically, Alcoa incorporated in Delaware, the preferred choice of shareholders seeking to unlock corporate value. Alcoa also established an annual election of the board of directors, separated the chairman and CEO role, and lowered the voting requirements for removing directors.
Arconic did not follow suit. It remained a Pennsylvania corporation, thus enabling it to enact management friendly policies that would be off limits in Delaware. Arconic also retained its staggered board despite mounting evidence that such a structure leads to entrenchment and reduced firm value. It is now one of only a handful of large corporations with this outdated governance structure. Finally, Kleinfeld continues to serve as both CEO and Chair of the board, which is responsible for overseeing management.
While of these old-school governance approaches might be in the interests of shareholders in some cases, Arconic has refused to modernize despite increased shareholder pressure for it to do so. This flies directly in the face of recent empirical evidence indicating that when governance that diminishes shareholder power is unilaterally imposed by the board, firm value suffers.
A good board might be able to overcome these structural failures, but Arconic is a poster-child for a bad board too. The Arconic board is plagued with severe conflicts of interest. The lead independent director, Pat Russo, also serves as the as the chair of the HP board, of which Kleinfeld is also a director. Russo is charged with overseeing Kleinfeld's compensation at Arconic, while Kleinfeld oversees Russo's compensation at HP. This perverse relationship may help explain the fact that both Kleinfeld and Russo continue to reap huge sums, while shareholders and others at both companies suffer.
There's also evidence that the Arconic board has been asleep at the wheel. The board appears to have been unaware of a voting agreement that put nearly nine million shares of Arconic stock in the effective voting control of Kleinfeld for two years. To make matters worse, the voting agreement was only revealed to Arconic shareholders after a dead-hand provision had kicked in causing these shares to be voted for management no matter who owned them.
Enter Elliot Management. Since taking an activist stake in 2016, Elliot has successfully put three independent directors on the Arconic board and has proposed a long-term strategy, unlike some activist shareholders only interested in stock buybacks or other short-term fixes.
But Elliot, which has a 13 percent stake in Arconic, now seeks more dramatic changes: ousting Kleinfeld, nominating four more independent directors, and revamping the company's governance. It also seeks operational changes, including reducing high expenditures associated with Arconic's presence in Manhattan. On Tuesday, Elliot released a 300-page presentation detailing its grievances and its plans for Arconic. This presentation called for Arconic to move its headquarters out of New York City altogether, suggesting as one possibility that the headquarters be moved back to Pittsburgh.
Arconic responded by threatening shareholders with a "poison put" – arguing with no legal foundation that a contract with an employee pension trust required a payment of $500 million in the event Elliott is successful in its campaign. The threat reeks of entrenchment.
For this reason alone, the May 16 proxy contest is sure to be a close one, despite Arconic's clearly deficient leadership and governance structure that is keeping down a once-proud American manufacturer.
Popular in the Community