While much of our national political discussion devolves into white noise, perhaps the most interesting argument on TV this spring unfolds between Amy and Karma, two high school best friends on MTV's Faking It.
They've been best friends forever. The argument will determine whether from now on they'll be friends at all.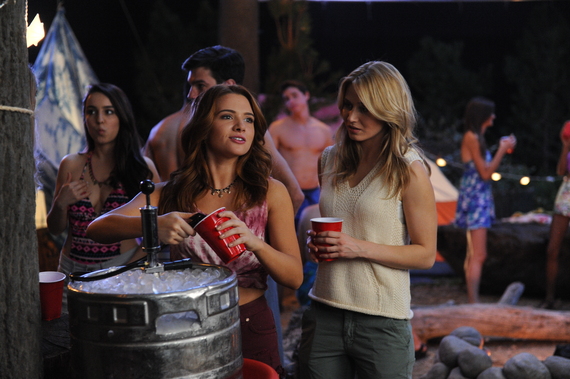 It sounds trivial. In the hands of Karma (Katie Stevens) and Amy (Rita Volk), above, it feels surprisingly profound.
"Friendships can be much more complicated than romantic relationships," suggests Carter Covington, who created Faking It - and originally pitched the show to MTV, he notes, "as a romantic comedy between two best friends."
At the start of season three, airing at 10:30 p.m. ET Tuesdays, Amy and Karma each feel wounded by the other.
At the end of last season, Karma gave Amy a drunken kiss. Amy, who has romantic feelings for Karma, responded by taking off for the summer with a rock band, after Karma begged her to stay and work it out.
Now Amy has returned and they both want to resume being BFFs. But first Karma thinks Amy should apologize. Amy doesn't.
Interestingly, says Covington, the two actresses - who are good friends off the set - each take their character's side in this standoff.
"We talk with the actors at the start of each season because often they have insights into the characters that we don't," says Covington. "Rita was very happy about the end of last season. She didn't feel Amy needed to apologize.
"Katie had the opposite view. She felt very sad for Karma because Amy had hurt her. She felt Karma was abandoned."
Which may prove Covington's point - that whoever is right or wrong, friendship can be complicated.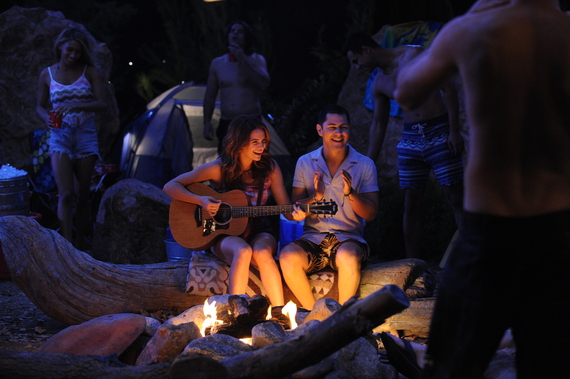 "The two of them have been so close and have been through so much together," he says. "We wanted for the first time to see the friendship really tested. They're going to war with each other."
The battle unfolds over the season's first several episodes, and Covington says it was tricky to set the mood and tone.
"It was really hard to write," he says. "We had everyone in the writers' room talk about the times when they fought with their own best friends.
"Karma and Amy have had disagreements before, but we're so used to their reconciling at the end of each episode. Now they had to stay angry."
That anger also had to be balanced with two greater truths about Faking It.
First, he says, "We had to add the tension without losing the humor."
Second, "Everyone who watches the show wants Karma's and Amy's friendship to survive."
He's right, and the friendship gets a Code Red test here. "Your best friend," he notes, "knows all your weak spots."
To focus these opening episodes, the writers leave pretty much everything else in the background while concentrating on Amy, Karma and their closest friends: Shane (Michael Willett), a sort of mediator between the girls; Liam (Gregg Sulkin), Karma'a ex-boyfriend; and Amy's half-sister Lauren (Bailey De Young).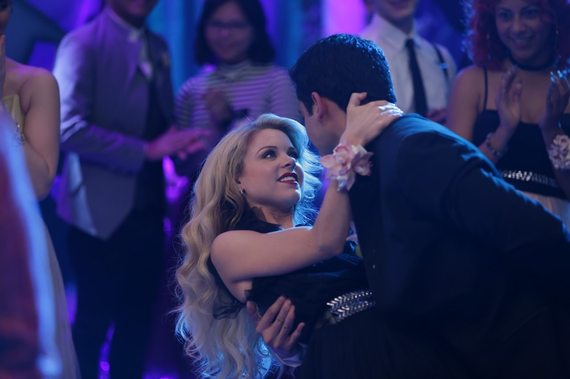 Lauren (above), a sometimes-mean girl who is quietly struggling with being intersex, starts the season as Amy's most frequent companion, a situation simultaneously reassuring and a little uneasy.
"I've always liked scenes with Rita and Bailey," says Covington. "They have great chemistry. And of course, Lauren spending more time with Amy affects Karma, because Karma's used to being the one in that position."
In any case, he says, "We wanted to stay with these five main characters and how they interact with each other. Later in the season things will open up."
That will mean new romantic relationships for Shane and Lauren, developments for a couple of peripheral parents and more, says Covington.
And unfortunately, the reason for that flurry of action isn't all good.
"We're a bubble show," says Covington. "We don't have the ratings that will get automatically get us future orders. So I told the writers that if we have a great idea, let's put it in now."
He does know where the characters are immediately headed, he says. "I've already pitched MTV on where I'd like this season to end."
It's the longer term that's amorphous.
"If the show were as popular as I wish it were and we could count on seven seasons," says Covington, "I'd like to take these characters through high school and then do a time-jump past college. I'd love to explore them in their post-college years, because so much happens in your early 20s. Besides, that's also how old the actors really are."
Alas, he doesn't think seven seasons will happen, though he does say he's "cautiously optimistic" the show can continue past this one.
Whenever it ends, he has only kind words for MTV.
"The network picked up our show and then let us do it the way we wanted," he says. "We've had great freedom."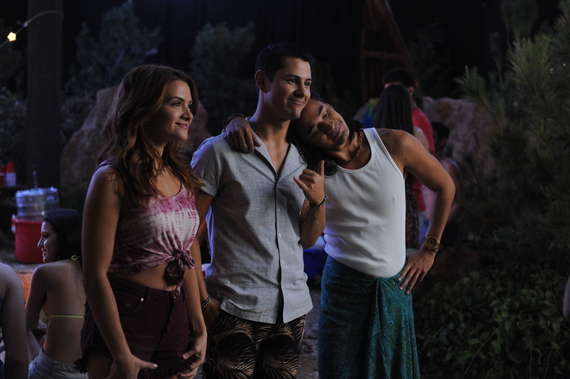 He also thinks the show has accomplished something just by creating its Hester High School, which turns the usual television high school upside down by letting traditional outsiders like LGBT kids rule.
"My favorite fan mail is from people who say they wish they'd had a Hester High to go to," says Covington. "Where you're encouraged to be different.
"I think we're slowly getting more acceptance of that idea. There are schools like that now here in L.A. I hope someday we'll have them in North Carolina, where I grew up, or in Texas, where my husband grew up."
Meanwhile, Amy and Karma have to figure out when a kiss is just a kiss.
Calling all HuffPost superfans!
Sign up for membership to become a founding member and help shape HuffPost's next chapter