I'm not a fan of shish kebabs (or kabobs or kebobs for that matter). I like red meat rare to medium rare inside. It is most tender and juicy when pink to red. I also like meat crisp and dark on the outside when the Maillard effect has had a chance to work its magic and enhance its flavor (see my article on meat science).
Kebab meat is usually 1" or so square, and it is near impossible to get crisp and red/pink meat that small, especially when you have a hot metal poker running through the center conducting heat and cooking it from the inside. The solution is to cut the meat in larger cubes, bigger than bite size, about 2" square so they don't fall through the grates and so they can remain tender on the inside.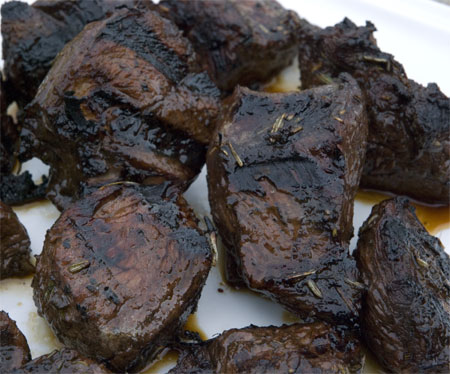 Spiedies were probably created by Augustine Iacovelli, who, in 1929, immigrated from Civitella in Abruzzi, Italy, and settled near Binghamton, NY. A local specialty in Abruzzi is Arrosticini, lamb chunks grilled on a skewer and served on bread soaked in olive oil (for more on arrosticini and foods of Abruzzi, click here).
In Binghamton, Iacovelli opened a restaurant, named it Augies', and introduced spiedini, which means, roughly, "little roasted things". It is believed he marinated and heavily seasoned lamb chunks on wooden skewers and served them on Italian bread to hungry laborers. The locals called them spiedies (pronounced SPEE-dees). The sandwich became so popular that there is even an annual Spiedie Fest in Binghamton in August. It's been around since 1984, draws more than 100,000, and even has a cookoff and hot air balloon rally.
Today, spiedies are cubes of meat, typically lamb, but they can also be beef, pork, chicken or venison cubes, or a mix of them. The meat is marinated for many hours, often overnight, usually in oil and vinegar with lots of garlic and green herbs. Spiedie marinade can be bought in bottles, even 1 gallon jugs, in groceries in Upstate NY. Some are skewered, and some are cooked on a perforated grill topper or cast iron griddle.
My spiedies are not cooked on skewers, but grilled over an open flame with onions and peppers. When grilled, the olive oil drips and flares a lot so the meat gets really crunchy on the outside. Served rare to medium, the marinade flavor is almost as strong as the meat flavor. In Binghamton and at the State Fair in Syracuse, they are served on soft crust Italian style bread or pita.
Spiedies are popular backyard and tailgate food in Upstate, and for the life of me, I cannot understand why they have not spread beyond. If you like shish kebabs, you've gotta try spiedies.
Another reason to make Spiedies, not kebabs:


According to Reuters on 10/16, police in Bremen, Germany, are analyzing a hot sauce. Apparently a customer at a kebab stand wiped his sauce coated hands on the furniture because the clerk refused to give him more paper napkins. The clerk then threw sauce in the customer's face. His eyes became bloodshot and police are investigating whether the sauce constituted "normal" or "capable of causing grievous bodily harm." Yet another reason to make spiedies, not kebabs.
Binghamton Spiedies Recipe
Makes.
4 large sandwiches
Preparation time. 20 minutes to make the marinade, 24 hours to marinate, 20-30 minutes to cook
Ingredients
3/4 cup LT Italian Marinade or any Italian dressing with lots of herbs (you can add more, especially oregano)
1/4 cup lemon juice
4 cloves of crushed garlic
2 pounds of leg of lamb or beef sirloin cut into 1.5" or 2" cubes
2 large onions peeled and sliced into 1/2" disks and separated into rings
2 bell peppers, any color, cored and cut in quarters
4 pieces of Italian bread about 6 inches long, and split lengthwise
About the meat. You can use pork loin, or even chicken in the recipe, or a mix of them all if you wish.
Try this. Don Warner of Owego, NY, near Binghamton, says via email "Try using wine as a substitute for the vinegar and taste the difference."
Do this
1) Dump everything except the bread, onions, and peppers in a large zipper bag or a bowl and mix thoroughly, refrigerate at least overnight, but 24 hours or more is better.
2) Fire up the grill and toast the bread on the cut side with the lid open. Watch it carefully so it doesn't burn. If it does blacken a bit, scrape off the char and the bread will be fine. Set aside on a serving platter at room temp.
3) Grill the peppers on both sides until they are softening but not limp. Set aside in a serving bowl at room temp.
4) Put the onion rings into a bowl with about two ounces of the marinade and toss them together until the rings are well coated. Grill the rings with the lid open until they are slightly soft. I like them a bit crunchy, but if you don't, cook them longer. Set aside in a serving bowl at room temp.
5) Put a colander or strainer in the sink and dump the meat and marinade into it. Let the meat drain for a few minutes so it will not drip marinade onto the fire when you cook the meat. Then move the meat to the fire and separate the chunks so they are not touching. Grill on one side with the lid up until brown and until there are dark grill marks. We don't want the lid down because then the meat will be in an oven and it is too easy to overcook the meat. Turn the meat over with tongs and grill some more until the exterior brown a bit. That should do it. That should get you crispy exteriors and rare to medium rare interiors. A thermometer won't be much help here if the cubes are small. Test by biting into one. Get some grease on your chin. There is nothing drier than an overcooked spiedie, so don't allow that to happen.
--------------------------------
Unless otherwise noted, all text and photos are Copyright (c) 2009 By Craig "Meathead" Goldwyn, and all rights are reserved. Links and recommendations are all products, services, and websites I truly admire, and are never paid endorsements. For more of my writing and recipes, please visit AmazingRibs.com. Click here for information on reprint rights.
Related