Another Syrian refugee swimmer is about to make a big splash in Rio de Janeiro, Brazil.
The Paralympics, which begin Sept. 7, will also feature a refugee team for the first time. Al-Hussein, who now lives in Greece, is one of the team's two members. The other is Shahrad Nasajpour, an Iranian who was granted asylum in the United States. Nasajpour has cerebral palsy and will be competing in discus.
"It's not just a game for me," Al-Hussein, 28, told the United Nations refugee agency, UNHCR, earlier this year. "It's my life." 
"The Independent Paralympic Team is a symbol of the strength and determination of all refugees with disabilities in overcoming significant odds," Filippo Grandi, UN High Commissioner for Refugees, said in a statement released last week. "Including a refugee team in the Paralympic Games also sends a strong message of support to all refugees and asylum-seekers with disabilities worldwide."
Al-Hussein had big swimming dreams while growing up in Syria. His father was his coach, and Al-Hussein practiced swimming in the Euphrates River, according to UNHCR. He won a number of local and national swim meets. 
But his dreams were nearly dashed in 2013. When a friend was hurt in a bombing, Al-Hussein raced toward him to help and was injured as well. He lost part of his right leg, from his mid-calf down. 
He fled to Turkey, where he recovered for about a year and taught himself how to walk again. In 2014, he was on the move again, but this time he boarded an inflatable boat and headed to Greece.
He now commits three a days a week to swim training with ALMA, a Greek nonprofit that supports athletes with disabilities. He also belongs to a wheelchair basketball league that meets five times a week.
Al-Hussein also balances his rigorous training schedule with a demanding work schedule, putting in 10-hour overnight shifts at a café in a suburb of Athens.
In April, Al-Hussein carried the torch for the Olympics through a refugee camp in Athens as it made its way Rio. He will swim in the 50-meter and 100-meter freestyle events at the Paralympics.
Shahrad Nasajpour, who has declined to share the entirety of his story for personal reasons, will also be making history in Rio next month.
"It is an honor," Al-Hussein said of the experience. "Imagine achieving one of your biggest dreams. Imagine that your dream of more than 20 years is becoming a reality."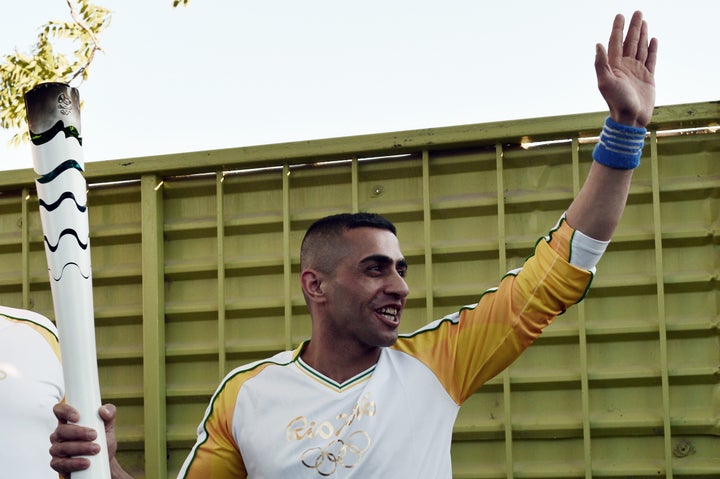 Al-Hussein's story follows a similar trajectory to that of fellow Syrian swimmer Mardini, who became a household name earlier this year. 
Mardini was trekking across the Mediterranean to Greece in an overloaded boat, when the vessel broke down. Mardini and another refugee jumped in the water and pulled the boat for three hours to safety. Her efforts helped save 19 people.  
REAL LIFE. REAL NEWS. REAL VOICES.
Help us tell more of the stories that matter from voices that too often remain unheard.